Windows 8 Release Preview is among us and, boy, is it lovely. It's so much dreamier than the Consumer Preview, and makes the Developer Preview look like something cobbled together out of two-by-fours, electrical tape, and rebar. It also is quite boring.
Windows 8 is Microsoft's next-generation operating system, due to ship this fall. It adds lots of touch-based gestures to the old familiar Windows, and introduces an entirely new notion of how apps should look and run with its Metro interface, where single apps take over the entire screen and run free of clutter from buttons and menu bars. It's a dramatic leap forward. But while the Developer Preview was a grand unveiling, and the Consumer Preview was its first big meet and greet, this version of Windows 8 is all about refinements. The new Release Preview is an iterative update, inching us closer to final release. It's more mature maturity, increasingly refined, and already possesses a subtle elegance.
What's New
There are a ton of subtle interface enhancements in the Release Preview, and even one major change: trackpad gesture support. One of the big knocks on Windows 8 has been that it's too touchy-feely, and that if you don't have a touchscreen or tablet, it's going to be a pain to use.
G/O Media may get a commission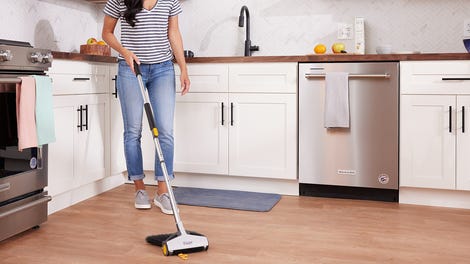 BOGO 50% Off
Flippr - BOGO 50% Off
To answer that, Microsoft sent us this build on a Samsung laptop with a boring, old-school non-touch sensitive LCD screen. Using it side by side with another laptop running the Consumer Preview was revelatory. The gesture support built into the trackpad made the experience far, far better. It was more navigable, less likely to launch inadvertent actions, and just all-around easier to use.
The trackpad gesture support is basic and intuitive. Swiping from right to left brings up the Charms menu (basically Windows 8's version of a home row). A left side swipe will switch between apps. Dragging down from the top brings up options. And gestures are built into individual apps as well. For example, pinching the trackpad brings up Semantic Zoom, in both the Metro Start screen and in select apps. (And any app can have this ability built in.)
Given that Microsoft is also building all this into its touch-sensitive mice, and other manufacturers can take advantage of that support as well, it means that the concerns that you must have a touch-sensitive screen to use Windows 8 are way overblown.
The new Release Preview also adds a ton of much-needed polish and interface enhancements. Subtle touches abound that make it easier to navigate and get things done in Metro, like adding semantic zoom to the People app so that you can easily jump from your contacts in the A section all the way to Z without having to scrooooooooooooooooooolllllllll forever.
Mail may be the most useful upgrade. In the Consumer Preview, it was kind of a pain to navigate between folders. You had to drop down into the menu to swap from, say, your notifications folder to your bulk folder to your inbox. Every time you chose one, the others would slide away out of view. Here's a refresher of how it looked.
The Release Preview keeps the three-pane interface front and center by default, and that's far easier to deal with. Sorting through your inbox and then moving quickly to scan your other folders is much easier in this layout. And it's also designed to be navigated with the thumbs in a tablet layout—the sidebar that lists your mailbox folders is extremely narrow. But that doesn't mean it's a touch-only interface. It's not. It works very well with a trackpad or mouse.
Basically, all the Metro apps you've been using have been made slightly slicker, slightly easier to navigate, and all around better.
The Desktop experience has been bettered-up too. It uses fewer resources when it's in the background, and some of the touch-forward UI elements have been toned down. The Start menu gets out of your way faster now, for example, so you can access the task bar.
Apps Aplenty
It also includes a few new Metro apps from Microsoft, all of which are as gorgeous and fluid as any of the others that have come before.
The News app aggregates information from hundreds of stories into one gorgeous app. It's got personalization features so that you can select sources, or track stories or topics you want to follow. You can pull out of the main view using Semantic Zoom to jump from topic to topic.
A Sports app lets you add favorite teams to track their players, schedules, scores and news of the day, as well as follow general news about individual sports.
A Travel app serves as both a Frommer's-powered guidebook, and Kayak-powered reservation engine, so you can research your trip and book it all in one spot.
Microsoft also showed off some new third party apps like a beefed-up WordPress app and a SkyNews app that we couldn't test yet because they weren't available on the Store until after the Release Preview ships. But they were all taking advantage of Windows 8's ability to share data across apps—a photo displayed in the News app can be shared with any other app without actually having to download it to your machine, for example. It all just works together really well.
A Slow Build
It's a remarkable new operating system, that somehow still drives home Microsoft's inability to gin up excitement about its products. The Release Preview feels like yet-another-trailer when you're just ready to start the show. And while it addresses a lot of concerns and makes very many under-the-hood fixes, there's just not anything radically new that bowls you over.
When Windows 8 finally does drop, it's going to be one of the top technology releases of the year, a watershed product that ultimately affects hundreds of millions of people's lives. It is a Big Fucking Deal. And Microsoft is going to bore the hell out of you as it dribbles it out bit by bit along the way. But that's okay. Sometimes boring is good.
You can download the Windows 8 Release Preview yourself here.