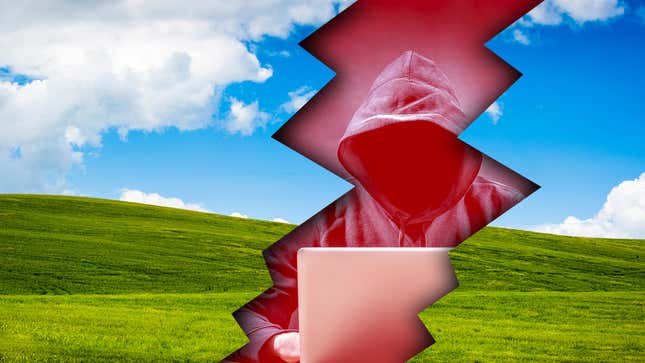 Imagine it's 2001. You turn on your old Dell shoebox computer and boot up your newly-installed Windows XP copy to hear that choppy "bummm" sound and see the classic rolling hills of the stock desktop wallpaper. Well, if you're really interested in returning to the ancient operating system more than 20 years after its release (note: you probably shouldn't), users can now generate cracked product keys in all their pirated glory.
Video Chat - From Sci-Fi to Sci-Fact
Like George W. Bush once declared during XP's heyday: "mission accomplished," even if this latest crack is close to 20 years late to the draw.
As first reported by The Register, the tinyapps blog revealed back in April that somebody had cracked Windows XP's product activation encryption algorithm, allowing users to create usable XP activation keys.
The actual xp_activate32.exe program is hash listed on the blog. It essentially takes the number string generated by the old Windows XP phone activation system and turns it into a correct code for unlocking the OS. The Register tested the process on an XP virtual machine running on Windows 7 and found that the key generation program created a working 25-digit activation code. Other users on the r/windowsxp subreddit have also confirmed that the process worked and generated accurate keys.
Microsoft has long since shut down activation servers for its product keys, meaning users can no longer activate keys using the company's online service. So this development may be one of the few ways those with ancient hardware can actually use older machines that simply will not work on any modern OS software.
It's not as if this is the first time users have tried to subtly or brute force a key for XP. A GitHub repository from back in 2019 could create confirmation IDs for the operating system, but that required linking to a separate server that seems to be down. The XP source code had been leaked to the internet back in 2020, but even still users have been hard pressed to access the once-loved Microsoft OS after activation servers shut down. Users have reported being able to use legitimate keys over the phone.
Of course, you shouldn't go off and download whatever version of XP you find on Google. Even if you do get it up and running, connecting it to the internet is also risky. Windows has long stopped doing any sort of security updates for Windows XP. The crack could prove useful for accessing older hardware, and it could be used to run legacy software that's long been discontinued.
Before XP, older versions of Windows, like Windows 95, were much easier to crack, since they required little more than a correct sequence of numbers in a row. Even ChatGPT can easily manufacture those keys once it understands the correct parameters for them.
---
Want more of Gizmodo's consumer electronics picks? Check out our guides to the best phones, best laptops, best cameras, best televisions, best printers, and best tablets. If you want to learn about the next big thing, see our guide to everything we know about the iPhone 15. Click here to save on the best deals of the day, courtesy of our friends at The Inventory.