A remarkably intact ancient Greek merchant ship from 2,400 years ago has been found at the bottom of the Black Sea.

The sunken vessel was discovered by the Black Sea Maritime Archaeology Project at a depth of 2,000 meters (6,500 feet) near the Bulgarian coast, the BBC reports. At this depth, the waters in the Black Sea are anoxic, containing virtually no oxygen. This prevents organic material from degrading, hence the nearly pristine condition of the ship.
Measuring 23 meters (75 feet) in length, the Greek merchant ship is lying on its side. Its mast, rowing benches, and rudders are still intact. Incredibly, coils of rope can still be seen in the stern section. According to AFP, the Black Sea MAP researchers claim it's the "oldest intact shipwreck known to mankind."
"A ship, surviving intact, from the Classical world, lying in over two kilometres of water, is something I would never have believed possible," said Jon Adams from the University of Southampton, the project's main investigator, AFP reports. "This will change our understanding of shipbuilding and seafaring in the ancient world."
G/O Media may get a commission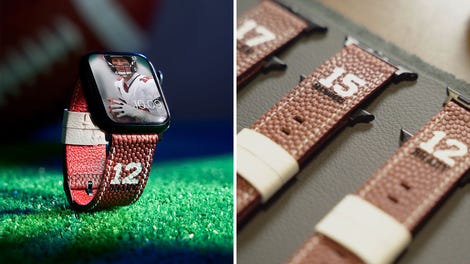 Official NFL PRODUCTS
Official NFL Apple Watch Bands
The researchers explored the wreck using a pair of remotely operated vehicles (ROVs). According to AFP, a sample of the ship was brought to the surface and carbon dated to 400 BC.
The team also compiled a 3D image of the ancient ship with the ROVs, the BBC reports. The vessel is reminiscent of the ship depicted on the Siren Vase, which is kept at the British Museum. Interestingly, the sunken vessel dates back to the same time period as the vase, which is believed to have been painted around 480 BC. This Greek merchant ship is likely one of many that ventured back and forth along the Mediterranean, the Sea of Marmara, and the Black Sea.
The Black Sea MAP researchers haven't had an opportunity to explore the ship's contents, which could contain some precious and archaeologically significant cargo. Should the team secure additional funding, it would like to return to the site and conduct further investigations. In addition to exploring the ship's interior—which they would have to do using ROVs, as it's way too deep for human divers—the researchers are hoping to learn more about Greek maritime technology, trade, and movements in the area. The project is being funded by the Julia and Hans Rausing Trust, and is reported to have cost £15 million ($19.5 million USD) to date.
The discovery of the intact Greek ship is the icing on the cake for the Black Sea MAP, which has been exploring the Black Sea for the past three years. To date, the team has uncovered 67 wrecks, including Roman trading ships and a 17th Century Cossack trading fleet.