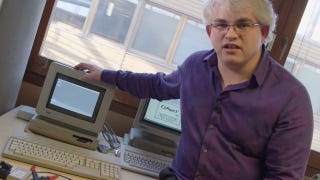 Do you like computers? The good folks at YouTube's Computerphile really like them. In case you're not familiar, let me introduce you to Numberphile's equally nerdy, equally fantastic sister site that demystifies computer science.
Nearly 400,000 subscribers strong, videos dive into 3D X-ray images, the disadvantages of JPEGs, the end of Moore's Law, how hyperlinks work, augmented reality, old Ataris, and yes, even the computer science behind The Dress.
There's this hacking explainer, for example:
---
Speaking of hacks, here's how you shouldn't be storing your passwords:
---
Confused about computer memory? Worry not, the same dude who ran Heartbleed for fun will break it down for you:

---
Or, learn how amplified Denial of Service attacks could spell doom for the entire Internet:
---
And a delightful segment on homemade arcade cabinets:
Go forth, and learn from these greats, Gizmodians.
Top image credit: Computerphile