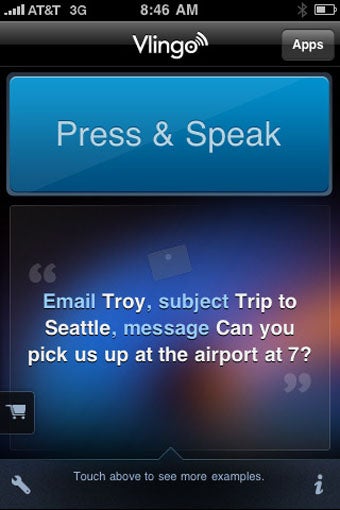 Vlingo: Vlingo's updated their popular (well, BlackBerry popular) voice transcription app with a new interface. The core functionality—voice actuated calling, web, Facebook and Twitter updates and mapping—is still there, and the newly organized homescreen literally spells out how to use each function. The catch, though, is that to use the new features, like the email and SMS transcription, you have to pay either $8 each, or $10 for both. This feels steep, considering that equally capable transcription apps like Dragon Dictation are free, and offer shortcuts for copying transcribed text for pasting into emails or SMSes. There's still enough in the free version to justify a download, though.

Hot Tub Time Machine Soundboard:
Step one: watch this preview.
Step two: watch it again.
Step three: Make your friends watch it, so they understand why you keep injecting this soundboard into your conversations.
Step four: Bask, smugly, in your role as king of a miniature comedy empire that you created, and that you'll rule until the day this movie comes out. Then, it will crumble. But hey!