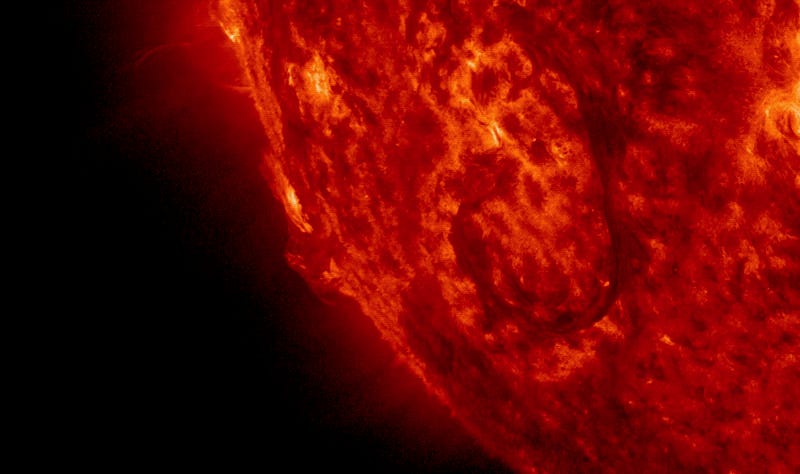 Every once in a while our Sun gives off a tremendous belch of high energy particles. Called a coronal mass ejection (CME), these episodes can vary in intensity, but they can produce bursts of electrical charge when they interact with our upper atmosphere in a geomagnetic storm. In a strange twist, new research shows that geomagnetic storms can produce the opposite effect, stripping the upper atmosphere of electrons for hundreds of miles. Which, if you like electronic gadgets, may be a problem.
Back on February 19, 2014, a geomagnetic storm appeared in our atmosphere following two powerful Earth-directed CMEs, which produced clouds of electrically-charged particles. As expected, the geomagnetic storm resulted in unstable patches of extra electrons in our planet's ionosphere (a high-altitude region containing both ions and electrons). But as a new study published in Radio Science shows, the same storm also stripped electrons from large swaths of the ionosphere.
That's...weird. According to a press release issued by NASA's Jet Propulsion Laboratory, this observation is new to scientists, who are now in search of an explanation.
It's important that we get to the bottom of this mystery on account of our ever-increasing vulnerability to space weather, which can cause radio communications to fail, reduce the accuracy of GPS systems, damage satellites, and harm electrical grids. Mild solar storms are a fairly regular occurrence, but once every 50 to 150 years or so our planet is hit with a CME from a massive one. This wasn't an issue prior to the advent of electronics, but in our highly wired world, these atmospheric disturbances are poised to cause serious trouble.