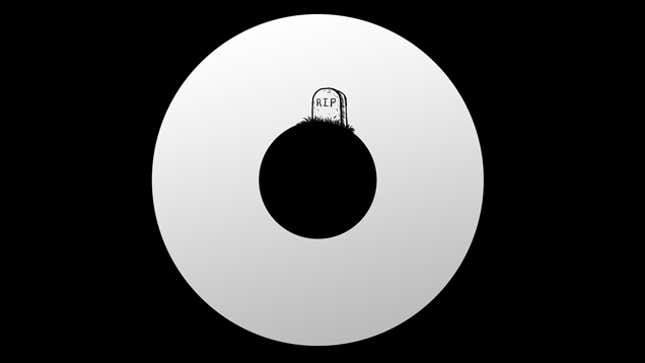 The click wheel is dead! Long live the touchscreen. While Apple has moved on to brighter, and screenier devices, the click wheel remains one of our favorite input methods of all time. Call us sentimental, but let's take a walk down memory lane.
Vizio's Latest TVs Go All Quantum
iPod First Generation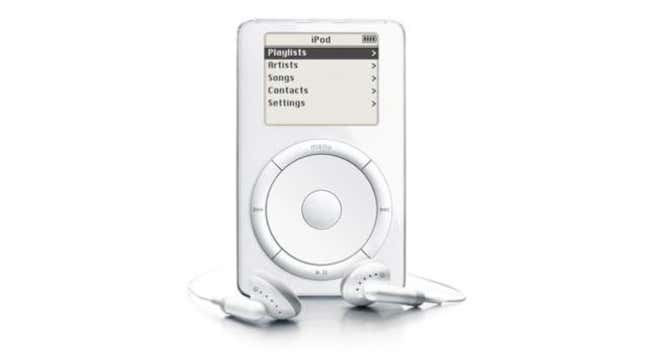 Born: October 23rd, 2001.
This is the thing that started it all. The first iPod featured a mechanical wheel that you actually spin with your finger. A moving wheel? How dark ages. The four physical buttons for play/pause, forward, back, and menu encircled the wheel. It had 5GB of storage, and a 10GB model was later released. Some argue that this is the device that brought Apple back from the brink.
---
Second Generation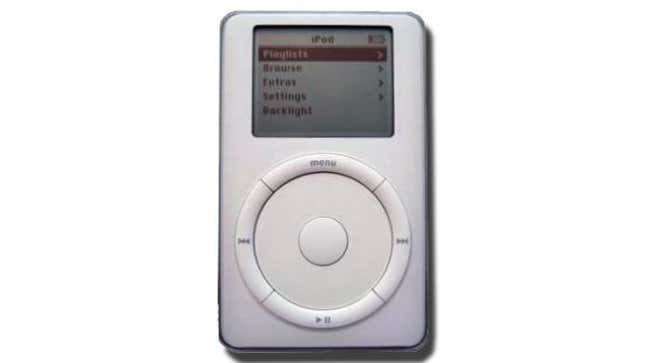 Born: July 17th, 2002.
The wheel evolves! The second generation of the iPod debuted the Touch Wheel, replacing the spinning wheel with capacitive technology. The firewire port got a cover, the hold button was redesigned, and you could get it in 10GB or 20GB sizes.
---
Third Generation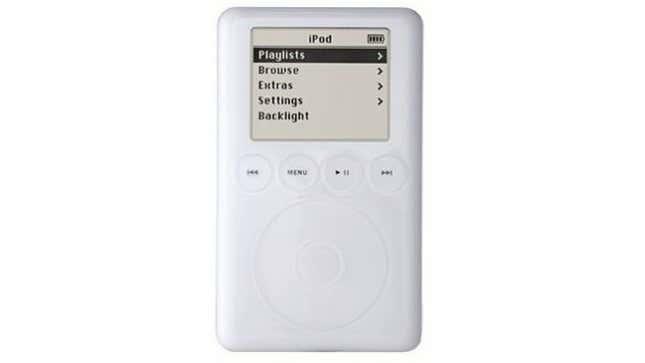 Born: April 28th, 2003.
Amongst the Gizmodo staff, this is the all-time favorite iPod. I swear, I thought someone was going to tear up when we were talking about it at the office, ever so wistfully. This was the first all-touch iPod. The four buttons are moved away from the Touch Wheel, and are placed in a horizontal row above it. It had a nice glow to it, and it was the first to offer dock connectors. Available in 10, 15, 20, 30, and 40 GB sizes. You're sorely missed, compadre.
---
iPod Mini First Generation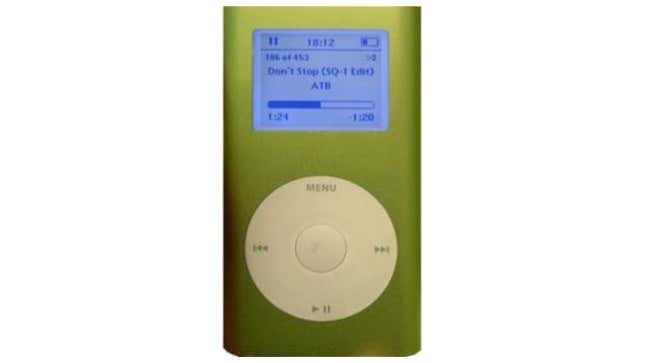 Born: January 6th, 2004.
What the what the hey? A new form factor! The iPod Mini busted onto the scene not only with its smaller size and multiple colors, but it also was the first to rock the Click Wheel. The buttons and the wheel were no longer separate. You could now push the upper, lower, right, or left quadrants to produce a click. Genius! Think maybe there'll start using that on other models? Hmmm... It was 4GB only.
---
Fourth Generation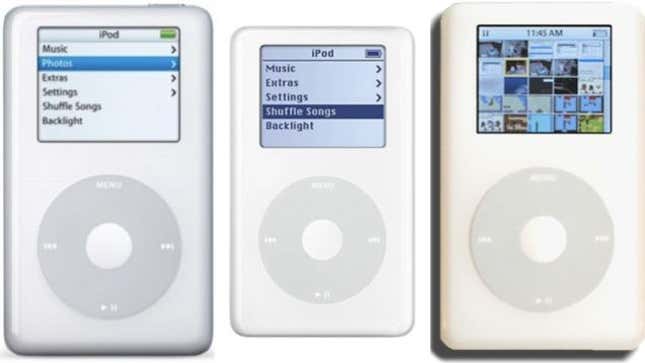 Born: July 19th, 2004.
Hey whaddayaknow! The iPod adopted the iPod Mini's Click Wheel, and so it would be for many years to come. Later, within the fourth generation, the iPod Color and the iPod Photo would be thrown into the mix. You could get these guys as big as 60GB!
---
iPod Mini Second Generation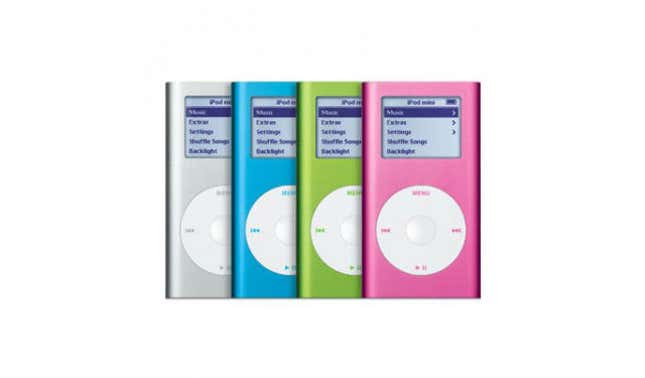 Born: February 22nd, 2005.
The second and last generation of the Mini. You could get this one in more and brighter colors. The battery lasted longer, and you could get 4GB or 6GB. It died young and was replaced by the Nano.
---
Nano First Generation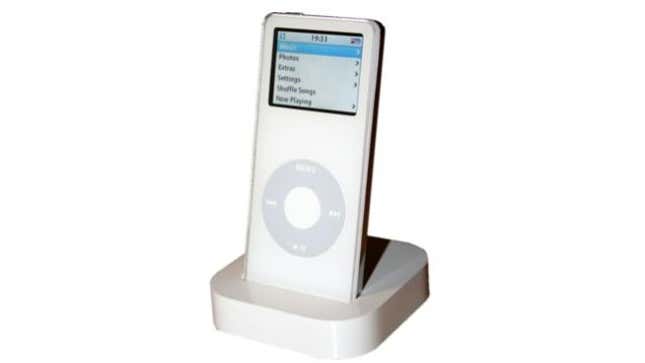 Born: September 7th, 2005.
Smaller than the Mini, but with that same (now standard) Click Wheel, the Nano rocked flash memory instead of a traditional hard drive, which made it more durable and improved its battery life. It managed to retain the dock connector, too. You could only get them in measly 1, 2, or 4GB sizes.
---
Fifth Generation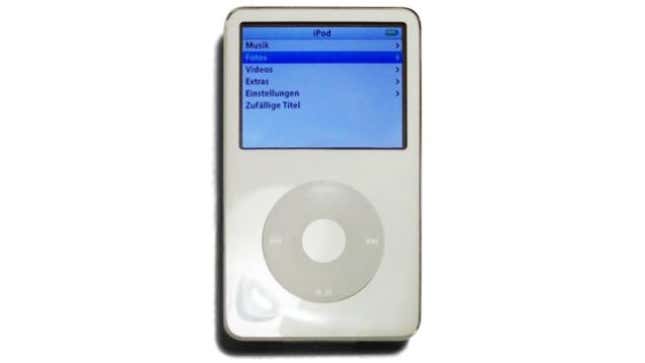 Born: October 12th, 2005.
Still that same Click Wheel. Slimmer case, available in black or white, and in capacities up to a whopping 80GB, which made it the first iPod I could actually fit my whole music collection on (at the time).
---
Nano Second Generation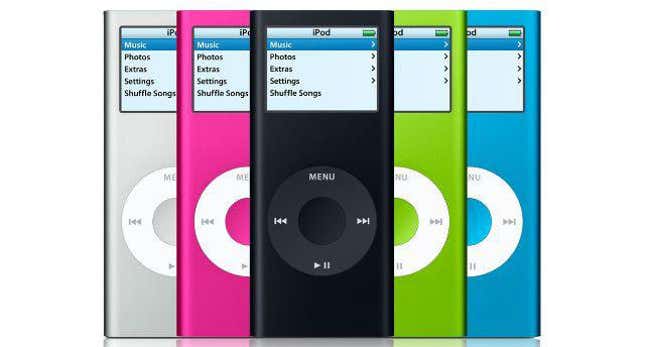 Born: September 12th, 2006.
Nano nano. This lil' guy now had an anodized aluminum casing and came in six different colors. Available in sizes up to 8GB now.
---
Nano Third Generation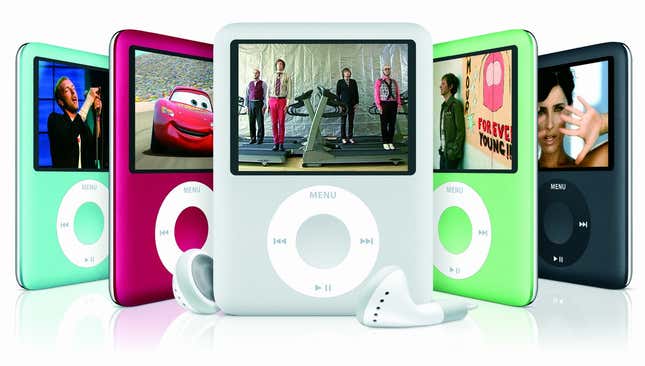 Born: September 2007.
Shorter and wider than its Nano predecessors, this one had a smaller Click Wheel but a bigger two-inch QVGA screen which made it better for watching videos. Y'know, relatively. It came in a few new colors but still just in sizes up to 8GB.
---
Nano Fourth Generation

Born: September 9th, 2008.
The Nano went back to its long and lanky ways with a wider screen that made it better for viewing 16:9 videos. It was all aluminum, and it added an accelerometer which allowed you to shake it to shuffle. Available in nine colors and in sizes up to 16GB.
---
Nano Fifth Generation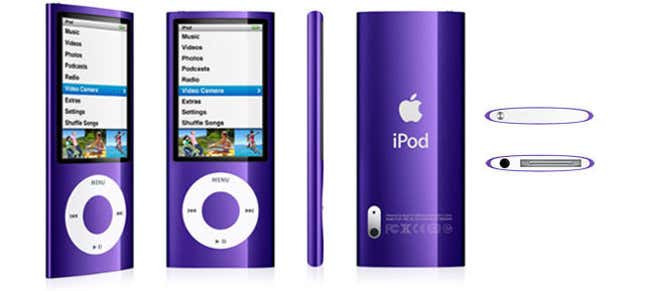 Born: September 9th, 2009.
This was the last version of the Nano to feature the Click Wheel before it turned to the more fashionable and ubiquitous touchscreen. They went all out with this one, and it included a larger screen, an FM radio, a speaker, and a pedometer. Same-ish colors as the 4th gen, and also available up to 16GB.
---
Sixth Generation (The Classic)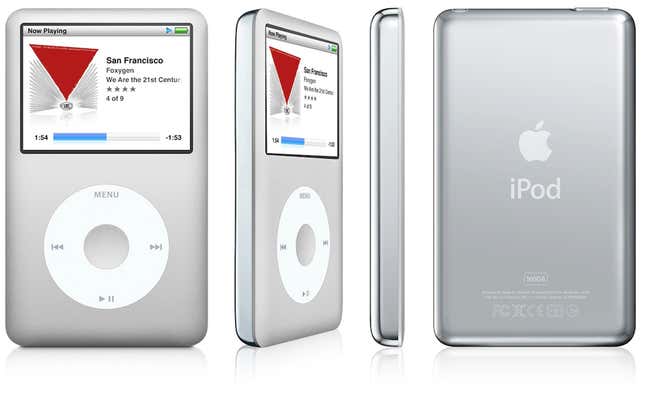 Born: September 5th, 2007.
This is when the original iPod line became what is to this day known as iPod Classic. It sported anodized aluminum, had an improved interface, better resolution for videos, and was available in sizes up to a staggering 160GB (still a standard hard drive, not flash). With its death, the Click Wheel goes with it, and it will almost certainly no longer be included on any new models.
You had a great run, Clicky. Thanks for the good times. Vaya con dios. If it's an consolation, you've been reincarnated as a knob on the Apple Watch.
Illustration by Jim Cooke