Since it was announced that Aaron Sorkin was to write a Steve Jobs biopic, many breathed a sigh of relief—not least because it draws focus away from Ashton Kutcher's attempts at a movie. Now, speaking at an All Things D conference, Sorkin sounds like he's taking the job very seriously.
Speaking in front of a big audience at All Things D's D10 conference, Sorkin was extremely open about his work. On the task of writing the Steve Jobs biopic:
"To be honest with you, one of the hesitations I had was that this was a little like writing about The Beatles. There are so many people out there that know him and revere him; I saw a minefield of disappointment...

"I don't know who is playing Jobs in my movie, but it'll have to be a very good actor. Someone who is smart...

"[Jobs] is an extremely complicated guy, I know that for sure... He has to, for me, be a hero. I have to find the parts of him that are like me. I have to be able to defend this character. With someone like Steve Jobs, to put it as simply as possible, you want to write the character as if they are writing their letter to God on why they should be allowed into heaven."
On his research so far:
"I'm at the earliest possible stage with the Steve Jobs movie adaptation. It'll look more like watching ESPN. Which seems, to the untrained eye, it'll look a lot like watching college football. It's a process of procrastination, where you try to figure out what the movie is about. Walter Isaacson wrote a terrific biography — but in making movies about these kinds of things, it's difficult to shake the cradle-to-grave structure, so I'm probably not going to write one. Instead, I'll probably identify the point of friction that appeals to me and then approach that."
G/O Media may get a commission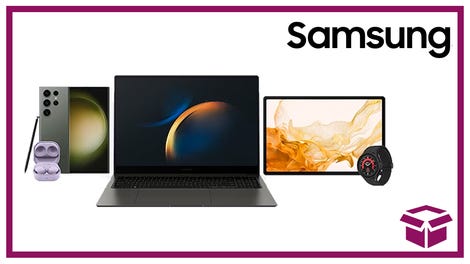 24 hour deals
Discover Samsung - Daily Deal
And, finally, on his use of technology:
"I have the three screens — probably more than three screens. I have a desktop, a couple of laptops, an iPad and an iPhone somewhere on my person here. I don't use them for as much stuff as my 11-year old daughter does, and I frequently ask her for help. I'm old and computer illiterate, and that's not something I'm proud of. But mostly, I use it to write — to write scripts."
Which is good, Aaron, because you're going to have to write something pretty damn good if you're going to nail this upcoming film. [Tech Crunch, All Things D]
Image by AP