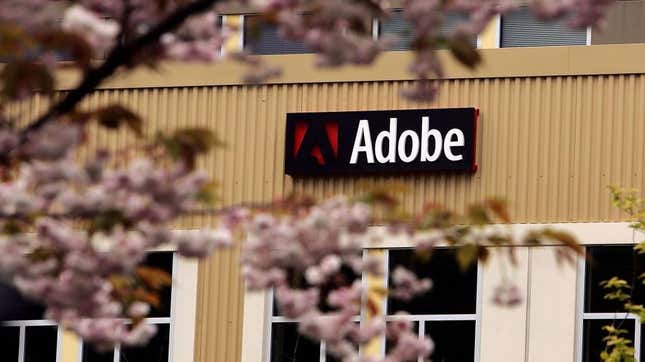 Adobe has promised there will be no more layoffs in 2023 as the company opens its fourth office, based in San Jose, California. Standing at 18 stories and 1.25 million square feet, Adobe's new office tower has the capacity to hold 3,000 employees, all of whom will be given a hybrid or remote working option, Bloomberg first reported.
"We're actually committed to continuing to grow here," Adobe Chief People Officer Gloria Chen told Bloomberg Television on Wednesday. "We are committed to not having companywide layoffs."
Adobe did not immediately respond to Gizmodo's request for comment.
Although the new tower can accommodate 3,000 employees, Chen said the company has not committed to plans to hire enough people to fill the space. The company started planning the construction in 2019, and when the covid-19 pandemic hit in March 2020, Adobe continued building to be ready to open when the country did.
Adobe laid off roughly 100 employees in sales positions at the end of last year, a far cry from the thousands of laid-off tech employees within the industry. At the time, the company said in a statement to India Times that it "shifted some employees to positions that support critical initiatives" and "a small number" of other positions. It clarified at the time that "Adobe is not doing company-wide layoffs and we are still hiring for critical roles."
Months after the layoffs, the company says it still needs to be conscious of costs and will carefully consider its hiring and expense management, Chen told Bloomberg.
Adobe's pledge that it won't pursue layoffs this year follows a wave of mass layoffs within the tech industry, including more than 18,000 employees laid off at Amazon, more than 11,000 laid off at Meta, and Elon Musk's move to cut more than half of Twitter's staff since taking over the company.
Chen said employees will have the option to work remotely in a hybrid capacity, and fully expects the new hires to do so, but added the work-from-home options will be at the discretion of individual managers. "I don't think that the world of flexible and hybrid work has been defined for good. And so we are constantly experimenting, learning, iterating. And we came into this whole model with that mindset," Chen told Bloomberg.