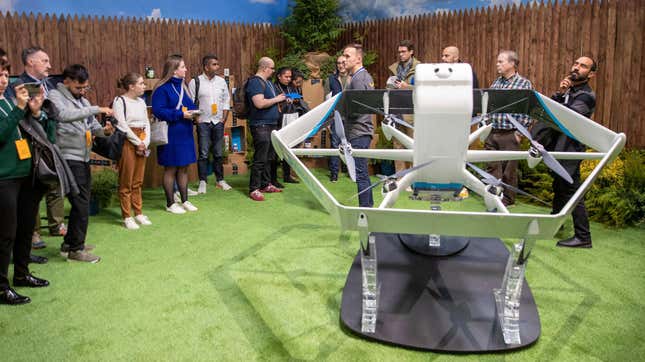 Amazon's drone delivery service was all talk and no action for nearly a decade, until this past December, when customers were finally able to purchase their favorite products and have them shipped via Amazon Prime Air. However, sources close to the project told The Information this week that Amazon's drones have only delivered packages to fewer than 10 houses in two towns by mid-January.

Top 5 Shopping Tips for Amazon Prime Day
This lull in deliveries is likely due to tricky clearance from the Federal Aviation Administration (FAA), which states that Amazon's drones cannot fly over roads or people without case-by-case permission. Amazon has, so far, only been able to release drone deliveries in two towns: Lockeford, California and Coellge Station, Texas.
Lockeford has a population of about 3,500 while College Station has a population of over 120,000, and Amazon received FAA approval to bring Amazon Prime Air to these towns in November and December of last year, respectively. The Information reports that only two houses in Lockeford received three drone deliveries between them by mid-January, while only five houses in College Station received drone deliveries.
Insider reported yesterday that locals in the Texas and California towns expressed safety concerns after finding out that Amazon Prime Air would be coming to their backyard. One College Station resident allegedly worried about a drone "falling from the sky onto our home, onto our car, onto our children" at a public meeting. Amazon has touted safety as being paramount in Amazon Prime Air, but widespread layoffs at the company have apparently also crippled Amazon's drone safety teams.
"We meet or exceed all safety standards and have obtained regulatory authorization to conduct commercial drone delivery operations. We welcome the FAA's rigorous evaluations of our operation, and we'll continue to champion the significant role that regulators play to ensure all drone companies are achieving the right design, build and operating standards," Av Zammit, Amazon spokesperson, told Gizmodo in an email. "We're excited to bring this service to customers. We're making a limited number of deliveries in Lockeford and College Station, and continuing to expand over time. Just last week we received the FAA's approval to start delivering to more customers in these locations."
Safety concerns are not foreign in Amazon Prime Air's development and rollout. In a lawsuit filed against Amazon, Cheddi Skeete, a former manager in the company's drone delivery program, claims he was fired after expressing concerns over the safety of the drones after witnessing several crashes during testing. Amazon has previously told Gizmodo in an email that "[t]hese allegations are false and we look forward to proving that in court."
Update February 2 11:10 a.m. EST: This article was updated to include comment from Amazon.