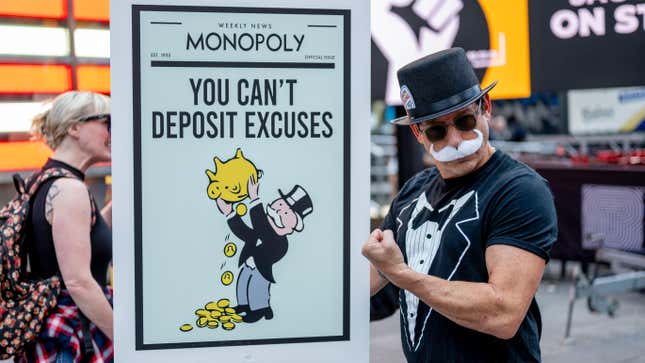 Variety has released a report on what's going on behind the scenes between the Association of Motion Picture and Television Producers and the two guilds that are striking for fair pay, AI protections, and other existential issues. It seems, however, that the AMPTP isn't coming back to the table precisely because the guilds have not immediately offered concessions on those exact line items.
Mike Schur, who is a member of the WGA bargaining committee, said to Variety, "The plan is for them to call us on the phone and ask us to sit down. We're not calling them." There's a similar story from SAG-AFTRA. "The last engagement we had on that point was the 12th of July when they said to us they don't think they'd be ready to talk for quite some time," said SAG-AFTRA executive director and chief negotiator, Duncan Crabtree-Ireland.
David Goodman, a co-chair on the WGA negotiating committee, said to Variety, "There is no reason they can't be talking to either one of us. But it's been what—10 days of SAG being out? Twelve days? Let's give them a minute. They've got to figure out what is their strategy to end these strikes. Because they need to end these strikes."
While WGA members knew they were in for a long strike (they walked away from an incredibly bad contract in May), the fact that they haven't been asked back to the negotiating table is genuinely infuriating. For the past few months, AMPTP has used its negotiations with the DGA (which ratified a new contract in June) and SAG-AFTRA to avoid talking to the WGA, but what excuses is it using now? According to Variety, one studio source chose to quote Friends (you know, that TV show that was so popular it made every single lead actor a multi-millionaire in large part because of residuals—the very income stream that has now all but disappeared): "We're on a break."
---
Want more io9 news? Check out when to expect the latest Marvel, Star Wars, and Star Trek releases, what's next for the DC Universe on film and TV, and everything you need to know about the future of Doctor Who.