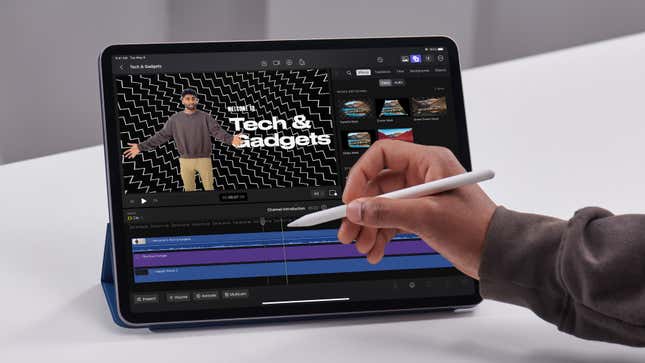 Although it started life as a media consumption device, Apple continues to reposition its iPad as a genuine productivity platform by bringing two of the companies most powerful software tools: Final Cut Pro and Logic Pro, to iPadOS later this month.
The iPad Air with M1 Is the Tablet to Buy
Although the iPad now seems like it's on an inevitable collision course with the company's laptops, the most powerful in-house software Apple has released for its tablet so far are apps like Numbers, Pages, and GarageBand. So far, it's been other companies that have been really pushing what the iPad is capable of, including Adobe with iPadOS versions of Photoshop and Illustrator, and Blackmagic Design with it DaVinci Resolve video editing and grading software.
With DaVinci Resolve slowly winning over more and more editors and wooing them away from the desktop versions of both Final Cut Pro and Adobe's Premiere Pro, a mobile version of FCP could be just what Apple needs to lock in a new generation of creators who learned and perfected their craft on mobile devices.
Final Cut Pro for iPad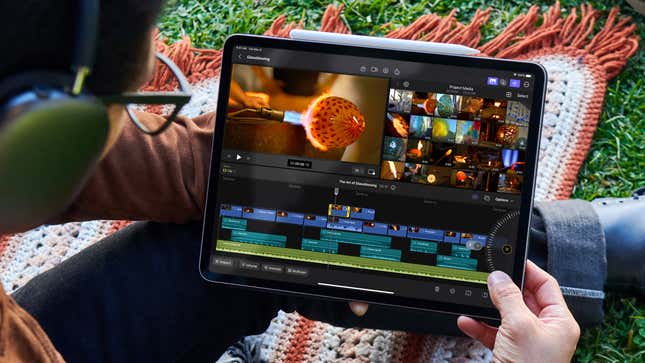 By putting Final Cut Pro on the iPad, Apple is turning the tablet into an all-in-one video production tool that can do everything from capturing video (even in ProRes), to editing it, to adding effects and titles, and then being able to share it with the world across many platforms, without having to move footage or other media between devices. For the first time, Final Cut Pro for iPad brings a touch-focused interface to the video app, with a new virtual jog wheel that pops in from the side of the screen, the ability to draw or write directly on footage using the Apple Pencil, and even being able to scrub footage by hovering the stylus over the screen on iPads equipped with Apple's M2 processor.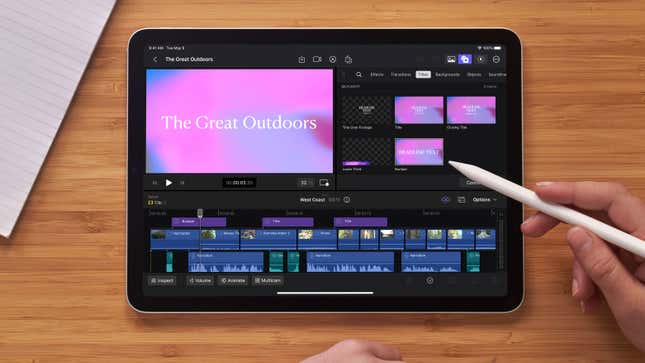 Similar to how the iPhone now lets users easily extract people or objects from photos, Final Cut Pro for iPad can use machine learning to remove people from a video or swap out the background in a clip without the need for green screen effects or hours of rotoscoping. The app also includes a built-in library of effect templates including animated backgrounds and titles, but for projects that demand more advanced post-production work, Final Cut Pro for iPad projects can be exported to the macOS version of the app and completed on a laptop or desktop machine.

Logic Pro for iPad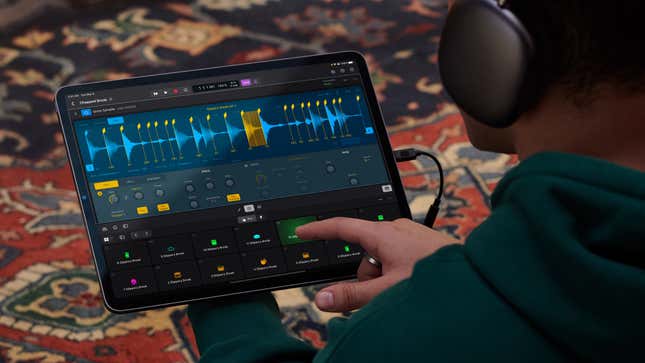 For musicians, music producers, and even podcasters, Logic Pro for iPad also now gains a touchscreen interface with some unique functionality including the ability to play software instruments using new multi-touch gestures, and easy navigation of larger projects and timelines by just pinching the screen to zoom in and out. Creators more familiar with the macOS version of Logic Pro can also navigate the iPad version using keyboard shortcuts with the various keyboard accessories available for the tablet. As with FCP for iPad, the Apple Pencil stylus can be used in the iPad version of Logic Pro for scrubbing and other editing tasks.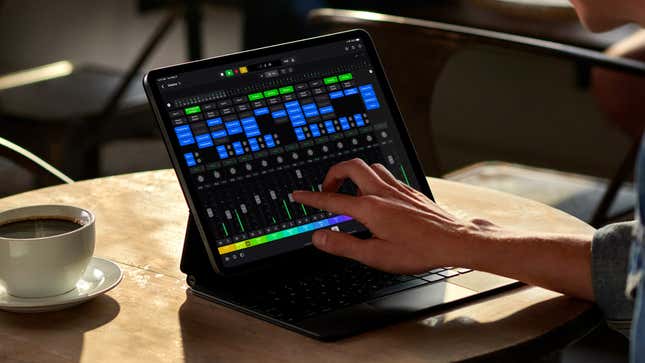 In order to maintain inoperability between the iPadOS and macOS versions of the app, Apple isn't delivering a lite or mobile version of Logic Pro—the iPad version includes every feature you'll find in the desktop option, but with some new enhancements, including a new sound browser that allows users to preview "instrument patches, audio patches, plug‑in presets, samples, and loops" in order to find the exact sound they're looking for before adding it to their current project.
The biggest difference between the iPadOS and macOS versions of Final Cut Pro and Logic Pro is that they won't be available as one-time purchases on the iPad. When both apps officially debut on May 23, they'll only be available through a subscription plan at $4.99 per month, or $49 per year for users who want to lock in for 12 months and save themselves $10 in the process. Final Cut Pro for iPad will also be limited to iPads running M1 processors or later, while Logic Pro for iPad will work on slightly older iPad models (those running the A12 Bionic processor or later).

---
Want more of Gizmodo's consumer electronics picks? Check out our guides to the best phones, best laptops, best cameras, best televisions, best printers, and best tablets. If you want to learn about the next big thing, see our guide to everything we know about the iPhone 15. Click here to save on the best deals of the day, courtesy of our friends at The Inventory.