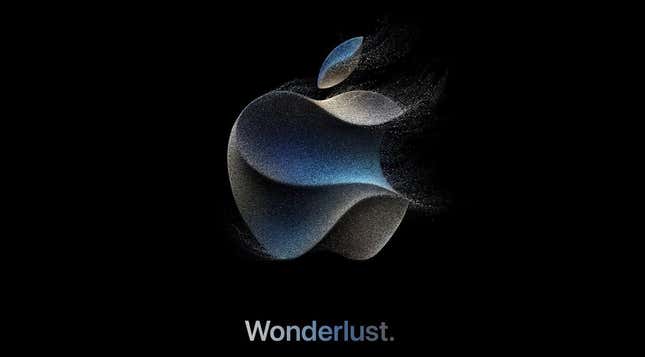 Broadcasting from Apple Park in Cupertino, California, Apple CEO Tim Cook and other executives are taking the stage Tuesday to announce updates to the company's major product lines. In the tradition of Apple's September events—usually more hardware-focused than the software-heavy WWDC in early summer—the company is updating the iPhone and Apple Watch. The iPhone is converting from Lightning charging to USB-C to comply with European Union law in a major shift. Say goodbye to your current tangle of white cords; it's time to get new ones.

The company launched the newest generation of iPhones at the event—iPhone 15 ($799), 15 Plus ($899), 15 Pro ($999), and 15 Pro Max ($1199). Along with the updated flagship smartphones came the Watch Series 9 ($399) and Ultra 2 ($799). All four iPhone models and both new Apple Watch models go on sale Sept. 22.
The iPhone 15 Pro is getting an addition to its titanium chassis, the Action Button, which allows users to program immediate shortcuts in place of the mute switch, though it can still be used for that. What it won't have: leather accessories, which Apple will no longer make for the Apple Watch or the iPhone.
The titanium iPhone 15 Pro is "the most 'Pro' iPhone we've ever created," Tim Cook said.
Watch the livestream of Apple's Wonderlust event: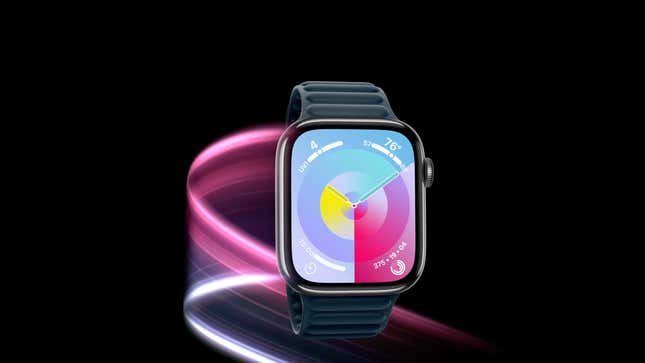 The event opened with testimonials from Apple Watch users who were notified of health problems by their Apple Watches or who were rescued from dire situations by its emergency contact features.
"It's amazing to see all the ways people use iPhone and Apple Watch," said Cook.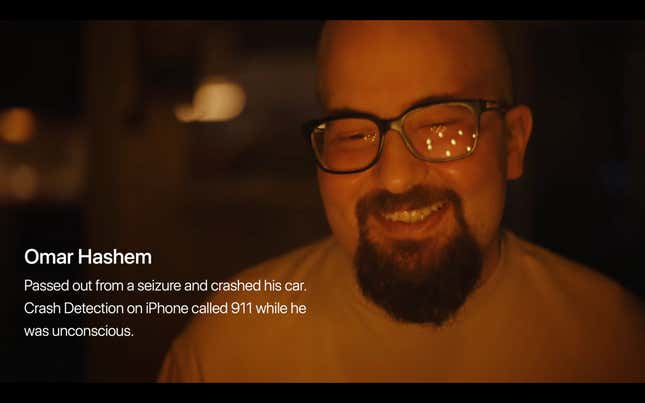 The company is adding a gesture to the repertoire used to control the watch, which it's calling "Double Tap." Users will tap the index fingers and thumbs of their watch hands twice to activate the main action of whatever is on the watch face such as a call.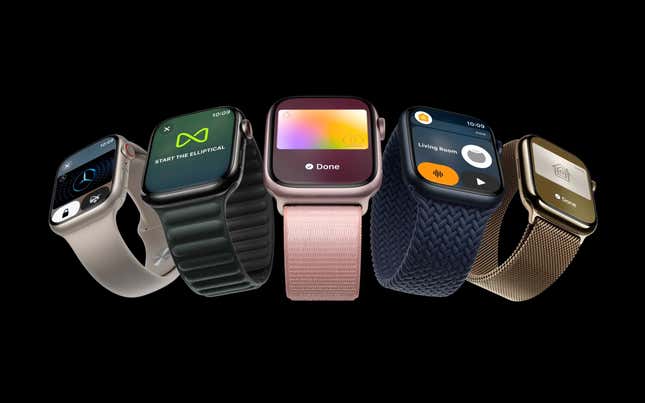 Both the Apple Watch and Apple Watch Ultra are getting a computing boost with Apple's S9 chip as well as a brightness boost to their screens.
Gizmodo's Kyle Barr writes in our full story on the Apple Watch Series 9 and Ultra 2 announcement:
The regular Apple Watch with GPS starts at $399 with GPS and cellular connection starting at $499.

There's a slate of new Watch colors on offer, including pink aluminum, midnight, silver, and product red. The product also comes with metallics ranging from silver to gold to graphite.
The $799 Apple Watch Ultra 2 now has a 2.1-inch, always-on LTPO OLED screen compared to the original's 1.9-inch display. This is due to Apple shrinking the bezels on the screen, similar to what it's accomplished with the newly announced iPhone 15. The flat screen now pushes a "Modular Ultra" to the edge of the display, and it's also able to go extremely bright at 3,000 nits.

And if you're still wondering, the Ultra's screen is still flat compared to the regular Apple Watch's smaller waterfall design, which curves at its edges. It gets 36 hours of battery on a single charge and 72 hours in low power mode, according to Apple.
As part of its environmental initiatives, Apple said it would no longer use leather in its future watch bands or iPhone cases. Instead, it's introducing a new textile it's calling "FineWoven" which the company claims is made out of 68% post consumer content. Apple showed off several examples of FineWoven Watch bands, which will have a "suede-like" feel. It's all part of a larger goal of developing completely carbon neutral products. The company said the Apple Watch Ultra 2 would be completely carbon neutral.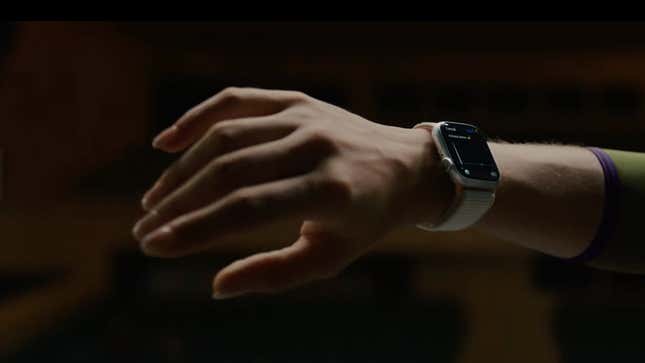 Apple is bringing the Dynamic Island—the modular replacement for the top of the phone's notch—to the regular iPhone line.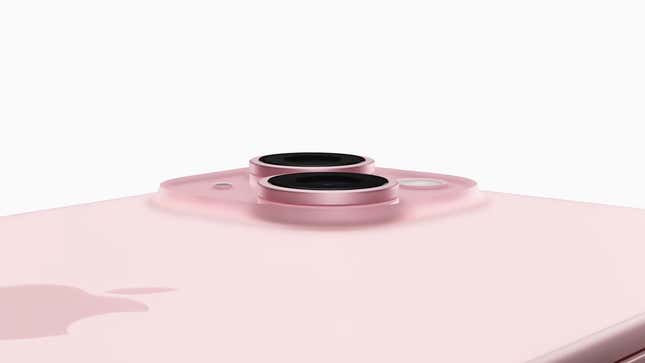 The iPhone 15 is bigger than its predecessor as well, with a 6.1" display for the iPhone 15 and a 6.7" display for the iPhone 15 Plus.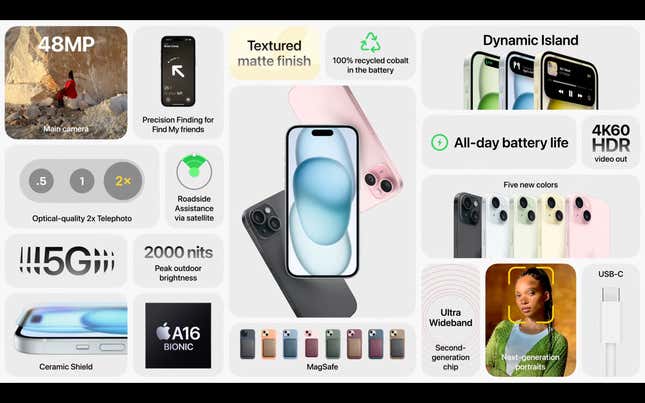 In camera updates, Apple said the iPhone 15's camera would automatically detect when a person (or a pet) was in the frame and turn on Portrait Mode's depth perception and differentiation.
The new phone adds a feature that will guide users to someone who has shared their location.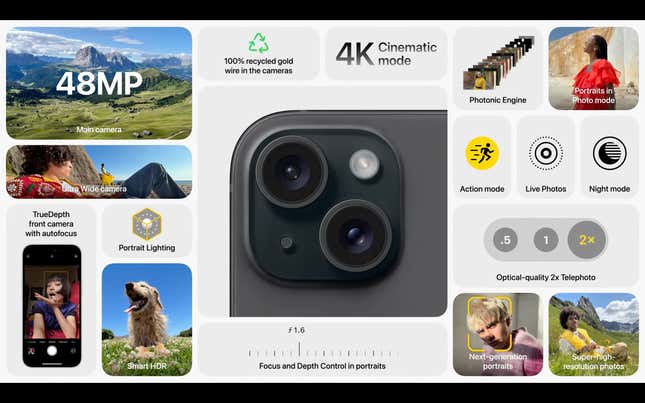 Gizmodo's Florence Ion has the full story on the debut of the iPhone 15:
The iPhone 15/15 Plus runs on the supercharged A16 Bionic chip and features the iPhone 14 Pro/Pro Max's primary camera system. You don't get a telephoto lens like on the Pro/Pro Max, but you get an improved camera system that produces clear, high-resolution photography. It comes with a 48MP Main camera and a new 2x Telephoto option to give users a total of three optical zoom levels.

The new iPhone 15 comes in five new colors: pink, yellow, green, blue, and black.
Updating the iPhone's safety features, Apple said it would integrate AAA roadside assistance into the iPhone 15's emergency features, though you'll have to become an AAA member to use the satellite feature.
For more, here's Gizmodo's Kevin Hurler with the full story:
Apple announced the new feature alongside the newest edition of the iPhone at its Wonderlust keynote today. Apple's roadside assistance via satellite will cover everything from locking your keys in your car to your vehicle being incapacitated, and will connect you with AAA via satellite text messages when you don't have service. AAA members will get the service for free while non-members will have fork over some cash—Apple did not immediately disclose how much that cost would be. More broadly, everyone with the iPhone 15 will be able to enroll in all Emergency SOS satellite services for free for two years.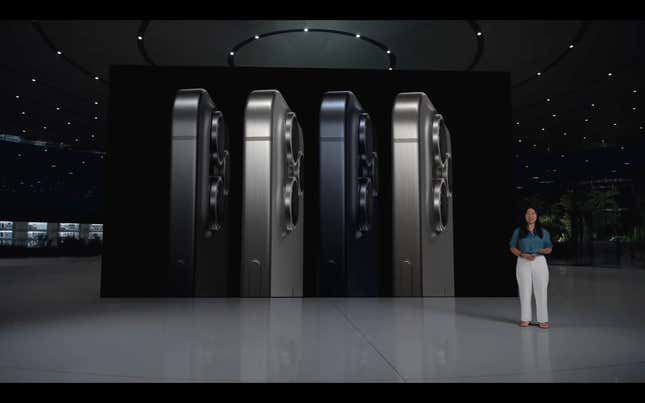 The iPhone 15 Pro will feature a titanium frame, thinner borders, and what Apple said was a stronger screen. It comes with a 6.1" display for the Pro and a 6.7" display for the Pro Max.
"It's the most 'Pro' iPhone we've ever created," said Cook. The iPhone 15 Pro will retail for $999, the Pro Max for $1199.
From Gizmodo's Florence Ion full story on the iPhone 15 Pro and Pro Max's announcement:
The 15 Pro and Pro Max will be the first models to run Apple's A17 Bionic chip. This is Apple's first 3nm processor, joining the ranks of its rivals, namely Samsung (but Samsung didn't offer that chip in the U.S.). Both the regular and Pro models also use Apple's second-generation UWB chip, which helps increase location accuracy for the iPhone for apps like Find My and can now connect to devices from farther away. The iPhone's cellular connection technology will continue to come from Qualcomm, as revealed in a press release earlier this week amid speculation Apple might develop its own chips for calling.

The iPhone 15 Pro and iPhone 15 Pro Max will be available in black titanium, white titanium, blue titanium, and natural titanium.

The smartphone will continue to offer three lenses, including a 48-megapixel primary sensor and an improved telephoto and ultrawide lens.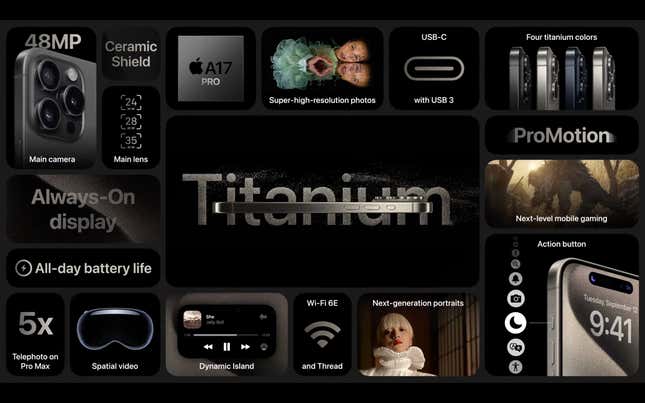 Gizmodo's Mack Deguerin has the full story on Apple's switch from its proprietary Lightning charging cable to
After more than a decade of use, Apple's new iPhone 15 will retire the company's proprietary Lightning connector in favor of the USB-C port. The long-rumored change comes ahead of a December 2024 European Union deadline requiring all new phones sold in the region to ship with a USB-C connector for their charging port. For iPhone users, it's already better late than never. Android phones have charged via USB-C for the better part of a decade.

Images of the iPhone 15 shown at its event Tuesday show the USB-C connector appearing in the same slot as the Lightning before it. Apple said the industry-favored cord would allow charging, data transfers, and playing audio. It's also capable of achieving USB 3 speeds, which Apple says is up to 20X faster than USB 2.

Moments after revealing the iPhone's switch to USB-C, Apple doubled up and revealed its new AirPods would also utilize USB-C charging as well. Moving forward, users will also be able to charge both their AirPods and Apple Watch devices simply by connecting them to their iPhones.
Program your own shortcuts with a new button that comes built into the side of the iPhone 15 Pro's titanium case. The Action Button can be used as a mute switch, as is the case with current iPhones' switches, but you can tweak it to bring you to your favorite, most-needed app immediately.
Standby mode
Turn your iPhone 15 Pro on its side to change its display to something resembling a customizable alarm clock.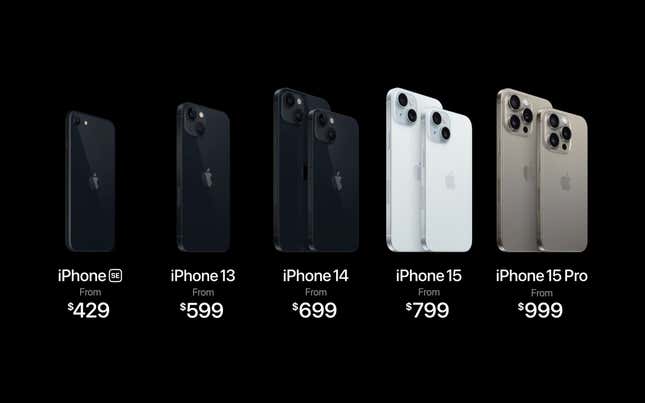 Apple Vision Pro
Updates on were slight on the headset, with Cook simply saying, "We're on track to ship by early next year."