AT&T, despite owning DirecTV and thus the live TV streaming service DirecTV Now, just launched another: AT&T WatchTV. Like DirecTV Now, it streams live TV to nearly every kind of mobile device and set-top box. Like DirecTV Now, it has an easy-to-navigate interface. Unlike DirecTV Now, AT&T WatchTV is the cheapest way to stream live TV. No cable subscription required, just $15 a month.
Apple's Vision Pro Seems Powerful, But Who Is It For? | Future Tech
That feels like a bargain when you consider the price hikes similar services have had in the last week. DirecTV Now costs $40 a month (up from $35), and Sling TV Orange is now $25 (up from $20). Of the services you've heard of from established TV providers AT&T WatchTV is now officially the cheapest. It's also cheaper that services you might not have heard of, like the $16 a month Philo and the $18 a month FuboTV. But cutting costs when you cut the cord with WatchTV also means sacrificing some of the most convenient features of its competitors.
For example, WatchTV can only stream to one device at a time. There's also no DVR, which means you're out of luck if the show you want to catch up on isn't one of the ones AT&T offers on demand. (It does, thankfully, offer on-demand episodes of major shows from every network it airs.)
And it feels buggier than pricier competition like the $40 a month PS Vue or $40 a month Hulu Live TV. Unlike Sling TV, DirecTV Now, or the new AT&T WatchTV, PS Vue, and Hulu Live TV actually work reliably. I can trust that menus will load smoothing and channels stream consistently.
While AT&T WatchTV has, to date, been more reliable that Sling TV or its sibling DirecTV Now were in their first days of operation, it's still just buggy enough to make me weary of relying on it for a living viewing of something like the next episode of AMC's Humans. I watched what appeared to be a Peter Lorre marathon on TCM when the service launched on Friday, and encountered the technical hiccups you would expect on the day anew service launches. When I navigated to the guide on my Apple TV, this is all I got: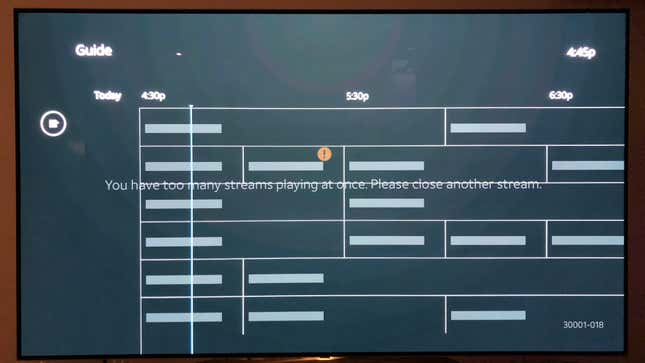 But on my iPad the experience was surprisingly quite good. The app is virtually identical to DirecTV Now, except it's all white where DirecTV Now is all black. It's easy to navigate, the guide itself makes sense when it can be viewed, and there are nice options, like the ability to control stream quality on mobile data as well as whether or not audio is muted when you launch the app.
So why should you still be weary? Because TV is meant to be an escape for most people. It's an activity you partake in to unwind. So a streaming service should work simply, without troubleshooting. And it should be reliable because you don't want to invite everyone over to watch the next episode of a favorite TV show only to have your stream fail and your party ruined.
AT&T WatchTV doesn't feel that rocksteady yet. And the channel choices it offers are meager too. There are 31 channel to choose from, including AMC, TCM, and HGTV, but they do not include other standard channels like MTV, Nickelodeon, or anything that streams a sports program (something every other every service discussed here offers). You won't get any network options like NBC and FOX either. Want to watch the World Cup? You cannot. Want to check out a new telenovela or mainline some reality TV on Bravo? Look elsewhere.
Currently the most notable "perk" of AT&T WatchTV is that it's actually included with two different subscriptions for your mobile phone. If you subscribe to the $70 a month AT&T Unlimited &More service your phone gets unlimited data, a $15 monthly credit to DirectTV Now (which costs $40 a month without), and the ability to use WatchTV for free. Pony up for the $80 a month AT&T Unlimited &More Premium plan and you also get 15GB of data for tethering a month.
It's awfully appealing, until you consider that AT&T is lobbying the FCC to destroy net neutrality (it's currently dead, but not buried). Without net neutrality, AT&T and other ISPs can create internet tolls to streaming TV competitors like PS Vue, Hulu, and Sling. AT&T's decision to provide this so-cheap-it-almost-feels-magnanimous service while the FCC is doing its damndest to kill net neutrality does not feel like a coincidence.

Particularly when you consider that AT&T also just finalized a merger with Time Warner—one of the largest entertainment companies in the world. As soon as the merger was complete, AT&T quietly raised prices and cut fun perks like free HBO for Unlimited subscribers. (HBO is owned by Time Warner which is now owned by AT&T.) It almost feels like WatchTV is a bone being tossed to subscribers who've seen their monthly bills increase and their access to Game of Thrones taken away. But that could merely be coincidence!

If WatchTV's lack of channels annoys you, or AT&T growing power over all avenues into your home terrifies you, then there are other options. SlingTV Orange (owned by Dish) just raised its price this week to $25 a month, and has around the same number of channels. For the extra money, its sports offering is much more robust, and it has DVR and the the ability to stream to multiple devices at once.

Personally I would skip both. They're not reliable enough for your money. Instead, if you can find the cash, spend it on PS Vue. It starts at $40, but has a robust selection of channels, it's easily the most rock solid streaming service I've used to date. And if $40 a month is still simply too much, and if you really need one of the 31 channels WatchTV offers then $15 a month for non-At&T subscribers and free for AT&T unlimited subscribers is a helluva deal. Just maybe don't trust it will always be there or for that price.
README
It's dirt cheap
Doesn't mean it's good