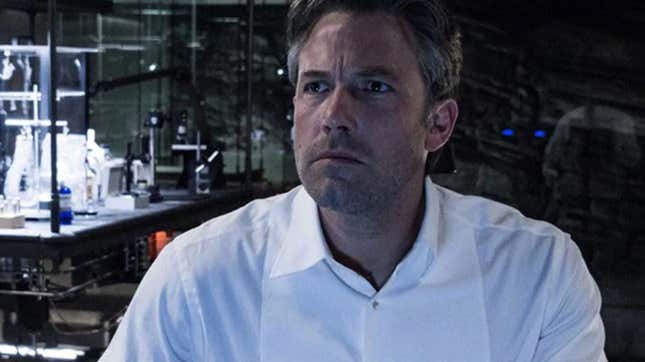 Oh, won't you look at the time? It's Make-You-Feel-Old-O'Clock. Yes, it's one of those days we write about something that feels like it was yesterday, but was almost certainly not yesterday. And today that something is Ben Affleck's casting as Batman.
The date was August 22, 2013, and the news of Affleck's casting in the film that would later be called Batman v Superman: Dawn of Justice broke in the early evening. I, for one, wasn't online to read that news though. I was at the Arclight Cinemas in Hollywood, California (RIP) for a triple feature of Edgar Wright's Cornetto Trilogy: Shaun of the Dead, Hot Fuzz, and finally The World's End, which was just opening that very day. (Happy 10th anniversary, Gary King!)
Honestly, I don't remember much about that evening. I know I had a good time. Those are great movies that I already loved and I knew I was going to enjoy The World's End, having already seen it a few times in my capacity as an entertainment journalist. What I do remember though, very vividly in fact, was the moment when a member of the audience found a tiny nugget of silence and blurted out these four, unforgettable words: "Ben Affleck is Batman."
The phrase exploded into the theater like a bolt of lightning, arriving out of nowhere and leaving a devastating impact. So much information packed into so few words. And the first reaction of that Hollywood crowd was one I did not expect. They started to boo.
Affleck hadn't even put on a cape yet and the audience booed. Which, sure. At the time it was pretty funny. Now, 10 years later though, it's almost sad because we know just how terrible that ride was going to be for the Oscar-winning filmmaker. He was going to show up in Batman v Superman: Dawn of Justice, and it was going to instantly divide audiences. That reaction was going to completely change the scope of the next film, Justice League, which began a long, wild, sad, and now infamous behind-the-scenes saga. He'd appear again in another film with an almost as memorable behind-the-scenes drama, Suicide Squad, which would then lead to Affleck going back and forth, time and again, about starring and directing his own Batman movie. He'd then leave the role, only for him to reprise it in a new version of Justice League (Zack Snyder's Justice League of course) and then, finally, in this year's The Flash. And he's good in all of those movies! All of them! What a ride.
And, for me, it started in a movie theater with those four simple words, 10 years ago today.
---
Want more io9 news? Check out when to expect the latest Marvel, Star Wars, and Star Trek releases, what's next for the DC Universe on film and TV, and everything you need to know about the future of Doctor Who.