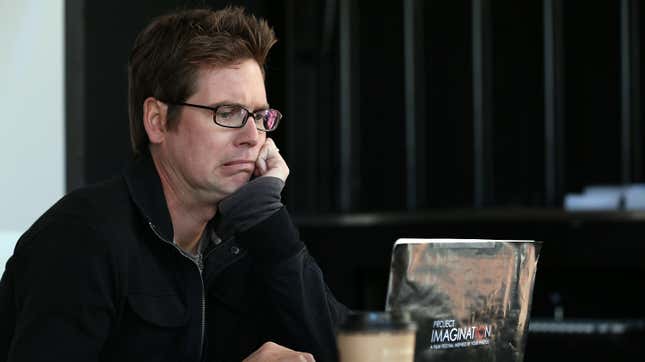 Elon Musk is now getting hate, or at least a few hedged quips, from one of the folks who founded his favored blue bird app. Twitter co-founder Biz Stone told The Guardian that Musk "doesn't seem like [the right owner] for Twitter, but I could be wrong."
NPR Is Going Dark on Twitter | Future Tech
Stone was one of four people who helped take the site out of its infancy. Alongside Jack Dorsey, who would eventually become CEO before fully leaving the company in 2022, there was also Noah Glass and Evan Williams. Stone left Twitter in 2011 but returned in 2017 to work on the company's "culture, that energy, that feeling." That turned out to be a lot of work on Twitter's content moderation practices. Stone was often an aloof tweeter, though he did come out with some bouts of passion, especially when he and his coworkers were criticized for how the social site boosted harassment and hate speech.
The promulgation of hate speech on the platform is a touchy subject for Stone, so when Musk tore down its trust and safety team, slashed its misinformation moderators, and allowed major far right figures, misinformation spreaders, as well as outright neo-Nazis back on the platform, it has obviously touched a nerve.

He told The Guardian "We made a lot of improvements in those areas. And that's all gone now."
Well, it's probably worse than that. Bloomberg reported late Thursday based on a leaked internal Twitter message that Elon Musk directly ordered staff to ban a left-wing activist's account. Chad Loder is a known anti-fascist researcher who has covered the far-right and was especially effective in investigating the Jan. 6 Capitol insurrection which led to the arrest of a member of the far-right 'western chauvinists' group, the Proud Boys. Musk was reportedly directly asked by Andy Ngo, a right-wing provocateur, to take down Loder's account.
Stone also criticized Musk for his fly-by-the-seat-of-his pants nature when banning speech he doesn't like. Musk has briefly banned journalists from the platform alongside an account that uses public information to track Musk's private plane, though now that account is back online with a forced 24-hour delay.
"You have to be OK with stuff that you just don't like or don't agree with being on there," Stone told The Guardian.
He also criticized how Musk has named Twitter employees with his targetted faux-journalism the owner has dubbed The Twitter Files. These documents, released by several individuals including conservative commentators, have not become the bombshells he's wanted them to, at least not on most mainstream news outlets. Dorsey, for his part, has asked Musk to simply release all the files to the public so they could make of them what they will. This is a rather sensible suggestion from an ex-CEO, which is likely why Musk quashed it.
And the ironic thing with all this was Dorsey was an out-and-out supporter of Musk buying Twitter. In texts between the past and current Twitter CEO, Dorsey talked about how Musk could move the site away from being a "company" and move it toward a more decentralized "protocol." Musk once asked Dorsey to be "super vocal if there is something dumb I'm doing or not doing." Dorsey responded. "I trust you." After Musk's attacks on the previous Twitter administration, Dorsey has had to defend his past leadership of the company, especially with the way the company handled moderation. During his tenure, Musk has attacked many of Dorsey's hires like ex-head of trust and safety Yoel Roth.