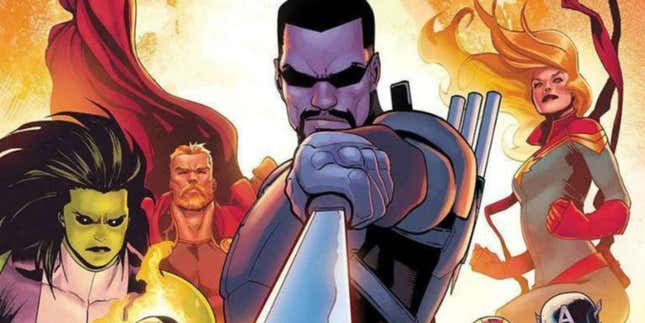 Before the Marvel Cinematic Universe came in with Iron Man and Thor as its leading men, most audiences beyond comic-book readers were familiar with Marvel thanks to the animated series for Spider-Man and the X-Men—and the solo movies for Blade the Vampire Hunter. Played then by Wesley Snipes, that trilogy of R-rated films spanning 1998-2004 has a reputation for re-energizing the superhero movie scene after '90s duds like Batman & Robin and Spawn.

io9 Interview: Oscar Isaac Was 'All In' on Moon Knight
Talking about what those movies did for Blade the character is... kind of complicated. Much like how Batman: The Animated Series hangs over all future media starring Batman, this trilogy will just forever hang over him. But Marvel's generally relied on Blade as a team player or guest star in the works of its more high-profile or fellow supernatural characters—we're likely never going to get a comic book event where Blade is the sole headliner, as Wolverine often is. Still, it's quite clear those movies did their job and left a mark on the character. You can see how the Marvel's Midnight Suns version of Blade (where he's played by Michael Jai White) is very much pulling from those movies while still putting its own spin on him.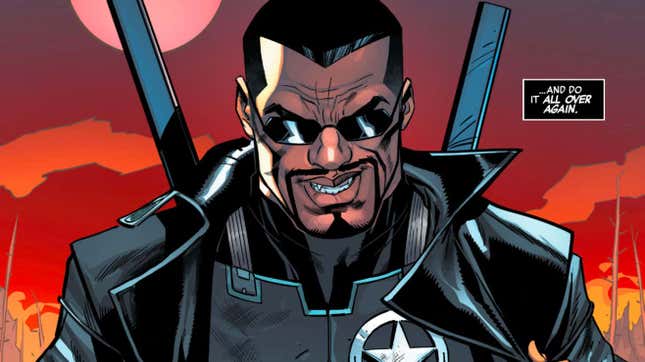 It's never been a question of if Blade would come to the MCU, but when, and it's unfortunate that can't be so easily answered. In 2021, Eternals confirmed with its post-credits scene that Blade (played by True Detective's Mahershala Ali, a two-time Oscar winner) exists in this universe, but getting his new solo movie off the ground been an ordeal. The movie's been plagued by director and script rewrites (the latter of which is still ongoing), and is further caught up in a fluctuating release schedule for the MCU at large. Blade likely isn't among the most troubled MCU productions—that's an entirely separate conversation in and of itself—but it feels like a not-great sign that Marvel Studios announced this movie nearly five years ago and still only has a title treatment and an artist's rendition of its title character.

The thing about Blade is that he is one of the most simple high-status characters that Marvel has ever cooked up: he's a guy who kills vampires with a sword (or a glaive, gun, whatever) while looking cool as hell. Snipes' movies perfectly understood this and just ran with that for six years while making it look like an easy feat. His Blade films were B-movies that just wanted to show audiences a good, bloody time with a guy who had perfect screen presence and directors who knew how to take advantage of that. The films were effectively the horror equivalent of Star Trek or James Bond, showing us a night in the life of a hypercompetent monster hunter.
And that's fun! What helped make those movies special is how they had no obligation to anything else, which already puts this new version Blade in a difficult spot. Ali can't just be playing Blade, the guy who'll fight Dracula or an obscure vampire—he has to be Blade, the guy who can be second-billed in a future Black Knight show; Blade, the guy who can go blow-for-blow with Moon Knight and Scarlet Scarab; and so on. The character has to be ready to launch off into any direction Marvel flings him at a moment's notice. His greatest enemy might not be a horde of bloodsuckers, but trying to pinpoint where he can show up next to continue the ongoing franchise interconnectivity that the MCU runs on to keep folks interested until the next Avengers movies.
This has been a part of Marvel's strategy (and also DC's) for years: whatever character is due up for a cinematic debut, put them in whatever comics feel like the best for them. But Blade is something of a paradox character. People know who he is thanks to those movies, he just doesn't have an iconic thing to call his own. He's got a daughter now, but that's almost an eventuality for superheroes at this point. In media overall, he's not particularly unique; people have been killing vampires for years, so he's just one monster hunter among many. And unlike other Marvel heroes like Spidey or the Fantastic Four, Blade doesn't really have a hard canon that audiences have become familiar with over the decades. He can't really be molded into a version of himself the way characters like Shang-Chi and Hawkeye were (the latter of which was then semi-reversed later on). Marvel's got him ready to be a brand, but not much of a character in his own way.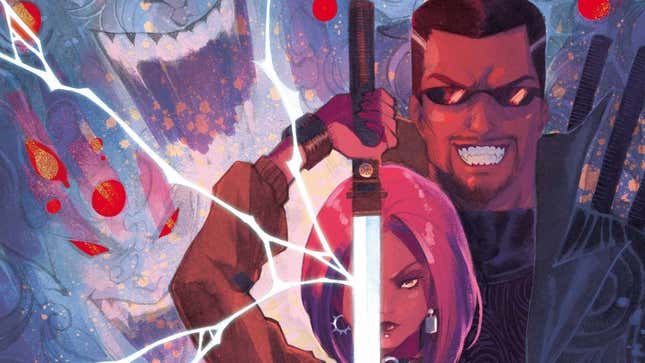 With Blade, Marvel might've been surprisingly too slow on the draw to capitalize on the goodwill earned by his earlier movies. In trying to bring him to a new audience, the company may just be overthinking what made him so fun in the first place: watching Black people with swords kill vampires never loses its appeal. Trying to do much of anything beyond that is like trying to ice skate uphill.

Blade is expected to release September 6, 2024.
---
Want more io9 news? Check out when to expect the latest Marvel, Star Wars, and Star Trek releases, what's next for the DC Universe on film and TV, and everything you need to know about the future of Doctor Who.