Thor director Kenneth Branagh has reportedly added a third god to his pantheon. Brian Blessed is heavily rumored to be on board as Thor's father Odin, bringing his trademark combination of Shakespearean showmanship and utter eye-rolling insanity to the role.
The website Bleeding Cool first broke the story that Brian Blessed is set to join Chris Hemsworth and Tom Hiddleston in the cast of Marvel's Asgardian epic. This would be his fifth time working with Branagh, for whom he had previously appeared in the Shakespeare adaptations Henry V, Much Ado About Nothing, Hamlet, and As You Like It.
Once a respected actor (his work as Augustus in I, Claudius is particularly good), Brian Blessed is now better known for just being Brian Blessed, a wonderfully insane, larger-than-life personality distinguished by his adventures (he's tried to climb Mount Everest three times) and shouting his way through he every role he now plays. He's also no stranger to science fiction, having appeared in Space: 1999, Survivors, Blake's 7, Doctor Who, and Star Wars: The Phantom Menace, although his most iconic science fiction role - for better or worse - has to be as Prince Vultan in Flash Gordon. Feast your eyes and ears on this particular brand of Brian Blessed glory:
To me though, Brian Blessed will always be King Richard IV in the original Black Adder. That role actually might be a decent template for Odin, considering Richard was also the all-powerful father of a dashing, heroic son and his dastardly, scheming brother. Also, I'd very much be in favor of the King of Asgard randomly eating horse legs during scenes:
G/O Media may get a commission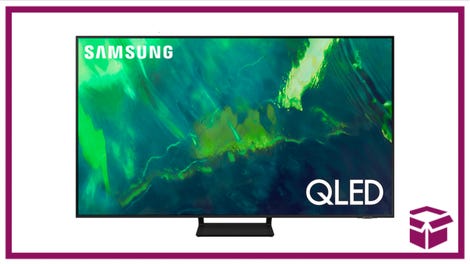 35% off
Samsung Q70A QLED 4K TV
Save big with this Samsung sale
If you're ready to drop some cash on a TV, now's a great time to do it. You can score the 75-inch Samsung Q70A QLED 4K TV for a whopping $800 off. That knocks the price down to $1,500 from $2,300, which is 35% off. This is a lot of TV for the money, and it also happens to be one of the best 4K TVs you can buy right now, according to Gizmodo.
It's hard to know whether Brian Blessed can really turn in what you or I might consider a "good" performance - particularly when directed by Kenneth Branagh, himself known for over-the-top tendencies - but casting him makes one thing abundantly clear: there is absolutely no chance Thor is going to be boring.