Last Friday, California lawmakers approved funding for the nation's first dedicated high-speed rail line, with construction slated to begin as early as late 2012. If the system is established according to plan, it will become the first dedicated high-speed rail line in U.S. history — drastically reducing emissions, slashing travel times, and creating hundreds of thousands of jobs in the Nation's most populous state. Here's everything you need to know about the most ambitious public infrastructure project of our generation.
What is the California High-Speed Rail?
Exactly what it sounds like. Let's break it down piece-by-piece.
California: The system will run from San Francisco to Los Angeles (eventually expanding to serve Sacramento and San Diego, as well), making stops at various cities in between, including San Jose, Fresno, Bakersfield and Palmdale. The SF—LA leg will span a distance of 432 miles, but the entire proposed system would likely be upwards of 800 miles long. California's a big, long state; if this thing gets built, it'll be the largest public infrastructure project in the country, hands down.
High-Speed: The system will be designed for next-generation rapid transit. That means electrically-powered trains capable of achieving commercial speeds of up to 220 miles per hour. That's as fast or faster than all but a small number of trains worldwide.
G/O Media may get a commission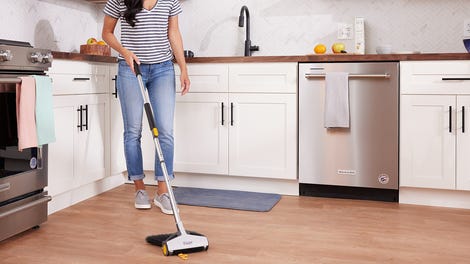 BOGO 50% Off
Flippr - BOGO 50% Off
Whether trains would actually travel at that speed is another question. The only other high-speed rail in the U.S. — Amtrak's Acela Express — is capable of speeds of up to 150 mph, but typically chugs along at somewhere between 60 and 70 mph. That being said, current estimates put travel time between SF and LA on the high-speed rail at under 2 hours and 40 minutes, which translates to an average speed of over 160 miles per hour. If you were traveling by car, the same trip woud take you about twice as long — and that's if you're really hauling ass.
Rail: The system will run on modern steel-wheel-on-steel-rail technology. A maglev system — which would have relied on magnetic levitation to lift, guide and power train cars — was proposed early on, but later abandoned due largely to the fact that maglev technology would not be able to play nice with existing rail infrastructure.
Is maglev faster? Sure. The fastest train in the world — the Shanghai Transrapid — is a maglev train, running at commercial speeds of up to 268 mph. Maglev trains are also capable of accelerating and decelerating more quickly than those with wheel/rail tech. But projections for the proposed CA system indicate they would require more energy to operate, and be 2—3 times more expensive to build; and the proposed wheel/rail system is already expensive enough as it is.
How Much Will It Cost?
The cost of the rail system has been a moving target for years. Back in 2008, an estimate on the capital cost of the rail (conducted by British consulting firm Parsons Brinckerhoff) was expressed in 2008-year dollars at $33.6-billion. In 2009, that estimate jumped to $42.6 billion. The California High-Speed Rail Authority (CHSRA) reported that about 80% of the 9-billion dollar increase could be chalked up to inflationary costs.
Fast forward to 2011. The estimated cost had jumped to $65.4-billion. That same year, the CHSRA issued an estimate indicating that the entire, "Full-Build" project (i.e. from start to finish) would run a total of approximately $98.5-billion "inflated" dollars (meaning the estimate accounted for future inflation predictions).
The latest estimates, released in April of this year, show a $30-billion reduction in total costs, lowering the Full Build estimate from $98-billion to $68-billion. The CHSRA attributes this dramatic cost reduction to the elimination of "costly and intrusive new [high-speed rail] infrastructure in urban areas." (Click here to access CHSRA's Revised 2012 Business Plan. A breakdown of capital costs, including more information on the chart featured here, can be found in Chapter 3.)
The bill approved last Friday will allow California to begin selling $4.5-billion in voter-approved bonds. That includes $2.6 billion for an initial 130-mile stretch of rail in California's Central Valley, which will grant the state access to another $3.2 billion in federal funding.
That's certainly a good start, but the remaining price tag on the railroad looms large. The dramatic swings in cost projections have also caused a lot of people to balk at the idea of a high-speed rail system, which is understandable. These are big numbers California is dealing with, and any way you slice it, this project is going to be very expensive. But will the costs involved wind up being prohibitive? The lingering question in most people's minds is whether or not it's worth the investment.
Is It Worth It?
The answer to this question obviously depends on who you ask, though within the California senate the debate falls pretty evenly along party lines. In the eyes of those who support it, California's HSR is an environmentally friendly, job-creating, revenue-generating dreadnought.
Here's a sampling of the benefits that are commonly presented by those who would see the state's high-speed rail project brought to fruition:
The State's high-speed rail will eliminate the need to spend over $100-billion dollars on 3,000 miles of freeway, five airport runways and 90 airline departure gates.
Construction of the rail is expected to generate up to 100,000 construction-related jobs for every year the system is being built, and as many as 450,000 permanent jobs once the rail is completed.
Improved energy efficiency, operating at one-third the expenditure of airplanes, and one-fifth the energy of passenger cars.
237-million gallons of auto fuel saved annually and 35-million gallons of aviation fuel saved annually, translating to a reduced dependence on foreign oil by close to 13-million barrels a year, and 12-billion fewer pounds a year in greenhouse gasses.
If contruction on the railroad begins later this year, the U.S. will finally join the rest of the industrial world in developing high-speed rail systems, something the state (and the country) arguably need. Slate's Will Oremus gives a tidy description of the situation:
it truly needs new transportation infrastructure to handle its still-growing population. Roads or airports might be cheaper by some measures, but high-speed rail is the only option that gives the state a realistic hope of meeting its long-term commitments to reducing greenhouse gas emissions (which, incredible as it may sound to the rest of the country, California actually takes seriously).
It's a little surprising, therefore, that the project has faced so much resistance on the basis of environmental violations. Since voters approved the project, Courthouse News Service reports that "no fewer than 12 legal complaints have been filed [against the high-speed rail project] in courts around California," and that the majority of complaints have been the the tune of Not In My Back Yard:
The three lawsuits filed this year claims [sic] that CHSRA sidestepped federal and state environmental protection laws in approving the Central Valley leg of the system.

The [CHSRA] tells a different story on its website, claiming it is implementing "the most thorough environmental review process in the nation.
But the biggest elephant in the room is unquestionably the project's high price tag. The rail's most forceful detractors (who, at least in California's legislature, comprise just about everyone with even the slightest conservative bent, and even a few Democrats), say it's risky to take the plunge. In one of the more lucid analyses of the project's status that we've found, the L.A. Times' Patt Morrison summarizes the reluctance of Democratic senator Joe Simitian, the state rep for Palo Alto:
It doesn't make sense, [Simitian] argued –- as much to himself as to his colleagues -– to issue those bonds and move forward when the state is on shaky fiscal legs, when, as The Times reported, one in six Californians isn't certain where his or her next meal is coming from. Where, asked another Democratic legislator, Long Beach Sen. Alan Lowenthal, is the money?
What Price Ambition?
Simitian's criticisms draw attention an important point about large-scale projects in general: when, exactly, is a good time to set to work on such ambitious ventures? Does such a time even exist?
When you're talking about funding projects that run into the tens of billions of dollars, the argument can always — always — be made for scrimping in the name of some cause or another. The fact that the payoff from large-scale projects often comes years, if not decades, after the initial investment doesn't help, either.
But we've seen criticisms like these before. They're the same objections that have seen America's space program slashed to bits. Some of these criticisms are valid; there is, for example, currently no dedicated funding source that Californians can count on to continue paying for the project in the years ahead. If the state could commit wholeheartedly to this endeavor, that concern would be easier to dismiss; but with as much trouble as the high-speed rail has had making it even this far, that $68-billion price tag is a little harder to stomach.
Be that as it may, waffling on the issue doesn't serve anyone. As Morrison concludes, "high-speed rail could wind up as a techno-evolutionary dead end, or it could be a model for the nation, one for which future Californians will bless us," but determining which it will be can only be determined "through the rear-view mirror of history."
In the meantime, she notes, "there are perfectly sound reasons for legislators to vote either way. But none of those reasons should be a timidity of ambition or narrowness of vision."
Remember, she adds, "Congress passed the Pacific Railway Act in 1862, the second year of the Civil War. How's that for timing?"
---
1 The first three projections are based on evaluations conducted by the CHSRA; estimates on oil dependence and greenhouse gas emissions provided by Navigant Consulting [PDF]