The race to cash in on the found footage movie craze has just hit a new peak of hysteria, as the Weinsteins are determined to film their Moon astronaut movie, Apollo 18, in time to release it in March.
According to the Hollywood Reporter, the Weinsteins (and producer Timur Bekmambetov) want to rush Apollo 18 out so they can beat Area 51, the science fiction found footage movie directed by Oren Peli, who also directed Paranormal Activity.
Area 51 completed principal photography in early November 2009, but there's still no release date — originally, there was talk that it might come out this year. IMDB still has it listed as a 2010 film, but it sounds like it's delayed until Spring. (There were rumors of reshoots over the summer.)
So even if it's possible to start making a film now and have it out by March — and beat a film that was shot over a year ago to theaters — it won't come without some nervous breakdowns along the way. (Mind you, that includes casting the actors, filming the movie, and then speeding it through post-production.)
G/O Media may get a commission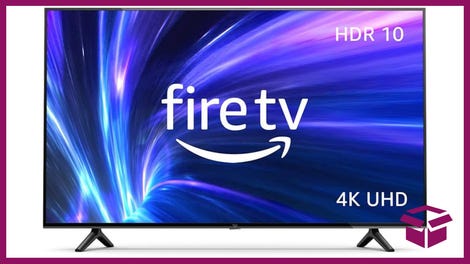 42% Off
Amazon Fire TV 50" 4K Smart TV
Already, the Weinsteins' haste to crank this film out has lost them one director. Trevor Cawood, a first-time director who did visual effects on the Matrix films, just bailed out of this project because of the crazy rush, according to THR, and he's been replaced by Gonzalo Lopez-Gallego, a Spanish language director who won awards for his film El rey de la montana (King of the Hill).
Meanwhile, as we reported before, the Weinsteins' move into the found footage science fiction genre already caused Roland Emmerich to cancel his planned shakycam epic The Zone. And similar concerns about a glut of these films caused Warner Bros. to cancel its own found-footage-style Moon story, Dark Moon — which is also about a secret "Apollo 18" mission after the supposedly final Apollo 17 mission. Dark Moon, however, has been brought back into production by Joel Silver's Dark Castle production company, so that project is still on.
So to sum up: Oren Peli filmed Area 51 over a year ago, but no release date. (Not even a trailer yet.) The Weinsteins and Bekmambetov are aiming to make Apollo 18 from scratch, in time for a March release date. Dark Castle is aiming to shoot Dark Moon this winter, for release sometime in 2011. And Roland Emmerich is back to making big-budget blockbusters — possibly including his long-simmering movie of Asimov's Foundation.