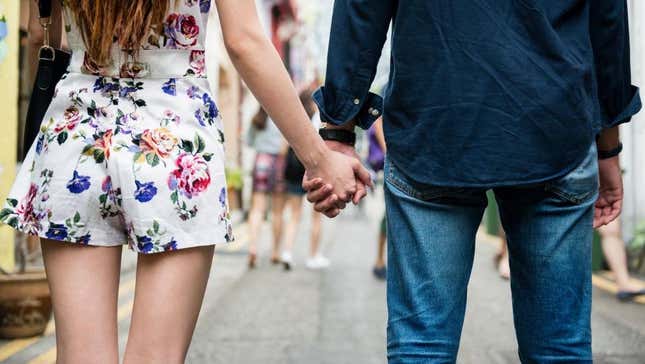 China's new state-sponsored dating app, Palm Guixi, is something right out of the dystopia fiction handbook and is receiving mixed responses. The app was reportedly created to streamline the dating process for residents in Jiangxi by matching single users based on background data uploaded by the app itself.
Boogeyman Star Sophie Thatcher Wrote Howl's Moving Castle Fan Fiction | io9 Interview
Palm Guixi works to create what it thinks will be an appropriate match for singles looking for love and unlike Tinder, Bumble, Hinge, or any of the other swipe-right dating apps, Palm Guixi uses their background data to pick suitors for the user. According to China Youth Daily, the platform also works to organize blind dates once a match is approved, The Guardian reported.
The Chinese government reportedly launched the app in an effort to boost the marriage rate which has steadily declined over the past decade. A report by China's Ministry of Civil Affairs found that not only are fewer residents getting married but of those that are, roughly half were 30 years old and above. China reached its peak marriage rate in 2011, with 9.7 million registered marriages which, in 2021, plummeted to an all-time low of 7.6 million, Fortune reported back in 2022.
This significant drop has been welcomed by some younger people in China, who say the government's hardened stance on divorce has deterred many of them from pursuing marriage, according recent reporting by the South China Morning Post. China introduced a new law requiring a 30-day "cooling off" period even if a couple mutually agrees to divorce. If, at the end of the 30 days, the couple still wants to divorce they are required to reapply for the split, but lawyers say the outcome of having the divorce approved can be unpredictable.
Chinese residents took to Weibo to support the decreasing marriage rate, with one writing, "Marriage is like a gamble. The problem is that ordinary people can't afford to lose, so I choose not to take part," the outlet reported.
China's push to engage young people in dating also comes as its population fell to its lowest level last year with only a record 6.77 births per 1,000 people in China last year. Some Jiangxi residents are now pushing back, saying the government introduced the app because it only wants to reverse the falling birth rate.
The Guardian reported commenters on Weibo are now speaking out against Palm Guixi, with one user saying the Chinese government expects its people to "breed like pigs."