Sun, wind, and water aren't just powering homes, they're powering the job market. A new report from the International Renewable Energy Agency shows that there are now 10.3 million people employed in renewable energy. That's a 31 percent jump from just five years ago.
Of that total, an overwhelming number are working in China, adding another data point to the increasingly clear picture that the country is kicking the world's ass in the race to lead the renewable future.
Overall, the renewables industry grew 5.3 percent from 2016 to 2017, according to the report. That was spurred by the solar industry, which has the biggest share of workers in the renewable field at 3.4 million, up nine percent compared to 2016. Liquid biofuels—which can have questionable climate and environmental benefits—also employ 1.9 million, with large hydropower, wind, and solar heat and cooling rounding out the top five.
Similar to the overall numbers, the boom in solar jobs specifically is being driven by China and other developing countries. In India, for example, solar installations hit a new record in 2017. That helped spur a 36 percent jump in the number of people—an estimated 164,400—employed in the industry, from manufacturing to installation.
But it's China driving much of the globe's renewable boom. A report from Bloomberg New Energy Finance and the United Nations published last month showed the country is investing more money and installing more renewables than anywhere else. And as the new report shows, it's also employing far more people. There are nearly 4.2 million people working in the renewables industry in China, which is roughly 40 percent of the total number of renewables workers in the world.
G/O Media may get a commission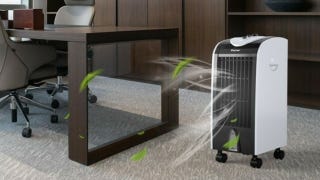 Save $10
Evaporative Portable Air Conditioner Cooler with Filter Knob
In comparison, while the European Union and U.S. added renewables jobs last year, the solar sectors there have contracted. The contraction in the U.S. came after a record number of solar installations in 2016 when Congress toyed with letting the solar tax credit expire (it ended up surviving). The report notes regulatory uncertainty in California, Massachusetts, and Nevada—all major solar players—also played a role in tamping down solar installations.
Trump's solar tariffs will likely depress installations even more, leading to further job losses in what was once the fastest growing field in the country. Not good!
"Fundamentally, this data supports our analysis that decarbonization of the global energy system can grow the global economy and create up to 28 million jobs in the sector by 2050," Adnan Z. Amin, Director-General of the International Renewable Energy Agency, said in a statement.
Where those jobs end up will depend largely on where it's easiest to manufacture and install renewables. And right now—despite all of Trump's rhetoric about bringing blue-collar jobs back from foreign shores—China is well on its way to being the spot to do that.