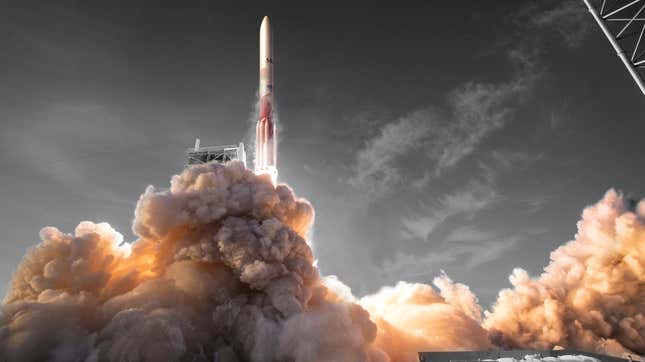 It's been a tough year for rockets trying to fly for the first time. Two of the newest additions to the medium to heavy-lift launch vehicles, Ariane 6 and Vulcan Centaur, have been struggling to make their debuts, suffering multiple delays over the past three years. There is some hope, however, that their inaugural launches may be getting back on track.
Astronomers Could Soon Get Warnings When SpaceX Satellites Threaten Their View
After missing its debut flight on May 4 due to an explosion at the test stand, things were looking pretty bleak for United Launch Alliance's Vulcan rocket. On Thursday, the company rolled out its heavy-lift rocket back to the launch pad for pre-launch tests with plans to launch it in the summer, Tory Bruno, ULA's chief executive, wrote on Twitter.
The fully expendable 202-foot-tall (62-meter) rocket has been in development since 2014. Colorado-based ULA had originally planned to launch Vulcan in 2020, but the highly anticipated rocket's debut suffered multiple delays. The rocket's first stage is powered by two BE-4 engines built by Blue Origin, which were delivered more than four years behind schedule.

Earlier this year, the two-stage Vulcan Centaur rocket rolled out to the launch pad for testing ahead of its inaugural flight. On March 29, ULA was pressurizing the upper stage of the Vulcan rocket when a spark triggered a fireball at the test stand at NASA's Marshall Space Flight Center in Alabama. The explosion derailed the company's plans to launch Vulcan on May 4.
The rocket is meant to replace ULA's Atlas V and Delta IV rockets, which have been in use for the past two decades. Vulcan Centaur is designed to lift 27.2 metric tons (60,000 pounds) to low Earth orbit and 6.5 metric tons (14,300 pounds) to geosynchronous orbit (by comparison, SpaceX's Falcon 9 can carry 22.8 metric tons to LEO.)
For its debut mission, Vulcan will be carrying Astrobotic's Peregrine lunar lander, which, on behalf of NASA, will attempt to deliver 11 payloads to the surface of the Moon. The rocket will also attempt to deliver the first two Amazon Kuiper internet satellites to low Earth orbit. If its first mission goes well, ULA is hoping to schedule in another Vulcan launch this year for Sierra Space's Dream Chaser mission.
The company is also under contract to deliver 35 missions for the U.S. Space Force in the next five years, but it needs to complete two Vulcan flights in order to be certified to launch U.S. military and intelligence satellites.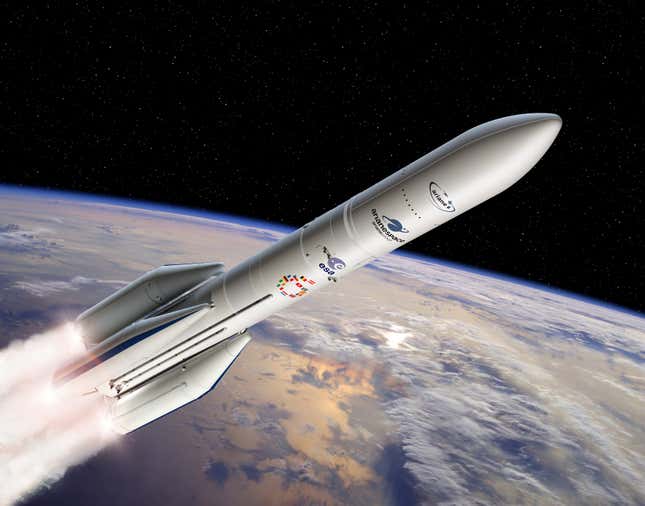 Arianespace has had its own share of rocket debut woes, sans massive explosion. The next-generation Ariane 6 rocket was also originally scheduled for liftoff in 2020, but was later pushed to 2022 and is now likely targeted for the beginning of 2024.

On Friday, the European Space Agency (ESA) shared its latest update on the heavy-lift launch vehicle. The rocket is currently undergoing flight qualification tests and will be transported to its launch site in French Guinea in November where it will be assembled.
During an earnings call on Wednesday, an executive from German aerospace company OHB, an Ariane 6 supplier, predicted that the rocket's inaugural flight will likely take place within the first few months of next year, SpaceNews reported.
The 197-foot-tall (60-meter) rocket is designed to lift 10 metric tons to LEO, 4.5 tons to Sun synchronous orbital (SSO) altitudes reaching 500 miles (800 km), and upwards of 10.5 tons to geostationary transfer orbits (GEO).
Ariane 6 is meant to replace its predecessor, Ariane 5, which is no longer in production. Ariane 5 is scheduled for four more launches this year before officially retiring, leaving Europe with little to no options for getting its satellites to orbit.

Arianespace is developing the rocket on behalf of ESA, and the space agency really needs to see this new rocket fly. Europe has been scrambling to find rockets after it cut ties with Russia following its invasion of Ukraine, even turning towards U.S. companies like SpaceX for use of its Falcon 9 rocket.

Even before its first liftoff, the highly anticipated rocket already has a full launch schedule ahead until 2029. Earlier this year, Amazon booked the Ariane 6 rocket for 18 launches for its Project Kuiper internet satellites. Ariane 6 is also expected to deliver ESA's Galileo global navigation satellite system through multiple launches, the Meteosat weather satellites, the Earth Return Orbiter for the Mars sample-return mission, and the upcoming PLATO space telescope, among others.
The pressure is on for these two large rockets to finally soar through Earth's atmosphere after a series of unfortunate delays.
For more spaceflight in your life, follow us on Twitter and bookmark Gizmodo's dedicated Spaceflight page.