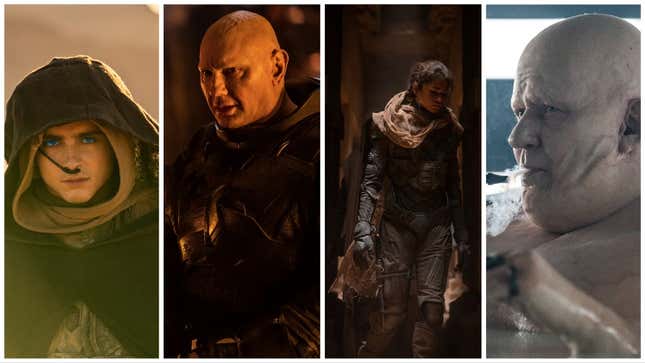 It's May, meaning the summer movie season is about to kick into high gear, but sci-fi fans have their sights on something else. Something distant. The month of November. Because that's when Denis Villeneuve will finally unleash the sequel fans have been eagerly anticipating—Dune: Part Two—on the world.
Warner Bros. got the marketing off on the right foot this week, releasing a nice, juicy, unusually early trailer that included all sorts of goodies, from Timothée Chalamet riding a sandworm, to a smooth-as-silk Austin Butler. But along with the trailer and poster were a handful of stunning promotional images which expand the world from that trailer even further.
There are new images of Dave Bautista as Glossu Rabban, Josh Brolin as Gurney Halleck, Stellan Skarsgård as Baron Vladimir Harkonnen, and, yes, some new looks at Timothée Chalamet, Zendaya, Austin Butler, Florence Pugh, Rebecca Ferguson, and others. Check them all out here. Dune: Part Two is out November 3.