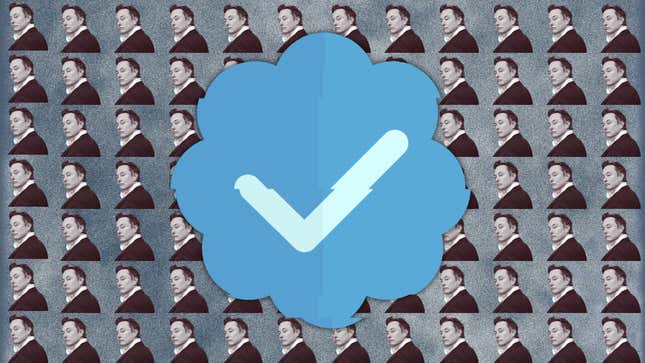 Twitter CEO Elon Musk has changed the description on the platform's verified checkmark labels once more. The labels now make no mention of Twitter Blue, the paid version of the social network. Blue subscribers have subjected to massive scorn, and altering the label may help Musk avoid potential lawsuits from angry celebrities who want nothing to do with his blue checkmarks but who have received them anyway.
Twitter Verification is a Hot Mess
The change appears to have been implemented on Tuesday night, which is when it was spotted by Dexerto. Previously, Twitter attached labels on accounts with blue checkmarks that stated: "This account is verified because they are subscribed to Twitter Blue and verified their phone number." However, that proved problematic—Musk forced blue checkmarks on many celebrities who had not paid for Twitter Blue or verified their phone number, including author Stephen King, Lil Nas X, dril, and even dead celebs like Chadwick Boseman and Anthony Bourdain, fueling outrage over them on Twitter.
Gizmodo confirmed the change on more than a dozen accounts with blue checks, all of which appeared to be Twitter Blue subscribers given their low number of followers. Previous accounts known to have paid for Twitter Blue, such as Catturd and Libs of TikTok, also had the new label.
"This is account is verified," the new label reads.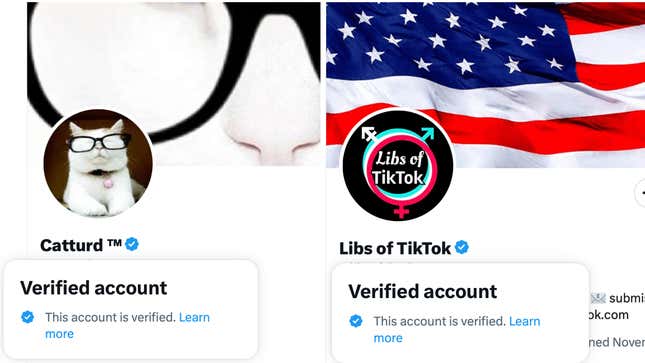 Besides making it harder to identify (and block) people who paid $8 for Twitter Blue to get an Elon-approved blue checkmark, Musk's new verified label gives him cover in case any celebrities decide to sue him for implying they were fans of Twitter Blue. Nearly two weeks ago, Musk decided to troll celebrities who hadn't paid to retain their blue checkmarks by his 4/20 deadline by giving them the most cringe object on the internet: a blue checkmark.
Twitter legend @dril, who started the #BlockTheBlue campaign aimed at blocking users with paid blue checkmarks, bemoaned his Musk-imposed blue checkmark and suggested the billionaire was breaking federal law by making false endorsements.
Some legal experts agreed with @dril's assessment and stated that giving celebrities blue checkmarks without their consent could indicate "sponsorship or approval." As noted by the Verge, Northeastern University law professor Alexandra Roberts said the claim "sounds reasonable," although she pointed out that various laws typically apply to false representation in advertising campaigns or commercial uses. In short, it's not clear how a court would rule in a case like this.
Nonetheless, it's not like Twitter or its CEO need any more problems. The company is still struggling to find new sources of revenue—it managed to sell only 28 Twitter Blue subscriptions immediately after Musk eliminated legacy verified checkmarks—and appears to be throwing all sorts of things at the wall to see what sticks, such as subscriptions to individual users and micropayments for individual news articles (eventually).
NPR Is Going Dark on Twitter | Future Tech
NPR Is Going Dark on Twitter | Future Tech
Musk, meanwhile, is still fighting with media organizations on Twitter. On Tuesday, he threatened to give NPR's Twitter handle, @NPR, to another company if it didn't start tweeting again. NPR announced it was leaving Twitter on April 12 after a weeks-long battle with Musk over media labels which suggested the outlet was influenced by the U.S. government. The Twitter CEO suggested giving the outlet's account to "National Pumpkin Radio," which doesn't exist.
At the end of the day though, this is Elon Musk we're talking about, the same person who routinely ignores reasonable advice in favor of bad jokes or trolling. It's hard to say whether he changed Twitter's verified labels to protect his paid users, avoid a lawsuit, or simply because that's the way the wind blew.