Environmental Protection Agency chief and former energy lobbyist Andrew Wheeler—who is pretty much ex-EPA chief Scott Pruitt minus the latter's most obviously corrupt tendencies—isn't the most discerning social media user. In fact, judging by Twitter and Facebook discoveries on Tuesday by the Huffington Post, Wheeler has a history of engaging with conspiracy theories and racist posts on his personal accounts.

In general, it's the kind of thing that is more or less commonplace among elected and appointed Republican officials these days. Amid the findings by the Huffington Post were that Wheeler "liked" a racist image purporting to show Barack and Michelle Obama staring at a banana and that he retweeted Jack Posobiec, the ill-tempered goon best known for crashing a Donald Trump-themed performance of Julius Caesar and relentlessly promoting the Pizzagate conspiracy theory. (That's the one that proposes Democratic Party officials are involved in everything from child sex slavery to ritual human sacrifice, for the record.)
Here's the doctored photo of the Obamas that Wheeler liked on Facebook, courtesy of a page called Mia mamma è vergine (Italian for "My mom is a virgin"):
And here's Wheeler retweeting Posobiec:
G/O Media may get a commission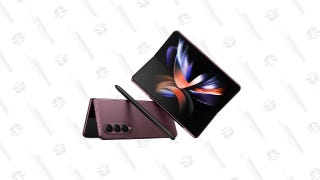 Save Up to $300
Galaxy Z Fold4
Wheeler also liked tweets from Dinesh D'Souza (a terrible, but no longer all that fringe right-wing filmmaker) and Paul Joseph Watson (who runs the absolutely fringe Infowars-associated Prison Planet website) recently, according to HuffPo. This is the Watson tweet in question:
Again, this stuff is pretty much de rigueur among the current crop of Republican officials staffing the Trump administration, so it is not exactly likely to have much of an effect on Wheeler's tenure at the EPA. (Pruitt himself was only ousted after his numerous ethical scandals finally managed to muster enough negative attention from the White House to overshadow his track record undermining environmental policy.) Other conservatives are, at best, likely to read the denial that Pruitt gave HuffPo and say "fake news" or "what's the big deal?":
"Over the years, I have been a prolific social media user and liked and inadvertently liked countless social media posts," Wheeler said. "Specifically, I do not remember the post depicting President Obama and the First Lady. As for some of the other posts, I agreed with the content and was unaware of the sources."
(HuffPo posted the materials after they were tipped off by American Bridge 21st Century, a Democratic political action committee, which probably won't raise the issue's priority in the eyes of Wheeler's fellow Republicans.)
In any case, this is just another reminder that while you probably shouldn't post stupid shit online, it's always good when those in power freely show the rest of us their bad judgment. It's not like Wheeler is busy with a climate crisis or something.