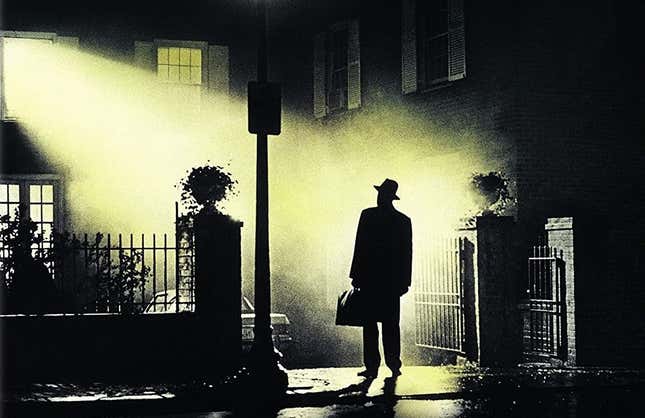 Fresh off their trilogy re-imagining the Halloween franchise, producer Jason Blum and director David Gordon Green are doing it again. They're prepping three Exorcist films to hit theaters in the coming years and at CinemaCon 2023, we saw the first footage from the first of those films. It's now officially called The Exorcist: Believer.

Chris Pratt and Bryce Dallas Howard Nerd Out About Jurassic Park's Returning Heroes
The footage began with Leslie Odom Jr.'s character dropping off his daughter and her best friend at school. Later that afternoon, they go missing, and both sets of parents are worried sick. It's a big news story. The girls reappear, having apparently been in the woods. They think they've been gone a few hours but they've actually been gone for three days... and each has a creepy aloofness to them. They keep staring out the windows.
Back home, Odom's character is brushing his teeth when his daughter shows up right next to him, stairing. "Did you say something?" she asks. "I thought you said something." She then starts convulsing in the hallway. Each time something creepy happens, we get like one note of the iconic Exorcist score, but not the full thing.
Her friend then walks into a church in a bloody white dress and keeps repeating "The blood and the body." "The blood and the body." "The blood and the body." And it gets louder and louder until she starts screaming it. Odom asks a nurse, played by Ann Dowd, "Have you ever seen anything like this?" "No," she says, "but there are people who have." Then, the full "Tubular Bells" kicks in.
Odom is watching YouTube interviews with one Chris MacNeil, played by Ellen Burstyn, and the shot matches young Chris with old Chris, still played by Burstyn. She meets Odom who tells her that his daughter and his friend have scratched their names into their skin. We see them under their beds and screaming. Chris says that there are many different exorcism methods and they're going to need all of them.
Chris walks in to see one of the possessed girls and says "We've met before, haven't we?" And the demon says "Mother." Then she starts doing some of Chris' daughter's lines from the original movie.
After a wild montage of creepy imagery, violence, and all manner of demon action, we see both girls tied up in chairs, back to back, in a hospital. Their eyes are fully possessed and they have their heads cocked back, with upside down crucifixes scratched into their heads. "Drip, drop, drip, drop" the two of them keep repeating. They are mimicking the heart monitors that are on them and Chris points out that their heart are beating in sync. The girls give off a demonic laugh and we get the title card revealing The Exorcist: Believer.
The Exorcist: Believer is due out in October, just in time for spooky season.
---
Want more io9 news? Check out when to expect the latest Marvel, Star Wars, and Star Trek releases, what's next for the DC Universe on film and TV, and everything you need to know about James Cameron's Avatar: The Way of Water.