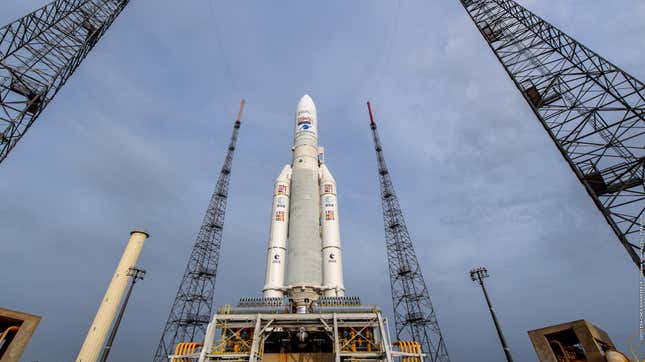 Following a series of setbacks that has hindered the next-generation Vega launcher, the European Space Agency (ESA) is looking into what caused the rocket's motor to fail during a recent static fire test.
Meet Microsoft's New Surface Laptops
ESA established an Independent Enquiry Commission to investigate an anomaly that occurred during Vega-C's static fire test on June 28, further delaying the third launch of the medium-lift rocket, European Spaceflight reported.
Vega-C made its debut in July 2022, taking off for the first time from the space agency's launch facility in Guiana. Its second launch, however, ended in failure due to a faulty nozzle. The rocket took off on December 20, 2022, carrying the Neo 5 and Neo 6 satellites for for Airbus' Pléiades Neo Earth-imaging constellation. About two minutes and 27 seconds after launch, Vega-C's second stage, called the Zefiro 40, suffered a decrease in pressure that terminated the mission.
Since then, ESA has been trying to see Vega-C fly once again, and as the European space industry struggles with a lack of launch vehicle options to reach space. During a recent static fire test that was meant to prep Vega-C for launch, the rocket's Zefiro 40 motor experienced an anomaly about 40 seconds into the second-stage engine firing. The static fire test anomaly was not related to the nozzle failure that terminated Vega-C's second mission, according to the rocket's manufacturer Avio. The nozzle's new carbon carbon material "showed a nominal performance" during the test, the Italian rocket company added.
Vega-C's static fire test has likely pushed the rocket's launch further to 2024. The reason behind the test failure remains unspecified and any progress aimed at preparing Vega-C for launch has been halted until the results of the investigation are announced, according to European Spaceflight.
The rocket, developed by ESA, built by Italian company Avio, and operated by Arianespace, was designed as a worthy successor to the small Vega launcher, which has been in operation for ten years. Vega-C is fitted with a more powerful first and second stage, along with an improved re-ignitable upper stage.
ESA is desperate for the Vega-C to return to operation, hoping to use the rocket to deliver European payloads to orbit and maintain its presence in the growing space industry by having its own launch vehicle handy, thereby not needing to rely on other rocket companies like SpaceX for access to space. Europe's Ariane 5 rocket performed its final liftoff on Wednesday, while the debut of its successor Ariane 6 has been pushed back to late 2023. The list of available launch vehicles in Europe is now exceedingly thin, if not completely empty.
For more spaceflight in your life, follow us on Twitter and bookmark Gizmodo's dedicated Spaceflight page.