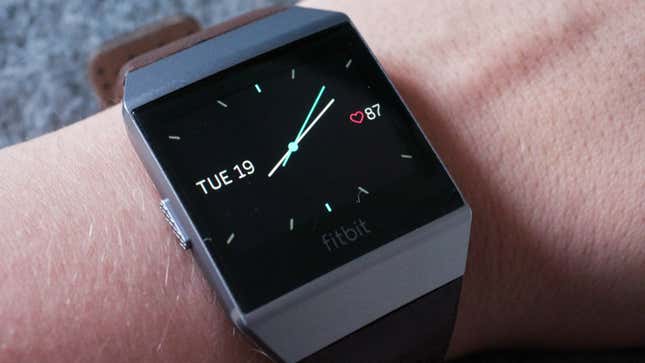 Today, Fitbit has begun to roll out a major update to its app that adds a handful of welcome features for its Versa and Ionic smartwatches.
Vizio's Latest TVs Go All Quantum
The new Fitbit features will allow its users to track their menstrual cycle, reply to messages from their wearable device, and stay abreast of their medical condition. Lord knows that bunch of new apps that integrate with healthcare services is nice, the new messaging option is pretty convenient, but many users would likely say it took the company far too long to add period-tracking.
Here's a quick breakdown of the new features coming to Fitbit.
Menstrual-cycle tracking
The health tracking feature lives in Fitbit's app and makes it easy to add new menstrual information from the dashboard. Fitbit builds its estimated period lengths based on your information, which includes flow and fluid viscosity. The more data you enter, the more data the app can use to predict future period lengths and fertile windows.
It also lets you log symptoms, should you be experiencing cramps, headaches, or nausea. The health tracking will be automatically enabled for users who identified themselves as "female" in the Fitbit app, but it can be added manually. The full suite of "female health tracking" features are available now in its iOS and Windows apps, while the Android version will get them sometime later.
'Quick Replies' messaging
If you're more interested in messaging than menstruation, Fitbit's new Quick Replies feature should help, but only if you're an Android smartphone user. Quick Replies lets you choose from five prewritten replies (think "yes," "no," "what's up?") and add your own (up to 60-characters long). You can respond to text messages, and interact with third-party messaging apps like WeChat, Twitter, and WhatsApp. Don't worry, teens, you can also use emoji, though it seems like Fitbit is offering a limited selection, including: "Lovestruck face, smiley face, crying with laughter face, winky face, heart icon, sad face, crying face, thinking face, or running."

Healthcare apps
The company's also announcing new health-focused clock faces, along with other healthcare apps developed for use with its Fitbit Ionic and Versa smartwatches. Certain apps, like the one from medical device maker Dexcom, work in concert with medical products like a continuous glucose monitoring device, which lets users more easily see their glucose data. Other apps include rewards programs from companies like Humana and Walgreens, and all are expected to be available as early as this summer.
While it's good Fitbit finally added menstrual-tracking support, a feature that took Apple a while to add to its own Health app, its half-assed replies feature seems pretty disappointing. To be honest, I'm not even mad at the lack of iOS support; more so at the limitations imposed on users when it comes to quick replies. That pitiful list of supported emoji, along with the 60-character limit on replies is a bit too restrictive for my tastes. I'm hesitant in thinking adding healthcare apps along with menstruation tracking is enough to make Fitbit a device appealing enough for users to forget the shortcomings baked into the smartwatch.