It's trouble again for Steven Spielberg's time traveling dino drama Terra Nova. 20th Century Fox Television has decided to lay off the entire writing staff. But this startling news may only be temporary.
New television drama Terra Nova hasn't had it easy. In August, it was announced that the time traveling series would be pushed back to the fall of 2011. Couple that with the rumors that the production has already spent $10 million to get the show up and running (and predictions are saying the pilot alone could cost upwards of $20 Mil). And it's no wonder Spielberg is handing out the pink slips.
The Wrap is reporting that Chris Brancato (X-Files), Michele Fazekas and Tara Butters (Reaper, Dollhouse), and the rest of the writing staff were all laid off. Showrunner Brannon Braga, however, has kept his job for now. Clearly the studio is looking for a way to cut costs on the rising production bill, until they are actually ready to start production again. Online reports suggest most of the staff could be rehired when Terra Nova is further down the development road.
G/O Media may get a commission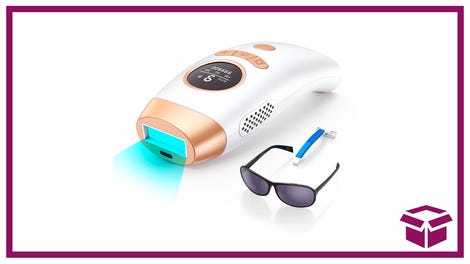 58% Off + Coupon
IPL Hair Removal Device
Terra Nova begins in 2149 A.D. and follows a group of time traveling settlers from the future who are looking to start over millions of years in the past. Naturally, the perfect Eden is far from perfect, but it's got to be better than the post apocalyptic hell they time traveled away from. Plus, dinosaurs!
The L.A. Times clarifies the situation a bit further:
Insiders insist that the move doesn't mean "Terra Nova" — whose producers include not just Spielberg but former News Corp. chief Peter Chernin — is in trouble. The network recently decided to unveil the series with a two-hour special in May and then continue the series in the regular fall 2011 lineup, a roll-out tactic similar to that used successfully with "Glee."

But because that pushed the bulk of episode production back until next summer, 20th Century Fox Television was faced with the prospect of paying a lot of writers to do not very much over the next few months. Instead, it decided to hand out a pink slip to any writer it did not have an overall deal with. Earlier this fall, writer-producer David Fury left after butting heads with other creative leaders on the show.
Deadline adds some more details: Veteran showrunner Rene Echevarria is overseeing the pilot, which has had an uncredited rewrite by Allan Loeb. And Deadline's inside sources insist that rumors of turmoil and budget overages have been exaggerated — the main budget overage is a $660,000 charge because casting took longer than expected.