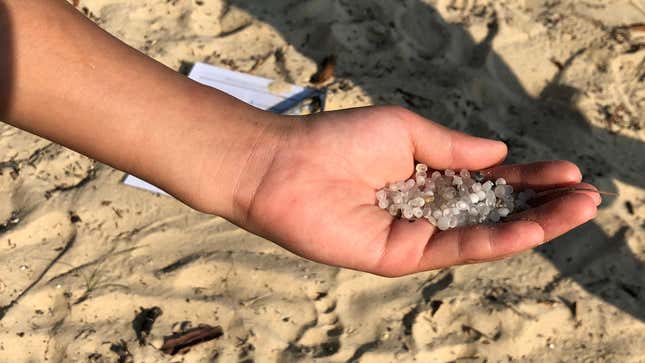 For the past year on the coast of France, the waves crashing ashore have borne evidence of an unsettling mystery. An untold number of tiny plastic pellets are landing on the beaches of Brittany, Pays de la Loire, and elsewhere.

The small beads, officially known as industrial plastic granules (IPG), are more colloquially called nurdles or "mermaid tears." The spherical bits are a precursor to everyday plastic products and are melted down at factories worldwide into all manner of item. But along the French coastline in the millions, they're "an environmental nightmare," as Christophe Béchu, the country's minister for ecological transition, said in a public statement.
So far, the exact origin of the pellets remains unknown. It's not the first time France has been beset by mysterious marine pollution. In one case, novelty phones, shaped like the comic strip cat Garfield, washed up for 35 years before a definitive source was discovered. And there are theories about the new nurdle case: predominately that the beads originated from one or more lost or damaged shipping containers.
However, unlike the Garfield phones, this case will likely be harder to crack. Plastic pellets are so ubiquitous that the uniformly white spheres appearing now could have come from just about anywhere. Though analysis is underway, it may be impossible to pin down the company, manufacturer, shipper, or entity otherwise responsible for the plastic granule spill, French government officials said, according to a report from the Guardian.
Nonetheless, in response to the ongoing disaster, at least three local and regional officials—the mayors of the coastal towns Pornic and Les Sables d'Olonne, along with the president of the Pays de la Loire—have filed a legal complaint against the unknown offender.
G/O Media may get a commission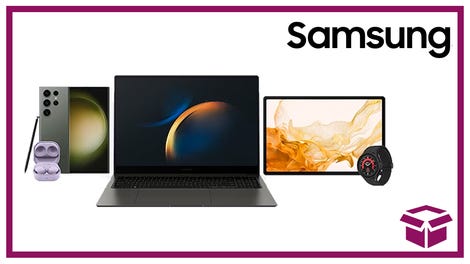 24 hour deals
Discover Samsung - Daily Deal
France's national government is also "providing full support to the territories affected," according to a press statement from the country's environmental ministry. The country's marine secretary, Herve Berville, and Béchu both signed a federal complaint against the unnamed and unknown party, labeled "X" in the document, filed Wednesday.
"This pollution affecting our Atlantic coast is massive and represents real ecological damage, both for the marine environment and for our beaches," said Berville in a statement.
Meanwhile, Surfrider Foundation Europe, an environmental nonprofit, has organized at least one clean-up event to demonstrate the scope of the problem. A group of 90 volunteers collected more than 60,000 of the granules on a single Brittany beach, according to a report from Canada's CBC.
Yet that's a drop in the bucket.
Attempting to collect all of the millions of individual pellets now contaminating French shores and ocean ecosystems would be a futile endeavor. "It's more symbolic than anything else," one clean-up attendee told the Guardian. "I wanted to pick them up, but it's endless. There are too many," said another local volunteer to the outlet.
And the total of what's on French beaches is near nothing to what's been dumped into the oceans overall.
France's nurdle spill is far from the first. In May 2021, a ship sunk off the coast of Sri Lanka carrying 87 shipping containers full of plastic pellets. That went on to cause the country's "worst maritime disaster," in history, according to a U.N. report. Other recent incidents include a 10-ton spill in the North Sea, which impacted Scandinavia, and a 2020 spill off the coast of South Africa, according to a report from Grist.
All those granules go on to contribute to the persistent problems of marine and microplastic pollution. Some will end up in the bodies of ocean organisms. And some of those critters will eventually end up in human stomachs, plastic included.
Research into the effects of plastic exposure on human health is an emerging field. But early results don't look great. Some studies have suggested a link between plastic exposure and bowel diseases, diabetes, and cancers. One 2020 report deemed plastic pollution a global health threat.
Then there's the environmental effects of plastic granule pollution in the ocean, which have been long known. The plastic bits contain and attract toxins, concentrating water-repelled chemicals into teensy, dangerous packages, according to a 2001 study. A 2019 study found that, on top of being toxic themselves, plastic pellets are a breeding ground for dangerous pathogens, which can hitch long-distance rides on plastic mats. Then they break down into smaller and smaller pieces until something ingests them, along with the chemical and pathogen passengers.
Nonetheless, companies keep pumping plastic out—sometimes for reasonable use, as in medical applications, but more often for single-use items built to be trashed. And year after year, disastrous spills happen. Preventing them would probably be easier and less costly than sifting through literal tons of sand.