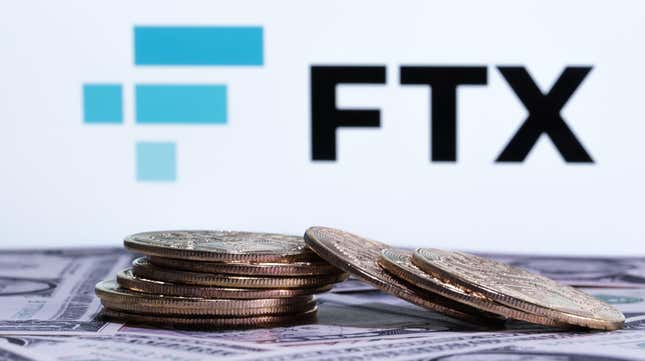 You know that classic zombie movie scene where the everyone thinks the monster is dead, but then suddenly it's not?

He Tossed His Bitcoin, Now He Wants It Back
FTX, the bankrupt crypto exchange that imploded last year, has recouped over $7.3 billion in cash and cryptocurrency assets, company attorney Andy Dietderich said in a Wednesday court hearing, according to a report from Reuters. That number is up by more than $800 million from January's recovery stats, Dietderich added.
He attributed that rise, in large part, to the overall increase in crypto currency values since last fall. Bitcoin prices, for example, are still down more than 26% from this time last year, but up by more than 56% over the past 6 months, as of writing.
The lawyer noted that, with its re-growing coffers, FTX's new leadership is beginning to consider restarting the exchange. "The situation has stabilized, and the dumpster fire is out," Dietderich reportedly said in Delaware's Chancery Court.
So, will FTX's customers be getting their lost funds back? From the Reuters report, the answer remains unclear. The defunct, mismanaged crypto company disappeared about $9 billion in customer funds. U.S. depositors have yet to see any of that money returned to them. Of all of FTX's subsidiaries and affiliated exchanges, only FTX Japan has unfrozen customer funds because of Japan's strict crypto regulations. Elsewhere, depositors who lost their money have remained uncompensated.
And somehow, the decision of whether or not the scraps of FTX should return those funds to people spurned by the company or get back to business is a difficult one for FTX's new leadership to make.
"It is not clear whether FTX should use its own funds to restart the exchange, rather than using the money to repay customers, Dietderich said. Restarting the exchange might require outside funding or a sale of the exchange's assets," wrote Reuters.
Clawing its way out of bankruptcy doesn't necessarily require that FTX return customer funds. Other past crypto bankruptcy rulings have freed companies of that obligation. But FTX does have to repay its many debts to creditors (including Margaritaville and Doordash). To do so, the company will likely need even more capital than it currently has.
Meanwhile, Sam Bankman-Fried (A.K.A. SBF), the exchange's fallen co-founder and former CEO, is still awaiting trial for 13 fraud, conspiracy, and campaign finance charges—all of which he has pleaded "not guilty" to. Other former FTX execs, Nishad Singh, Caroline Ellison, and Gary Wang have also been indicted on fraud charges. All three of them pleaded guilty.