Fujifilm's newly refreshed line of S series "bridge" cameras have some of the highest magnification zoom lenses out there. These cameras are for people who want big hulking DSLR cameras without all those complicated DSLR buttons for controlling things. But at least you can control the zoom SO MUCH.
Back in August, Olympus brought out a 40x zoom camera only to be one-upped by a 50X zoom on the Canon Powershot SX50 in November. So Fuji responded in kind. How does 100x zoom sound?
The flagship HS50EXR sports a 42x manual zoom that's basically tailor-made for people who want to be able to grab a telephoto lens barrel and twist it to zoom. It's not quite as zoomy as the Canon Powershot SX50 zoom but you can control it manually. There's also a manual focus, a flip-out 3-inch LCD, and fast hybrid autofocus. Yeah, you're basically looking at ultra-simple DSLR. It costs $550 and ships in March. There will also be the HS35EXR, a $400 version that only has a 30x zoom.
G/O Media may get a commission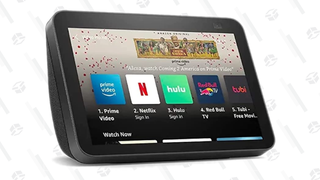 Annnd then there's the Finepix SL1000. The new flagship makes sense, but this thing takes the obsession to a whole new level. Like the Canon SX50 it's got a 50x zoom—that's a 24-1000mm lens, in case you're counting. But that's just the optical zoom. Once you've maxed out at 50, you can then use the camera's digital zoom to then double the magnification again. 100x zoom. Of course, this will make your image quality suffer, but really, if you're zooming to 100x instead of finding something closer to take a picture of, you probably don't care at all. This bundle of zoom excess will cost $400 when it ships in March. [Fujifilm]