The founders of Fusion GPS, the private intelligence firm that produced the so-called "Steele dossier," took to The New York Times on Tuesday night and challenged congressional Republicans to release transcripts of their interviews before the House Intelligence Committee.

The explosive op-ed, titled, "The Republicans' Fake Investigations," dropped in the middle of a disturbing Twitter tantrum by the US president, who attacked the "most dishonest & corrupt media" and taunted the nuclear-armed North Korean regime. The salacious dossier, which contains both verified and unverified allegations about President Donald Trump, has played a central role in efforts by Trump allies to discredit special counsel Robert Mueller and the ongoing Russia probe.
The federal investigation was sparked by cyberattacks against American political entities and has so far led to several indictments against former members of Trump's team.
"In the year since the publication of the so-called Steele dossier—the collection of intelligence reports we commissioned about Donald Trump's ties to Russia—the president has repeatedly attacked us on Twitter," wrote Glenn Simpson and Peter Fritsch, the Fusion GPS founders. "His allies in Congress have dug through our bank records and sought to tarnish our firm to punish us for highlighting his links to Russia. Conservative news outlets and even our former employer, The Wall Street Journal, have spun a succession of mendacious conspiracy theories about our motives and backers."
The researchers from Fusion GPS have testified before the House and Senate intelligence committees, as well as the Senate Judiciary Committee—a total of 21 hours of testimony, they said. Simpson and Fritsch have accused Republicans of selectively leaking details from their testimony to "far right" media outlets while maligning their business with a vast misinformation campaign. In response, they are now urging Republican lawmakers publicly to set the record straight by releasing transcripts of their closed-door interviews.
G/O Media may get a commission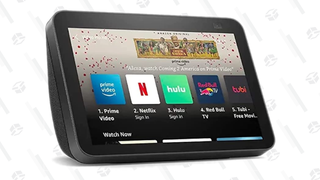 "Congress should release transcripts of our firm's testimony, so that the American people can learn the truth about our work and most important, what happened to our democracy," Simpson and Fritsch wrote.
The pair had fought against testifying before the House Intelligence Committee, where Rep. Devin Nunes, its Republican chair, has been on a mission to discredit the researchers and their investigative work into ties between President Trump and shady Russian deals. Fusion GPS sued in November in an attempt to block a subpoena for its business records issued by Nunes, arguing that such an intrusion on their right to associate anonymously ran afoul of the First Amendment. (When Simpson was interviewed by Senate Judiciary Committee members in August, reportedly no names of Fusion GPS clients were disclosed.)

In targeting Fusion GPS, Nunes may have bitten off more than he can chew. In the Times, Simpson and Fritsch recounted telling lawmakers that the investigation into Trump was, in fact, funded in part by Republicans, namely those at The Washington Free Beacon, a conservative political website. They further took aim at a common Fox News talking point, saying they do not believe the now-infamous dossier, compiled by former British intelligence officer Christopher Steele, served as the "trigger" for the FBI's investigation into Trump.

Simpson and Fritsch wrote:

Yes, we hired Mr. Steele, a highly respected Russia expert. But we did so without informing him whom we were working for and gave him no specific marching orders beyond this basic question: Why did Mr. Trump repeatedly seek to do deals in a notoriously corrupt police state that most serious investors shun?

What came back shocked us. Mr. Steele's sources in Russia (who were not paid) reported on an extensive — and now confirmed — effort by the Kremlin to help elect Mr. Trump president. Mr. Steele saw this as a crime in progress and decided he needed to report it to the F.B.I.
Notably, Simpson and Fritsch said they had informed the Senate Judiciary Committee in August that the dossier had been taken seriously by investigators because "it corroborated reports the [FBI] had received from other sources, including one inside the Trump camp."
What's more, the pair charged House Republicans with willfully turning a blind eye to "widespread evidence that Mr. Trump and his organization had worked with a wide array of dubious Russians in arrangements that often raised questions about money laundering."
The Russia investigation, which kicked off following cyberattacks on prominent Democratic Party members last summer—attributed by US intelligence to Kremlin-backed hackers one year ago—has produced four indictments targeting former members of the Trump campaign, including ex-campaign manager Paul Manafort and his deputy, Rick Gates.
Trump's former national security advisor, Mike Flynn, pleaded guilty in early December to "willfully and knowingly" making "false, fictitious and fraudulent statements" to the FBI. He is now said to be cooperating fully with Mueller's team in the hopes of leniency.
Update, 1pm: In an emailed statement, Rep. Adam Schiff, the ranking member of the House Intelligence Committee, called on House Republicans to release the Fusion GPS transcript.
"In light of the selective leaks of Mr. Simpson's testimony and the misleading manner in which Fusion GPS' role has been characterized, I would support a release of the transcript. The Majority has released transcripts of [Dr. Carter Page] and [Mr. Erik Prince] when it suited their interests, and likewise should make an exception here."
Carter Page is a former foreign-policy advisor to the Trump campaign.
Erik Prince, the former US Navy SEAL officer who founded the mercenary group Blackwater USA, was questioned in Congress over a meeting with a Russian in the Seychelles. It is alleged that Prince was attempting to establish a backchannel between the Trump transition team and President Vladimir Putin of Russia.
Correction: A previous version of this article stated that Fusion GPS's founders met with the Senate Intelligence Committee in August. As noted elsewhere in the article, it was actually the Senate Judiciary Committee. We regret the error.