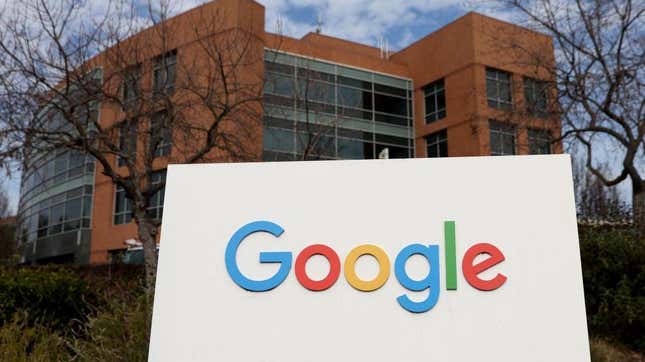 Google's cloud business has turned a profit for the first time in more than three years, the company announced in a Q1 earnings report Tuesday. Google's parent company, Alphabet, Inc., reported the cloud division saw a $706 million loss in its first quarter in 2022, according to CNBC, but a year later its earnings report revealed it has brought in $69.8 billion in revenue and $191 million in operating income.
Google's Antitrust Case Is the Best Thing That Ever Happened to AI
The cloud business is a collection of cloud computing services that allow companies and businesses to rent space to build their own applications by accessing the same internal infrastructure as Google's end-user products. Google's cloud business is accountable for roughly 10% of Alphabet's total revenue.
Google did not immediately respond to Gizmodo's request for comment.
The company started Google Cloud in 2008 and has worked to compete with other major tech companies like Amazon Web Services which remains the leader in cloud data infrastructure as it moves to include artificial intelligence in its applications. As other tech companies take leaps and bounds in the AI sector, Google has moved to include AI in its Cloud Logging and Cloud Monitoring tools.
Speaking on the company's updates and resulting revenue, CEO Sundar Pichai said in the report that search has increased on the platform and created momentum in Cloud. He continued, "We introduced important product updates anchored in deep computer science and AI. … We see huge opportunities ahead, continuing our long track record of innovation."
The report comes three months after Google announced plans to lay off 12,000 employees, marking the largest cuts in the company's history. Pichai cited economic uncertainties in the email and added that the company had hired a surplus of employees over the last few years "for a different economic reality than the one we face today," CNN reported.
Pichai has said the layoffs would allow Google to reallocate its focus on its core business model and invest in artificial intelligence. "These are important moments to sharpen our focus, re-engineer our cost base, and direct our talent and capital to our highest priorities," he said at the time.
While the layoffs and reduced office space resulted in $2.6 billion in charges, the first quarter of this year still showed an increase of 3% in year-over-year revenue, according to the Q1 earnings report. Alphabet and Google's CFO Ruth Porat said in the report that the company's "resilience in Search and momentum in Cloud" had resulted in the increased consolidated revenue last quarter, marking a 6% increase in constant currency.
Porat added that Google will continue to "remain committed to delivering long-term growth and creating capacity to invest in our most compelling growth areas by re-engineering our cost base."