Marvel Studios might actually make an Ant-Man movie in 2014. Tom Hardy reveals just where Bane's distinctive voice comes from. Neil Blomkamp talks Elysium and a District 9 sequel. Plus Doctor Who Fringe, Game of Thrones, Walking Dead, Once Upon a Time, and more!
Spoilers from here on out!
Top image from Oz the Great and Powerful.
The Dark Knight Rises
Tom Hardy reveals the rather unexpected inspiration for the voice of Bane:
"It's based on a guy named Bartley Gorman. He's the king of the gypsies, and he's a boxer, a bare-knuckle boxer, an Irish traveler, a gypsy."
There's a clip of Gorman talking at the link. [Vulture]
---
Ant-Man
With both Captain America 2 and Guardians of the Galaxy officially set for 2014, the big question is when Edgar Wright's long-awaited Ant-Man movie could slot into all this. Now, according to Marvel Studios co-president Louis Esposito, that might well be in 2014 also:
"That might be an opportunity where we do a third film, depending on his schedule when he finishes World's End. But he's such a competent filmmaker; the script is in great shape. The test will prove a lot of things on the visual effects front: how do we handle the shrinking, obviously, and the scale issues, because when he's small he's a half-inch. So we're gonna work that out, maybe that's when we do a third film."
G/O Media may get a commission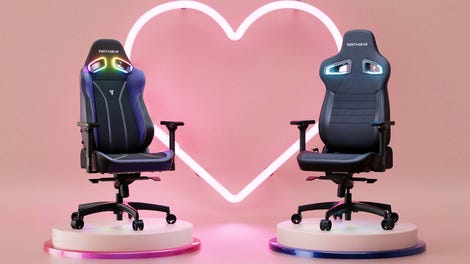 Up to $150 off
Vertagear Gaming Chairs
[Collider]
---
Catching Fire
Amanda Plummer, best known for playing Honey Bunny in Pulp Fiction, has been cast as Wiress, an older tribute from District 3 brought back for the "all-star" 75th anniversary edition of the Hunger Games. Her character is an awkward but brilliant competitor who is ostracized by most of the other tributes, although she becomes one of Katniss's crucial allies. [/Film]
While Plummer is the only official addition to the cast, three more have been rumored. Sam Claflin, best known as that other dude in Pirates of the Caribbean: On Stranger Tides and Snow White and the Huntsman, is reportedly the latest candidate to play Finnick Odair. Monk star Tony Shalhoub is reportedly attached to the role of Beetee, a former tribute turned inventor who uses his prowess with electricity and force fields to help the rebel cause. Meanwhile, Melissa Leo, who won an Oscar for The Fighter, has reportedly been linked to the role of Haymitch's mentor Mags, although she reportedly has since been informed that she isn't getting the part. [Variety]
Because of the quick turnaround from Catching Fire to the two-film adaptation of Mockingjay, Lionsgate is reportedly looking for a new director to helm the movies, leaving I Am Legend director Francis Lawrence to focus exclusively on this next sequel. [Thompson on Hollywood]
---
Elysium
Director Neil Blomkamp discusses what it's been like working on his epic hard science fiction film, in which Matt Damon plays a freedom-fighting cyborg, and how it compares to his previous experience on District 9:
"It is surprisingly more similar to 'District 9' than I had anticipated. Everything just scales up linearly, in terms of filmmaking. In terms of pressure, it's the same as 'District 9,' there's no more pressure. I've created a good situation with the way the autonomy I have to make the film is conducive to creativity and I think is a less stressful environment than a film like 'Spider-Man' or a film where there's a real amount of scrutiny happening on it to make sure that it makes the money it needs to make. Luckily, I've set it up in a way that it isn't necessarily exactly like that. And Sony has been really quite cool about the film trying to stay true to what it's about, and to not dilute it or water it down. They've been pretty awesome about that."
There's more at the link, including why science fiction is the perfect genre for him to work in. [The Playlist]
---
District 10
Neil Blomkamp also discusses the possibility of a District 9 sequel. Basically, he's not ruling it out, but it isn't happening anytime soon:
"I'm not sure I'm making that film. It would be cool, but these films take two or three years to make, and the investments are so extreme, you can't accurately predict where you'll be a few years from now, I believe. If you're not creatively invested in it, you're making a mistake, and that creative investment happens day to day. So I don't know when that feeling for a 'District Whatever' film happens."
---
Oz the Great and Powerful
Here's a bunch of promo photos from Sam Raimi and James Franco's Wizard of Oz prequel, including our first look at Brokeback Mountain's Michelle Williams as the witch Glinda. [The Playlist]
---
Dinosaurs Vs. Aliens
Men in Black director Barry Sonnenfeld and comics genius Grant Morrison's project, in which dinosaurs fight aliens in a massive multimedia endeavor is set to span a film trilogy and several tie-in comics. It's described as "a philosophical treatise on manifest destiny, genocide and indigenous revolt" and "instead of another popcorny blockbuster thrown onto Hollywood's disposable entertainment pile, it's a pointed critique of overreaching civilization at the edge of oblivion." Whether you want to believe that is entirely up to you, but here's how Morrison explains how the dinosaur side of this project is going to work:
The dinosaurs don't speak and what they do tells us who they are. Every dinosaur scene had to be constructed like a silent movie to ensure that "characters" of the various dinosaur heroes would come through clearly. So although the dinosaurs don't talk, they're fairly expressive physically and it was obvious that audiences would immediately root for the reptiles as the underdogs. We were trying to avoid the trap of "good" dinosaurs versus "evil" alien monsters, and we wanted to be able to shift the allegiance of the audience from one side to another as the story progressed. Which made it important to flesh out our aliens' motivations and personalities, too.
He also explains the alien perspective on all this:
As we know from watching animated movies like Wall-E, it's possible to create relatable characters who look barely human at all. So we decided to provide contrast to the buglike appearance of our aliens by making them very human in the way they talk and interact with one another. They're not just rapacious monsters from another world, as they might have been in a less ambitious movie. These aliens are conflicted, brave, frightened, hopeful and poised on the edge of extinction themselves. Establishing a new home on Earth is their last chance for survival.
There's plenty more at the link, including some images from the first tie-in comic. [Wired]
---
Kick-Ass 2
Christopher Mintz-Plasse, who played the Red Mist in the first movie, confirms his now villainous character will actually be called the Motherfucker in the sequel. He also gives a sense of what to expect:
"It's very dark. It's 'Warriors' meets 'Kick-Ass' at the end. he has a gang of superheroes and I have a gang of villains. It's... huge. Huge... There was one thing they took out, thank god, my character rapes a girl in the comic. And in this one its really funny because — well, I don't want to ruin it. There's no rape."
---
Doctor Who
The BBC has now confirmed the titles of the first three episodes of series seven: "Asylum of the Daleks", "Dinosaurs on a Spaceship", and "A Town Called Mercy." Here's Steven Moffat's description of those last two episodes:
"Dinosaurs On A Spaceship" — what more do you need! The Doctor will come face to face with some of the most monstrous creatures evolution has ever produced, on some of the most monstrous sets we've ever built. We took one look at Chris Chibnall's brilliant script and said to ourselves, 'We're going to need a bigger corridor'. And Toby Whithouse's "A Town Called Mercy" takes us into a genre Doctor Who hasn't attempted since the Sixties — it's a full blooded western. We knew from the start we need some serious location shooting for this one, and given the most iconic American setting imaginable, there was only one place to go — Spain."
You can read the rest of the statement at the link. [Den of Geek]
---
Fringe
Showrunner Joel Wyman poses these key questions to guide you through the fifth and final season:
"How did they get in amber? How did Olivia and Peter and everyone get separated? Why were they all together? Why was Bell there? The history will surprise you when you realize there's a lot of emotions going on for reasons that you don't know yet, but you will."
And Joshua Jackson reveals that Anna Torv's Olivia will reunite with her daughter Henrietta, as played by Georgina Haig, very early in the season premiere, although "it takes on a slightly different flavor than I think you would anticipate." [TV Guide]
---
Game of Thrones
Brick and Looper director Rian Johnson reveals he almost directed an episode in season two, and he hopes to do so in the future:
"I've gotten some really flattering calls. I'm friends with Dan Weiss and David Benioff, who do 'Game of Thrones,' and basically, if I hadn't been in the middle of editing 'Looper,' I would have done an episode last season. I was chomping at the bit to do it, and it just didn't work out schedule wise. But I'm hoping maybe at some point in the future it does [work out], that's one that I would just love to do."
---
The Walking Dead
Executive producer Gale Anne Hurd discusses whether Andrea is really going to betray the others to the Governor:
"It's not that easy. The Governor is a dangerous character, and what's interesting is that the folks in the prison are also dangerous characters now. Rick and Daryl and the people are willing to do what they need to do to survive, so it's great to set these two forces against each other."
[TV Guide]
---
Once Upon a Time
Showrunner Edward Kitsis gives an example of how the citizens of Storybrooke deal with the revelation that they are fairy tale characters:
"Archie, for example, who is Jiminy Cricket, is a conscience, but for 28 years, he's forgotten the fact that he turned Gepetto's parents into puppets. Those puppets are hanging in Mr. Gold's shop, so what happens when you're confronted with your past now? There's a lot of loss, regret and redemption for these characters to find."
[TV Guide]
The fourth episode of season two will reportedly introduce Captain Hook from Peter Pan, and the character will have an English accent. [SpoilerTV]
---
Grimm
Here's a photo of the Mauvais Dentes, a cat-like creature that appears in the second season premiere. Showrunners David Greenwalt and Jim Kouf discuss what this new monster means and the larger threat he represents:
Greenwalt: He's the worst thing that's ever come; he can kill a whole village. And he acts like a cat, so he likes to rope you in and play with you a little bit and observe you. He'll never be predictable.
Kouf: It's more focused on Nick now," he says. "Before, it was catch what [monsters] came across his desk. These are more directed toward him."
Greenwalt: There are forces at play who would like to see Nick proven to be an uber-Grimm - or dead.
[EW]
---
Falling Skies
Here are some promo photos from episode eight, "Death March." [SpoilerTV]
---
The Vampire Diaries
Executive producer Julie Plec explains Damon's mindset as the fourth season kicks off:
He's actually feeling alone and how he starts to fill that void will be part of his journey as we go forward this season. He needs a new drinking buddy."
[TV Guide]
---
Continuum
Here's a short synopsis for episode eight, "Playtime", which feels like it's already kind of stretching the whole "each episode is a riff on the word 'time'" conceit:
When Kiera and Carlos investigate two mysterious murder-suicides, they quickly realize that both may be the result of a lethal computer program turning video game programmers into killers.
---
Additional reporting by Rob H. Dawson and Charlie Jane Anders.