The Wolverine finds a new villain. Skyfall goes retro. The Amazing Spider-Man sequel might need a new director. A Terminator star joins Lost Girl. The Kick-Ass 2 villain is the craziest thing ever... except maybe the planned Jumanji reboot.
It's spoilers all the way down!
Top image from, for the very last time, The Dark Knight Rises.
The Dark Knight Rises
Honestly, we're pretty much past the point of spoilers when it comes to the Christopher Nolan Batman movies. But, if you're looking for one last fix before actually seeing the thing, Yahoo! has a rather nice five-minute video that helps bid farewell to the series. You can check it out at the link. [Yahoo! Movies]
---
Thor: The Dark World
Stuntman James Grogan revealed this recent experience, which provides a fairly substantial hint about which bad guys will appear in the sequel:
"The other day for example, this is quite random but I was working on Thor 2. I had a load of stunt guys in and the director came in and he said 'Look, we want you all to be elves,' and I was like 'What the hell is an elf anyway?' and he said 'I want you all to walk around like these supernatural animals,' honestly it was the most ridiculous thing ever but you just have to not be self aware and get on with it."
G/O Media may get a commission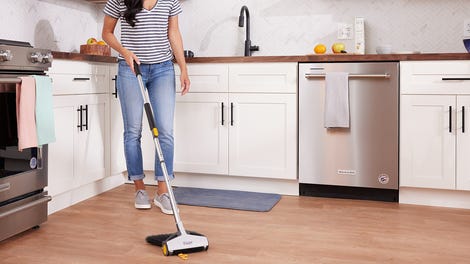 BOGO 50% Off
Flippr - BOGO 50% Off
The general consensus is that this refers to the Dark Elves, which certainly would tie in nicely with that Dark World subtitle. These would presumably play a similar role to that of the Frost Giants in the first movie, with there being another, more individual villainous presence as well — indeed, that would be the part Casino Royale's Mads Mikkelson was recently connected to, but had to bow out due to scheduling problems. [I Review Too]
---
The Amazing Spider-Man 2
Columbia Pictures president Doug Belgrad reveals that director Marc Webb might not be back for the sequel, ostensibly for reasons unrelated to the fact that the movie wasn't quite the massive smash hit they were probably hoping for:
We'd really like him back, but there are obstacles. He has an obligation to Fox.
That obligation has to do with the contract Webb signed to make (500) Days of Summer, which requires him to make another movie for Fox in the near future. That could cause insoluble scheduling problems. [Hollywood Reporter]
---
Man of Steel
While it's still very much an open question whether Zack Snyder can really put together a complete cinematic experience with good characters and a decent story and stuff like that, at least we can be pretty sure his Superman movie will feature some awesome/ridiculous action sequences. Well, the latest rumors embody that sentiment in spades, as one scene will reportedly see Henry Cavill's Superman tear apart a presumably unoccupied building and use it "as a weapon in some kind of 'super martial art' fashion", including "girders as throwing stars." Honestly, if that sequence exists and is even a quarter as batshit awesome as it sounds, I'm willing to give this movie a passing grade, right here and now. [Bleeding Cool]
---
The Wolverine
Now that Jessica Biel is more or less officially out of the running to play the Viper in the latest Wolverine movie, a new candidate has reportedly emerged. Russian actress Svetlana Khodchenkova, who played Tom Hardy's love interest in Tinker Tailor Soldier Spy, is reportedly close to signing on, and she may end up being a better fit for the part anyway, considering Viper is generally depicted in the comics as hailing from Eastern Europe. [Twitch Film]
---
Last Days on Mars
Here's a photo of Wolverine and Goon star Liev Schrieber in Universal's low budget film about a trip to Mars that threatens to end in disaster. Here's a description for the film, which also features Dollhouse's Olivia Williams and Let Me In's Elias Koteas:
As their last day on Mars draws to a close, the astronaut crew is on the verge of a major breakthrough – collected rock specimens reveal microscopic evidence of life. Meanwhile, communication is underway with Aurora, the approaching spacecraft that will relieve the crew of their operations. In their last hours on the planet, two astronauts go back to SITE 9, a cavernous valley on the surface of Mars, to collect further evidence of their discovery. But a routine excavation turns deadly when one of them falls to his death and his body taken host and re-animated by the very life form they sought to discover.
[Hey U Guys via First Showing]
---
Skyfall
Here's a new round of promo photos for the latest James Bond movie. You can also check out a video detailing the return of the Aston Martin D85 to the franchise. Of particular interest is this quote from director Sam Mendes: "There's something about the last part of the movie which deliberately, very consciously, could have taken part in 1962." [/Film]
---
Kick-Ass 2
While Christopher Mintz-Plasse's Red Mist — now renamed The Motherfucker, because of course he is — is the main villain of the Kick-Ass sequel, his main henchwoman is a new character called Mother Russia. Here's a description of the character that has reportedly been sent to casting agencies:
"Classic Villain. An ex-KBG officer who is now being paid by the week by Chris to fight in his group — she is easily the most skilled and just a ruthless killer in general. Described as a 'roided-out female bodybuilder, she needs to be extremely physically imposing and muscular, though still come across as feminine. As tall as possible (6ft and over only). Indicate height on submission."
Well, if that role doesn't just scream Oscar bait, I don't know what does. [Moviehole]
---
Wreck-It Ralph
Disney has released the names of some more cast members who are joining Walk Hard's John C. Reilly, 30 Rock's Jack MacBrayer, comedienne Sarah Silverman, and Glee's Jane Lynch in their animated movie set in the world of video games. Here are the actors and their characters, which represents a nice mix of genre favorites, comedy veterans, video game legends, and also Adam Carolla:
- Alan Tudyk ("Suburgatory," Serenity) as King Candy, ruler of Sugar Rush, a candy-coated cart racing game
- Ed O'Neill ("Modern Family") as Mr. Litwak, owner of Litwak's Family Fun Center & Arcade
- Mindy Kaling ("The Mindy Project," "The Office") as Taffyta Muttonfudge, an accomplished racer and Vanellope's nemesis
- Adam Carolla ("The Adam Carolla Show") as Wynchel, Sugar Rush security
- Horatio Sanz ("Saturday Night Live") as Duncan, Sugar Rush security
- Dennis Haysbert ("The Unit," "24") as General from the first-person shooter game, Hero's Duty
- Edie McClurg (Ferris Bueller's Day Off, "The Life & Times of Tim,") – as Mary, a Nicelander who lives within the game Fix-It Felix, Jr.
- Roger Craig Smith (Captain Marvel from TV's "The Avengers: Earth's Mightiest Heroes," Ezio from game franchise "Assassin's Creed") as Sonic the Hedgehog
- Gerald C Rivers (video game "Street Fighter" series) as M. Bison
- Rachael Harris (The Hangover, TV's "New Girl") as Deanna, a Nicelander who lives within the game Fix-It Felix, Jr.
- Stefanie Scott ("A.N.T. Farm") as Moppet Girl, a young arcade enthusiast who visits Litwak's arcade
- Reuben Langdon (multiple "Street Fighter" video games) as Ken from Street Fighter
- Kyle Hebert (multiple "Street Fighter" video games, "The Avengers: Earth's Mightiest Heroes") as Ryu from Street Fighter
---
Men in Black 4
Columbia Pictures president Doug Belgrad also explained that plans are afoot for another Men in Black movie, despite the fact that Will Smith really sounds like he's done with the whole thing:
We're very pleased with the financial performance of Men in Black 3, and we believe it is an ongoing franchise. We're going to do [another one], but we don't have clarity yet on how it should be done.
---
Jumanji
Finally, Doug Belgrad revealed "we're going to try and reimagine Jumanji and update it for the present", which is a revelation so wonderfully ludicrous I don't even know how to approach it. That Jumanji reboot damn well better be gritty, is all I can say. [Hollywood Reporter]
---
Ninja Turtles
Michael Bay and Battle: Los Angeles director Jonathan Liebesman's Ninja Turtles movie is now more or less in limbo, but co-creator Kevin Eastman is still sure it's going to happen, and is equally sure it's going to be good, no matter what the fans might think:
From what I've seen, it's easily the best 'Turtle' movie yet. We're talking 'Raid: Redemption'-style fight scenes; we're talking about epic 'Rise of the Planet of the Apes' sort of effects... A lot of people are worried we pushed the release date from December to May, but the 30th anniversary of the 'Turtles' is in May, so it worked out perfectly.
There's more at the link. [MTV]
---
The Hulk
Guillermo del Toro is still allegedly developing a Hulk show among his myriad other projects, so it occasionally behooves us to find out where he's up to with all that. To wit:
"I have had a couple of minutes with Marvel since 'Avengers,' and they have the screenplay. We're waiting for a particular writer to do a rewrite on the pilot. That's where we are right now. But we're still on."
The Avengers came out two and a half months ago, and in that time del Toro has apparently been able to spare about two minutes to devote to this particular project. That's completely understandable, considering he's busy directing Pacific Rim, but at that rate I wouldn't expect this TV show to materialize until, oh, around 2084. [MTV Splash Page]
---
Lost Girl
Terminator star Linda Hamilton is reportedly set to follow up her recent work on Chuck with another recurring role on a genre show. This time, she is set to play Acacia, described as "a tough, sexy and ruthless assassin who has enjoyed a storied and deadly career." [TV Line]
In what may very well be the most awful pun-based title this or any show has ever used, the episode eight of the upcoming third season is reportedly titled "Fae-ge Against the Machine." Episode nine has the relatively innocuous title "Ceremony", although, knowing this show, I don't think we can rule out there's a pun hidden in there so fiendishly complex and next-level that we can't even perceive it yet. [SpoilerTV]
---
The Vampire Diaries
The Nine Lives of Chloe King and Fright Night actress Grace Phipps has reportedly been cast in the recurring role of 16-year-old April, described as "a natural beauty with a bit of an edge...[who] has just returned from private school after the death of her father" and who "has some history with Jeremy (Steven R. McQueen) and Elena (Nina Dobrev), and Elena hopes to protect her from the many secrets the town holds." She will debut in the second episode of season four. [EW]
---
Additional reporting by Rob H. Dawson and Charlie Jane Anders.