Most publishers of news and information have policies governing their relationships to advertisers. Generally speaking, these policies are tailored to suit the goals of those publishers and the expectations of their audiences. Some publishers feel comfortable working closely with advertisers to generate stories and videos that appeal to those advertisers, others, such as Gizmodo Media Group, do not. Our editorial code states:
We will not limit or calibrate our reporting to suit an advertiser, provide an advertiser access to a story prior to publication, or otherwise permit an advertiser to influence a story.
Unfortunately, owing to a wrongheaded rule adopted by Facebook, you may occasionally see posts on the Facebook pages of our editorial properties—Gizmodo, Kotaku, Jalopnik, Lifehacker, Deadspin, and Jezebel—for stories or videos that were purportedly posted "with" some brand or another. It's not true. We don't do stories with advertisers. (Of course our award-winning Studio@Gizmodo team does fully disclosed sponsored content with advertisers all the time—hit them up!)
The reality and perception that our work at Gizmodo Media Group is created independently and without reference to the desires of anyone who might want to pay us to suit their ends has been, I believe, a significant factor in our ability to sustain a loyal audience of more than 90 million monthly readers. People return to our sites in part because they are a refuge from a digital news environment in which so-called "brands" and so-called "content" are blended into a sponsored slurry of news, opinion, jokes, listicles, and memes.

But in the current media climate, there are policies and there are Policies. The Policies belong to Facebook, which sits atop any organization that seeks to maintain a digital audience these days, holding our noses shut with one hand and shoving fistfuls of grass into our mouths when we open them to breathe with the other. Facebook has a quite literal monopoly—like the kind that Teddy Roosevelt busted up—on access to a pool of readers that publishers need for survival. You play by their rules, or you don't play.
One such rule is Facebook's misguided and preposterously blunt attempt to distinguish for its users between "branded content"—an ill-defined bucket that essentially includes anything with a paid-for reference to an advertiser—and "organic content." Facebook mandates that when publishers post any stories or videos meeting its definition of "branded content" on the platform, "publishers and influencers...tag the marketer in the post to make it clear that the post is branded content." What is "branded content"?
On Facebook, we define branded content as any post—including text, photos, videos, Instant Articles, links, 360 videos and Live videos—from media companies, celebrities or other influencers that features a third party product, brand or sponsor.
G/O Media may get a commission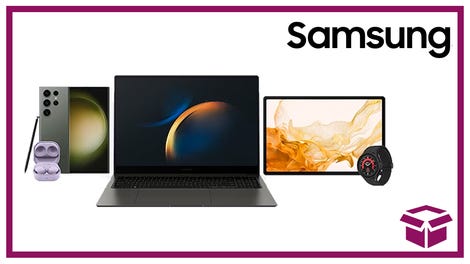 24 hour deals
Discover Samsung - Daily Deal
Facebook's guide for publishers provides a handy example:
The "tagging" is also known as a "handshake"—a visual cue on Facebook that the publisher is posting the story with the marketer that is sponsoring it. Facebook intends that "with" to communicate to its users that the marketer is "collaborating" with the publisher.
I have no doubt that Lady Gaga collaborated with Intel on the post highlighted by Facebook above, and I think that's something that Facebook's users, and Lady Gaga's fans, should understand. But while Facebook's Policy may be adequate when it comes to distinguishing between "branded" and "organic" Lady Gaga content, it leaves much to be desired when it comes to describing the kinds of stories that Gizmodo Media does.
On occasion, for instance, we will produce a video or video series that is underwritten by an advertiser. When we do this, we agree to acknowledge that advertiser's role in providing the funding for the series by way of a logo or credit in the episodes—and that's it. We don't collaborate with the advertiser, or discuss production details, or preview cuts of the episodes, or permit them in any way to influence the end result. These are things—like Kotaku's "Compete" video series—that we want to do because we think they will be good, and when we find an advertiser for them (in the case of "Compete," it was Cheerios), we do them.
But just the presence of that logo or acknowledgement, by Facebook's rules, constitutes "featur[ing] a third party product, brand or sponsor," which makes it "branded content," which means that if we want to use the Facebook pages of any of our sites to promote it—and if we don't, we may as well not make the thing to begin with—we have to represent to our readers that we did it "with" an advertiser, just like Lady Gaga did it "with" Intel.
What this means in practice is the publishers are required to lie to their readers, and—simply because of the obtuse nomenclature and unyielding rules adopted by Facebook—present editorial stories and video as produced "with" an advertiser that played no role in their creation. As the Wall Street Journal put it last month, discussing Mic's efforts to sell advertising on its "Mic Bright" video series:
To be sure, these videos are produced by Mic's editorial staff, and are not commissioned by or paid for by an advertiser. Yet in order to comply with Facebook's advertising policies, during each clip Mic employs Facebook's standard branded content labeling, which consists of listing the sponsor involved in the title of each video.

For example, Microsoft has signed on as one of the first Mic Bright sponsors, and one Mic clip it has sponsored is listed as "The Future Is Now with Windows."
Publishers who don't comply with these rules risk having their posts taken down, a result that could be catastrophic to traffic. At Gizmodo Media, we have in the past received automated warnings from the social network regarding Facebook posts that simply mentioned brands—not as sponsors, just in the copy. This post on Jezebel's Facebook page, for instance, promoting a satirical list of potential corporate sponsors for national parks (a real thing), sparked repeated warnings from Facebook that we were violating their Policy:
We have reached out to discuss these rules with Facebook repeatedly, and gotten nowhere. According to Social News Desk, Facebook's "grace period" for allowing publishers to learn the rules ended on September 1, 2016. From here on out, any violations will be punished with a removal of the offending post. Repeat offenders could, if Facebook treats the infractions the way they do copyright complaints and other violations, have their pages removed entirely.

As a result, our Facebook posts may include a disclosure that implies we are doing something that we do not do. The distinction between sponsorship and advertorial is a crucial one, but Facebook does not recognize it.
Correction: This post initially stated that violators of Facebook's branded content rules risk having their Facebook pages, not just the offending posts, taken down. While Facebook policy is to remove posts that don't comply with its branded content rules, the risk of entire pages being taken down is informed supposition, not explicit policy.