You've just sat down to a nice home-cooked meal with your family when the phone rings. Could be Grandma, you think. She still actually uses the phone for talking. But no, it's a robocall shilling for some debt relief scam, the fifth in as many days.
You know what? You don't have to put up with it. Here's how to hang up on telemarketers and their mechanical minions. For good.
Legal Guardians
Unsolicited telemarketing calls have long been a bane of modern life, interrupting evenings with offers of insurance, extended warranties, credit counseling, and a litany of other expensive services that you never needed or asked for. The Federal Trade Commission (FTC), which has governance over landline communications, thought it had fixed the problem in September, 2009, when the agency revised its Telemarketing Sales Rule (TSR), banning the use of prerecorded commercial telemarketing calls, aka robocalls, to consumers who have not provided permission previously and in writing. Telemarketers face penalties up to $16,000 per call if caught.
"American consumers have made it crystal clear that few things annoy them more than the billions of commercial telemarketing robocalls they receive every year," said Jon Leibowitz, Chairman of the FTC, said at the start of the program. "Starting September 1, this bombardment of prerecorded pitches, senseless solicitations, and malicious marketing will be illegal."
The Federal Communications Commission, which regulates cellphone lines, has also tightened its regulations regarding robocalls by eliminating a number of loopholes in the Telephone Consumer Protection Act (TCPA) of 1991. Previously, businesses simply needed an "established business relationship" to call you mercilessly. Now, the TCPA amendments regulate the volume and types of prerecorded solicitations that may delivered to a land line phone as well as every auto-dialed call, prerecorded or not, and automated texts to cell phones, emergency numbers, and hospital rooms.
G/O Media may get a commission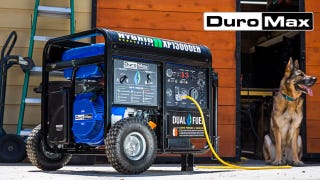 Black Friday Sale
DuroMax Generator Sale
The only exceptions to this rule are political calls to land lines (the cost of picking one's political party when renewing your driver's license), purely informational messages like school lock downs, flight cancellations, and emergency weather alerts, and those from companies that you've given written permission. For example, if you've signed up for a checking account, your bank used to be able to legally harass you with insurance offers or other services. Now, though, they must have your written authorization before bugging you (which is why many bury that authorization deep in their Terms of Service). For cell phones, the rules are even more strict: no robocalls or automated text messages, political or not, are permitted without written consent. The two agencies also joined forces to create the National Do Not Call registry, a database of people who have actively opted out of receiving telemarketing calls by which legitimate telemarketers must abide.
While these enhanced rules are definitely a step in the right direction, unfortunately they're no match for modern technology, which can spam-dial thousands of phones every minute, and the unscrupulous scammers that use them, who honestly couldn't care less about interrupting your meal much less some $16,000 ticket from the government. Rampant doesn't begin to encapsulate the severity of this problem.
"Too many telemarketers, aided by autodialers and prerecorded messages, have continued to call consumers who don't want to hear from them," said FCC Chairman Julius Genachowski at an FCC meeting last February. During the 2012 fiscal year nearly four million Americans contacted the FTC to complain about robocalls—a 70 percent jump over the previous year—and that's only the folks that knew about the DNC registry. The two agencies even went so far as to create the $50,000 Robocall Challange, a public competition seeking actionable methods for fighting these phone spammers.
Shut It Down
So what do you do when you pick up the phone with a synthetic voice on the other end? "Our advice is straightforward. Hang up," Lois Greisman, director of the Federal Trade Commission (FTC) Marketing Practices Division, told CNN. "There are virtually no legitimate marketers trying to reach you to sell you something using a prerecorded call."
Just hang up. Don't press 1 to speak with a live operator, don't even speak. Just put the phone down and slowly back away from the receiver. Once you've hung up, log on to the Do Not Call registry and register your home and cell phone numbers. This won't eliminate robocalls entirely—companies that already have your permission are exempted, for instance—but it will certainly reduce the volume of these calls. To date, more nearly 220 million Americans have signed up. You can also call the FTC's complaint line at 1-888-382-1222 or on the DNC website.
Check the Fine Print
Also, start reading the Terms of Service for any new program or offer your apply for. You'll likely have to agree to the telemarketing in order to get that loan/credit report/hoagie-of-the-month club membership you want but you'll at least be able to better track who has your permission to bug you. You can also ask your ph0one carrier to block the offending number, so long as the carrier doesn't charge for the service as robocallers frequently change or spoof their originating numbers.
Get Creative
If simply hanging up and hoping the telemarketers don't call back isn't quite your style, take a lesson from Alex Ruiz. This 24-year-old put his experience as a Linux systems admin to use by integrating a Rasberry Pi into an analog receiver to create the "banana phone." In this system, incoming callers must punch in a four digit verification number to prove they're human. If they are, the number is stored in a whitelist of phone numbers so that friends and family can reach him immediately. Autodialers on the other hand, with their distinct lack of dialing fingers, are shunted immediately to voicemail. What's more, the system is hardware agnostic and can be integrated with any existing landline or VOIP setup.
The Future of Phone Spam
Rodriguez's banana phone is one of a multitude of home-brew solutions currently vying for the Robocall Challenge's $50,000 purse. This is definitely a step in the right direction. However, as with digital spam, one step is never enough. As technology progresses, an arms race between scammers looking for new and inventive ways to reach your ears and public-private efforts to shore up home phone defense seems inevitable. There likely will never be a single magic bullet solution to this problem, just as email spam (and the unsolicited Yellow Pages deliveries before them) depend on a plethora of imperfect checks and filters. But if you do, the FTC has 50,000 reasons for you to speak up.
[Do Not Call - FTC 1, 2, 3, 4 - FCC 1, 2 - Ars Technica - CNN - MSN - wavebreakmedia & SFC / Shutterstock]