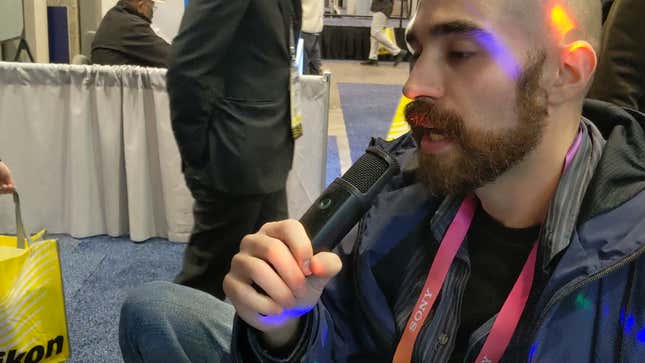 Though you're likely to hear many odd sounds on the CES showfloor, the last I expected to hear was amateur sing-alongs. Singing Machine, a company that makes karaoke products, announced this week that it's working with the entertainment company Stingray to turn cars into self-contained karaoke setups.

Vizio's Latest TVs Go All Quantum
You don't have to be good at singing to belt out a tune in the shower or on a long car drive. Such personal expression should be encouraged, especially in the safety and security of a car cabin, where you might feel safe from the judgment of strangers. I'm heavy on both shower and car singing, but I've never personally felt the need for any kind of microphone or lyrics app to make it happen.
On the singer's side, the device itself is just your average stick mic, but all the other systems would need to be built into the vehicle. This includes the karaoke menu and the ability to connect the mic to your speakers—Singing Machine is currently reaching out to car manufacturers about this. Your average tech bro may be more hesitant to sing in front of an audience, but of course, Singing Machine CEO Gary Atkinson wasn't too shy about his singing voice. He planted himself in the driver's side of a fake car cockpit and warbled his way through Drake's hit song Hotline Bling.
Not like I'm a much better vocalist, though I'm not one for a lot of Top 40 music out there. No Karaoke set would be complete without Queen's Bohemian Rhapsody—a song I know by heart at this point. At one point, Atkinson turned off the background vocals so I could hear my own dry voice through the Stingray system. The company was boasting that its "Pitchlab" system autotunes your voice and corrects your key and pitch. Atkinson also said users can select certain "enhancements," such as "pop star" or "hip-hop" effects. The music was loud in that setting, almost like a reverb off shower walls. Did I get into it? You bet your ass—it's Queen, after all.
"It makes people feel comfortable singing," Atkinson said.

Obviously, Atkinson is a big fan of Drake, but beyond that, the company claimed the karaoke app contains 100,000 songs, mostly pop hits you'll find on any karaoke machine as well as some recent hits from Disney films like Encanto. Yes, your kids will now be able to sing Let it Go over and over again if you dare hand them the mic. Next generation versions of the tech may even give scores for lyrical accuracy, a la Rock Band.
This isn't so much a product you can get your hands on, but something the company wants to get leading vehicle makers to start adding as a feature in future rollouts. The whole "the car is the extension of the living room" angle is a bit tired at this point, but there's also a safety aspect. Caras integrated with the Stingray will let users in the driver's seat see lyrics on an internal screen, but only when the vehicle is in park. Otherwise, a passenger can connect to the car to get the lyrics on their phone when they're in motion. These sort of safety features are perhaps why the device can't just work on any car using, say, an Android app.
Of course, nothing stops users from passing the mic to the driver's seat to go off songs by memory. Also, a driver could simply load the lyrics on their own phone while in motion. Regardless, Atkinson said the company's currently in talks with major automotive partners, though he didn't reveal which ones.
Update 1/11/2023 at 3:00 p.m. ET: This post was updated to correct Gary Atkinson's title. He is the CEO of Singing Machine.