Personally, I've never seen anything like this, and photographer and digital artist Michael K. Chung said he couldn't believe what he saw when he was processing images he took for a timelapse of the Perseid meteor shower. It appears he captured a meteor explosion and the resulting expansion of a shock wave or debris ring.
Deadly Mississippi Tornado Kills More Than 2 Dozen | Extreme Earth
"It was taken early in the morning on August 12th, 2013 from my backyard in Victorville, CA," Michael told Universe Today via email. "The fade to white is NOT an edit — it is overexposure due to the sun coming up. From what I can tell, the timelapse sequence of the explosion and expanding debris span an actual time of approximately 20 minutes."
Michael said because he shoots at much higher resolution than 720p, he's able to provide two different sequences in this video: one is with the full frame of each capture scaled/reduced and then cropped down to 1280×720, and the other is with the full frame kept at resolution with just the region around the explosion cropped to 1280×720. "I included each sequence twice – once at 24 frames per second and the other at around 12 fps."
Amazing!
Since I've never seen anything like this, I decided to have one of our observing experts provide his opinion. UT writer David Dickinson said this is definitely legitimate.
G/O Media may get a commission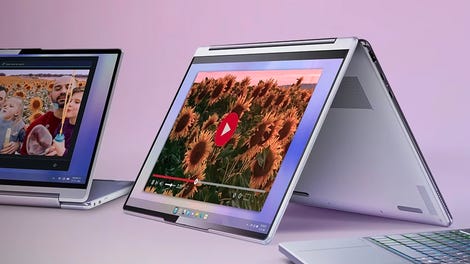 up to 70% off
Lenovo Spring Clearance
"What cinches it for me is that the meteor was moving in the right direction for a Perseid," Dave told me. "I see Perseus rising to the right, the plane of the Milky Way and Andromeda just above center."
Dave said he has seen several meteors that leave lingering smoke trains. "I usually carry binoculars to examine these," he said, "and saw several examples of this during the 1998 Leonid meteor storm from the desert in Kuwait, one of the most awesome things I've seen. Ever."
Dave concurs, great catch by Michael Chung!
Update: Daniel Fischer provided a link to some imagery and information of the 1998 Leonid observations, showing persistent trains and more. Daniel also provided a more accurate description of what Michael Chung captured: "a persistent train after a Perseids fireball, being torn apart by upper atmosphere wind shear."
2013 Perseids Meteor Shower: Meteor Explosion from Michael Chung on Vimeo.
---
This post by Nancy Atkinson originally appeared on Universe Today. It has been republished with permission.