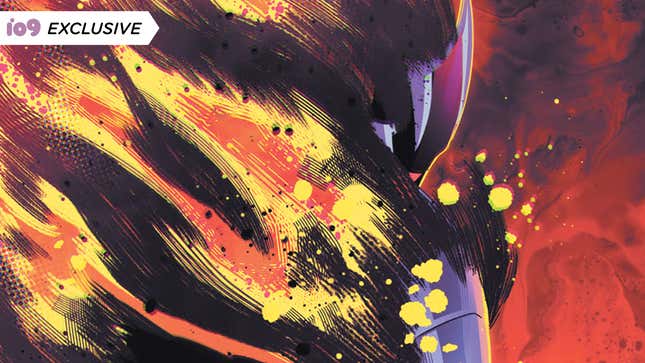 The world of the Massive-Verse's hottest hero is expanding: Inferno Girl Red, Mat Groom and Erica D'Urso's superhero comic series, has returned to Kickstarter for the second chapter of her journey, and io9 has a look at what fans can expect for the young hero.

First introduced in 2021, Inferno Girl Red spun out of the same Tokusatsu-inspired leanings that brought Radiant Black—and now the superhero comic connected universe known as the Massive-Verse—to life, and in the wake of the first in a planned trilogy of graphic novels' successes on Kickstarter, Groom, D'Urso, and their team—letter Becca Carey, colorist Igor Monti, editor Kyle Higgins, and design team For The People—are back for round two.
"Two years ago when Mat and I launched the Inferno Girl Red Kickstarter, we couldn't have imagined the reception we'd receive," D'Urso said in a press release provided to io9.. "Not only was our campaign funded on the first day, we were fortunate enough to have Image Comics bring Inferno Girl Red to comic and book stores. The amazing response of the Kickstarter and comic-reading community confirmed what we already believed: this is a story worth telling, and a world that's worth diving into."
Volume two of the series picks up with heroine Cássia Costa in the wake of a costly battle to save her home of Apex City from a deadly threat. Reeling from tragedy, Cássia finds herself thrust into a new mentorship and a new team to handle in the wake of her battle, as a new evil rises to threaten Apex City once more.
"I'm beyond excited to return to the world of Inferno Girl Red," Mat Groom added in his own statement. "In many ways it's an allegory for the modern teenage experience—coming of age in a world with cataclysmic disaster looming, being told by older generations that it's up to them to solve the problems they didn't create. What does it take to succeed despite this pressure? And how can you embrace the radical belief needed to achieve the seemingly impossible without falling into dangerous self-delusion?"
Now running on Kickstarter through to September 22, the campaign for the second volume of Inferno Girl Red includes not just options to access the latest volume with a Kickstarter-exclusive cover, but a chance to grab the original Inferno Girl Red graphic novel in physical and digital formats as an add-on. Other backer rewards include a series of bonus prints, including art from Tom Whalen, VV Glass, Luana Vecchio, and more.
Click through to see an exclusive preview from inside Inferno Girl Red Volume 2, or head on over to Kickstarter to back the series and learn more.