Rumors about a fully-fledged Apple TV have circulated for years. Recently, though, things have been heating up: from hints in Walter Issacson's Steve Jobs biography, though rumors about upcoming technology to a hotly anticipated media announcement later this month.
While all that sounds promising, a proper Apple TV will only be as good as the content it can serve up. Sadly, according USA Today, things on that front don't look good.
The newspaper has reported that an anonymous Apple employee and two television industry sources claim Apple are having "problems" securing the deals they want.
USA Today suggests Apple's goal is to offer up an "à la carte" selection of shows from first-tier networks, but so far, it's having little luck in getting the deals set up.
G/O Media may get a commission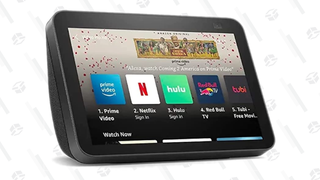 In the past Apple has had a strong history securing media deals — hell, it even got The Beatles on board. But it's always struggled with TV deals, and just last summer it had to pull a bunch of TV rentals from iTunes and Apple TV.
One final juicy rumor from US Today: "Inside the locked-down studio of Jonathan Ive, [...] there's a slick 50-inch TV, according to the source who worked at Apple." That mightn't be anything to do with new hardware, though: maybe now he's Sir Jony, he just kicks back a bit more. [USA Today via The Verge]