Tons of rumors suggest Terminator Genisys will be so bad, it'll put "the final nail in the coffin" of the Terminator series. Game of Thrones' Charles Dance will star in the Childhood's End miniseries. Plus a ton of information about what's happening on The Flash. Spoilers now!
Top image:
Suicide Squad/DC/Batman v. Superman
Deadline is reporting that Jesse Eisenberg is in negotiations with Warner Bros. to be Lex Luthor in the upcoming Suicide Squad movie. Whether or not that is going to happen is in doubt, since he's already committed to Now You See Me 2, and has been linked to Todd Phillips' Arms and the Dudes, which might not leave much time for Suicide Squad. [Deadline]
Now, it's not a confirmation, but Jena Malone refused to even answer a question on whether or not she's playing Robin in Batman v. Superman. When asked about it, she just waved and walked away. [E! via Comic Book Movie]
While it sounds like the Nolans are bowing out of DC's multi-movie project, Jonathan Nolan kept the door open for his brother's return saying:
I love those guys and my brother was involved in 'Man of Steel' with Zack [Snyder] and David [Goyer]. I kind of feel like that chapter for us is closed.

To be continued somewhere farther down the line? Maybe.
[ Coming Soon]
Gotham City Police Department cars have been spotted outside a closed set in Pontiac, MI. We've seen hints that the GCPD has been in the movie for a while, so here's more. [ The Oakland Press]
G/O Media may get a commission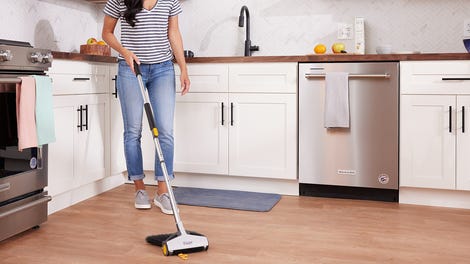 BOGO 50% Off
Flippr - BOGO 50% Off
---
Star Wars
Greig Fraiser, director of photography on Zero Dark Thirty, has said he'll be the DP on Gareth Edwards' standalone Star Wars film. [Hit Fix]
---
Terminator Genysis
An anonymous source claims to have seen a copy of the script for the next Terminator film. The plot synopsis includes two versions of Kyle Reese — one of whom goes by Kyle Connor and believes himself to be John Connor's son, not his father. So "Kyle Connor" is sent back in time to save his "grandmother" Sarah Connor, and the two Kyles wind up teaming up. Also, Arnold Schwarzenegger's aged T-800 battles his own younger self. Tons more details at the link, but keep all the salt handy. [Manly Movie]
Schmoes Know's Mark Reilly also claims to know the whole plot of the movie, and claims that it'll destroy the franchise. He said in a podcast:
We're in trouble. This movie...I think it's going to piss off Terminator fans. I think it's going to be the last nail in the coffin in the franchise. The way that they are trying to spin a new take on the Terminator series? I don't even think it looks good on paper. I know the ending. I know who the villain is. And it's out of left field....

Again, it is Arnold coming back as old Terminator. And time traveling. The time traveling elements are going to confuse the hell out of everyone. That is what I'm hearing. The Terminator and new Terminators...We got a hybrid of the Terminator in Salvation...Now we have a different form of a Terminator...Which I will not get into because that is a big spoiler...But there is a different sort of Terminator coming out and its a reach. I'm like, why are you doing this? Can't we just go back to the basics?
He also claims the opening scene will feature a naked CG reconstruction of the young Arnold from the original Terminator, and it will be the one cool moment in the entire film, before it goes off the rails. You can hear the whole thing in the Meet the Movie Press podcast, with this exchange starting around the 21-minute mark. [via MovieWeb]
---
The Lego Movie 2
Phil Lord and Chris Miller, who wrote and directed the first film, have signed on to write the sequel. [ Deadline]
---
Big Hero 6
There will be a post-credits sequence, even though Big Hero 6 isn't a Marvel movie in the traditional sense. Directors Don Hall and Chris Williams added that there were so many references to Disney animation and Marvel films that they had to pull back. But a bunch are still there:
Williams: Well, I will say we generally have a lot of Easter eggs in this movie, to the point that we had to really tell our artists to knock it off. Because, you know, everyone wants to place stuff. We grew up loving Marvel movies. We, of course, grew up loving animated movies. And now we have a potential to sort of place these things. But it got to the point where Don and I are feeling like this is getting to be too much, too distracting. So we stopped them and then actually pulled a couple things out.

Hall: Marvel was actually pretty cool and gave us like the, you know, the nod to put a few…

Williams: Very obscure.

Hall: I would say Z level characters in the movie. As little Easter eggs. And they're in Fred's room. So it might be a good place to look.
[ Slashfilm]
---
The Hobbit: The Battle of the Five Armies
Entertainment Weekly has a diagram of how the climactic 45-minute battle will look, including the giant eagles making an appearance. The classic problem of the birds has been noticed by Peter Jackson:
"Tolkien uses eagles in a way that can be kind of awkward because they tend to show up out of the blue and change things pretty quickly," says the director. "So here they're just part of the plan, not the saviors. I mean, I do realize that if the eagles had just been able to bring Frodo to Mount Doom in Lord of the Rings and let him drop the ring in, those movies would have been much shorter."
Get ready to see the Lord of the Eagles rendered for the first time in CGI. The diagram' below. [ Entertainment Weekly]
---
World Breaker
Warner Bros. has bought World Breaker, written by The Signal's Will Eubank and Philip Gawthorne, with Eubank set to direct. It follows a mythical Scottish warlord as he and his sons defend against an invading army. [Variety]
---
The Last Witch Hunter
The release date is April 3, 2015.
---
The Walking Dead
The titles of episodes five, six and seven of the new season are revealed as "The Choice," "Heart Drift" and "Crossed." [ SpoilerTV]
Veteran TV director Adam Davidson will direct the pilot episode of the spin-off series, which takes place at the same time as The Walking Dead but in a different location. [Deadline]
---
Childhood's End
Tywin Lannister himself, Charles Dance, will star in Syfy's miniseries based on Arthur C. Clarke's classic novel. He'll play Karellen, the representative of the Overlords, who makes first contact with the human Ricky Stormgren, who's not cast yet. And here's how Syfy is describing the character:
Karellen's comforting words and amazing technological gifts quickly win humanity's favor, beginning decades of apparent utopia at the cost of human identity and culture. However, his refusal to reveal his physical appearance and insistence on dealing only through Ricky have some people questioning whether his intentions are truly benevolent.
[ EW]
---
Gotham
We'll meet Victor Zsasz in the episode "Penguin's Umbrella," airing Nov. 3, and below is the description. Plus click here for some pictures of Zsasz.
As violence between Maroni (guest star David Zayas) and Falcone continues to escalate, Penguin reveals a new element of his manipulative strategy, forcing Gordon to deal with the consequences of his decision to spare Penguin's life
---
Doctor Who
Click here for promo photos from the next episode, "Dark Water." [SpoilerTV]
And here's the official description for the season finale, "Death in Heaven":
With Cybermen on the streets of London, old friends unite against old enemies and the Doctor takes to the air in a startling new role. Can the mighty UNIT contain Missy? As the Doctor faces his greatest challenge, sacrifices must be made before the day is won.
[ Digital Spy]
---
Constantine
Here's a sneak peek from the second episode, introducing the new supporting character Zed Martin. [ KSiteTV]
We'll be meeting Jim Corrigan (aka the Spectre) soon enough. But could we ever meet Swamp Thing? David S. Goyer says that's a "hard character to pull off":
In terms of VFX makeup, and we don't have ten million dollars to do CG. We definitely wouldn't see him in the first season, [but] if we're fortunate enough to keep going and we feel like we can pull that off… because that requires a lot of creature design, and we just need to make sure we can put it off and it doesn't look dumb. And, again, if it's organic to the story.
[ KSiteTV]
---
Sleepy Hollow
Here are a couple of clips from tonight's episode. [ SpoilerTV]
Here's the extended synopsis for episode eight:
As Ichabod and Katrina enjoy a brief respite from their latest tribulations, they attempt to reconcile their recently conflicted feelings, but a lingering doubt – sown by the actions of their foes – continues to creep into their relationship. All the while, Abbie remains intent on preventing whatever next move Henry Parish and his master Moloch are planning. Meanwhile, the Horseman of War is indeed still intent on resurrecting his Dark Lord, and summons forth "The Heartless," a deadly female succubus with the ability to look into her victims' soul and mimic their heart's desire... before siphoning off their life force. When the husk of the body of a young bar patron is discovered in the parking lot of a local establishment, Crane and Mills investigate. While Abbie remains convinced Parish has no doubt played some part in this latest supernatural event, both Ichabod and Katrina try their best to maintain their belief that their son "Jeremy" is still not beyond redemption.

Meanwhile, Henry focuses his attention on the task at hand, namely, using the succubus's unique powers to achieve his ultimate goal of facilitating Moloch's entry to the waking world... but how her skills will aid his task still remains a mystery to those who would prevent it. And as bodies in Sleepy Hollow continue to pile up, Katrina aids in the Two Witnesses' investigation, but it takes Abbie some time adjusting to the teams' new makeup and to be convinced of the witch's worth.
[ SpoilerTV]
---
Grimm
Here's a featurette about season four. [ SpoilerTV]
---
Once Upon A Time
Lana Parrilla talks about the relationship between Regina and Emma:
I do believe she cares for Emma on some level. It's almost like a sisterly bond they have. And that mirrors the Elsa and Anna bond — you see in that first episode, that famous behind the door scene, and that mirrors the Frozen scene. To me, they are setting up that kind of relationship between the two. I love what happens to them. There's an episode coming up where I remember reading the script going, 'Oh my God, Regina's so awful to Emma! She's saying one horrible thing after another.' Playing it is one thing, because you feel like a total bitch for eight days while you're filming the episode, but in reality it's only 45 minutes. And it's one day, where she's just really upset and wants to punish her. And I think she just needs to get it off her chest and they'll move forward. I'm excited about their relationship because they're very similar. They have something they were born with, which is this magic. Emma and Regina don't have a lot of people they can relate to. So it's nice they find comfort in one another.
[via KSiteTV]
And here's the description for the two-hour special, airing Nov. 16:
EMMA'S POWERS RUN AMOK AND SHE TURNS TO GOLD FOR HELP, ELSA AND ANNA'S RELATIONSHIP IS TESTED AND THE SNOW QUEEN'S AGENDA IS REVEALED IN A SPECIAL TWO-HOUR "ONCE UPON A TIME" STARTING AT 8:00 PM, SUNDAY, NOVEMBER 16 ON ABC

Elizabeth Mitchell ("Lost") Guest Stars as the Snow Queen

"Smash the Mirror" – In Arendelle when the Snow Queen tries to pit Elsa and Anna against each other and it proves more difficult than she anticipates, she takes drastic measures. Meanwhile, in Storybrooke Emma's powers are out of control and her fear of hurting loved ones pushes her away from everyone she cares about. In her confusion Emma turns to Gold for help getting her powers under control. Gold tells her about a way to get rid of her powers altogether and Hook tries to put a stop to it. Robin Hood recruits Will Scarlet to assist him on a mission and Mary Margaret and David search for Emma.
[ KSiteTV]
---
Haven
Eric Balfour explains why this is Duke's most difficult season yet:
This season is going to be really intense for Duke and really heavy for Duke. The biggest challenge has been in maintaining what is so great about Duke, and it is his irreverence and his humor and his ability to laugh in the face of danger. Finding the balance between the intensity of what's going on this season for Duke and maintaining his nature, has been a challenge. It's one of my favorite things about the character, and you wouldn't want to lose it. So, finding that balance has certainly been the biggest challenge.
[ TV Equals]
Also, Steve Lund ( Bitten) is coming back as James Cogan, aka The Colorado Kid, in the second half of season five. [The Wrap]
Jay Reso, aka WWE superstar Christian, will have a recurring role as McHugh, one of Dwight's "oldest and closest friends." The character is described as "smart, with ice water for blood, hammers for fists and a dogged sense of loyalty. McHugh and Dwight served as Army Rangers together, as well as members of The Guard. But McHugh left this life for a simpler one, determined to remain out of the line of fire. Dwight knows he could use the help of his fierce friend, but respects McHugh's desire to live under the radar." When Dwight is in a romantic quandary in the episode "Chemistry," he turns to McHugh for advice. [ SpoilerTV]
Also, the CDC scientist played by Laura Mennell might have a bit of a romance with Dwight. Until Dwight finds out a dark secret she's hiding, that is. [ TV Line]
---
The Flash
It's not clear whether Iris Allen comes from the 31st century (as she does in the comics), but time travel will be a part of the show. Grant Gustin talked about it during a set visit, saying, "The first time it happens, I think it's an accident, and that's going to be fun to play with. I'm looking forward to that." Also, more characters will be going into the metahuman prison at S.T.A.R. Labs, and this could spell trouble.
Also, the Flash/Arrow crossover will feature a huge, earth-shaking moment for the Arrow, which actually takes place during the Flash episode. [TV Line]
Why did Cisco create a gun that could kill the Flash? As a precaution, says actor Carlos Valdes. But when the gun falls into the hands of Captain Cold, Cisco will learn an important lesson. Valdes adds:
Cisco has this trajectory of growth. Part of that growth involves his coming to terms with responsibility and what it means to be a hero and what it means to accept responsibility for the things that you've done. That episode is very important for Cisco in terms of learning the lessons of responsibility, especially when it comes to the people that he loves and the people that he cares about.
[ EW]
---
Arrow
The Felicity "origins" episode will show us a whole new side of her, says Emily Bett Rickards: "She hadn't found who she was yet. We get to see her in her college years, so she hadn't stepped into the Felicity we see now. She was still trying to hide." And meanwhile, in the present day, Felicity's mom shows up at the worst possible time. [ EW]
---
The Originals
Here's the producers' preview of tonight's episode "Live and Let Die":
And here's a clip from the episode:
Debra Mooney will have a recurring role in the second season as Mary, a "tough, no-nonsense" werewolf who will do quite literally anything to ensure the safety of her pack." [ TVLine]
---
Supernatural
Here's a clip from tonight's "Paper Moon" that shows that the brothers are more or less back to normal:
This episode sees the return of Kate the werewolf, and writer Adam Glass explains why:
Her experience, as great Monster of the Week episodes always do, reflects basically where the boys are at emotionally right now. So it will be them looking at themselves in the mirror through Kate and what's happening in her experience.
He adds that the writers have been dying to see what Kate has been up to since she last appeared in season eight. [ TVLine]
It sounds as though Dean really isn't a demon any more, but still has a lot to worry about, judging from this quote from Jensen Ackles:
Right now, it's less about how he was and what he was, and it's more about what he might possibly still be. He's still got the mark of Cain so he's still dealing with whatever adverse effects that's having on him. What those are have yet to be really defined, but it's the mystery of what those could be that is really haunting Dean right now. He's got the shakes. He's trying to live a cleaner life. He doesn't want to let does his guard or cloud his judgement.
[ EW]
And here's the official description of the show's 200th episode, "Fan Fiction":
When Sam (Jared Padalecki) and Dean (Jensen Ackles) investigate the disappearance of a teacher, they are stunned to see the school is putting on a musical based on their lives. Familiar faces abound in this milestone episode.
[ KSiteTV]
---
Agent Carter
Lynsy Fonseca ( Nikita) has joined the show as Angie Martinelli, an aspiring actress who becomes friends with Peggy Carter.
---
Helix
Go to the link to see an exclusive teaser for season two. [ TVLine]
Additional reporting by Charlie Jane Anders and Abhimanyu Das.