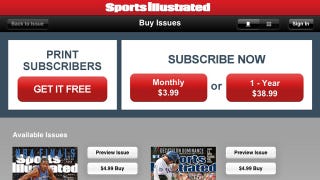 It's been a minor quibble, but a persistant one; Time Inc. magazines—including Sports Illustrated, People, and Entertainment Weekly—have been available on the iPad for some time, but as individually siloed apps. You couldn't group them in Newsstand, but more importantly you couldn't subscribe through iTunes. Basically: The most efficient way to get an iPad subscription was to buy a print subscription.
This was dumb. It has been fixed. You can now subscribe to dozens of Time Inc. magazines through your iPad.
But why, you're asking, did it take this long to do something so obvious? And you're right to wonder! Publishing powerhouses Hearst and Condé Nast embraced the iPad from the very beginning, and have seen modest successes with the platform. But fully embracing the iPad model comes with a price. While iPad magazine subscription costs tend to be higher than their print equivalents (which are often on permasale), by going through Newsstand publishers have to fork over both 30% of that revenue and, more importantly, their subscribers' demographic information. You know, the stuff advertisers pay the big bucks for.
Time Inc., though, has apparently had enough of going it alone. And good thing, too. Even if the ringmaster is demanding, it's better to be under the big tent than left out in the cold.
Here's the full list—with links—of the magazines you can subscribe on your iPad to without getting an aneurysm:
All You
Coastal Living
Cooking Light
Entertainment Weekly
Essence
Fortune
Golf
Health
InStyle
Life
Money
People en Español
People
People Stylewatch
Real Simple
Southern Living
Sports Illustrated Kids
Sports Illustrated
Sunset
This Old House
Time