The UP3 was supposed to be so much better. It was supposed to be fashion-forward. It was supposed to be waterproof. It was supposed to be more intelligent than any other fitness tracker. It isn't. I spent the last couple weeks trying to like this band, and I just can't do it.
What Is It?
The latest and supposedly greatest fitness tracker from Jawbone. The company literally calls it "the world's most advanced tracker." It's a wrist loop that tracks your activity and sleep as well as some more advanced biometrics such as your resting heart rate and respiration. You use a companion smartphone app display the data, and other things like logging your food. The Fitbit Charge HR pretty much does all of this, too—with the difference being that the Fitbit is vastly more usable.
It's also worth noting that the UP3 was delayed by six months, because it was supposed to be waterproof and Jawbone was having some issues making that come true. How did Jawbone eventually solve the problem? Now, they just call it "splashproof," and hope no one will notice.
G/O Media may get a commission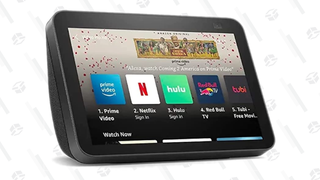 Design
Design is one of the elements that Jawbone really hyped up. It doesn't look like an activity tracker—it looks like a cool, refined wristband instead! Ehhh, kinda? I mean, I'll grant that it's the best-looking activity tracker out there, but it definitely still looks like an activity tracker.
The UP3 comes in one-size-fits-most, with a sliding, adjustable clasp mechanism. It's definitely more secure than the previous UP24, which didn't fully close and would fall off my wrist at least once a day (also, the large wasn't large enough), but unfortunately I still found the clasp to be wanting. It fell off my wrist no less than ten times, including twice in my sleep. Derp. In contrast, the only way the Charge HR is going to fall off your wrist is if your hand's cut off.
The inside of the band has a few metal sensors which is how it gets your heart rate and such. I actually like this a lot. Most other trackers with heart rate monitoring are using an optical mechanism which requires you wear it pretty tightly. The UP3 needs to be maintain skin contact, but it doesn't have to be as snug, which makes it more comfortable.
The top of the UP3 is a textured bar. It's supposed to be fashionable. It looks fine. Certainly not hideous, but it's not going to pass for some nice jewelry, either. The rubber band gives you away instantly. There are a couple lights on the bar which tell you whether the band is tracking your steps or your sleep. And that's about it. Notably absent is a display of any kind—whose absence absolutely kills this thing—but I'll get into that in a minute.
The UP3 is charged by a short, proprietary USB cable, because of course it is. But it's worse than that: It has a magnet that supposedly holds the device onto the charging pins, but often doesn't work in practice. If you don't line it up just right, it won't charge.
Using It
Honestly, I find the UP3 actually pretty comfortable to wear. It doesn't catch on most clothing, it doesn't dig into my inner wrist when I type, and I don't have to wear it too tightly to get the heart rate monitor to work. If it didn't come unclasped and fall off my wrist, I might enjoy wearing it! Sadly, that's a bit of a dealbreaker for a $180 wearable.
Setting it up proved to be a challenge too. I tried the UP3 with three different Android phones (a Nexus 6, an HTC One M8 GPE, and an HTC One M9) and each time the phone couldn't connect. No idea what the problem could have been. Eventually I pulled out an iPhone 5s I had stuffed into a drawer and it paired just fine. Oh goodie!
Jawbone's new UP app (the UP app for the UP24 isn't compatible with the UP3 for some reason, so you need to delete the old one) looks very nice. It's colorful and inviting. It's not the easiest to navigate, though, with different metrics hidden on different screens. Worse, it's terribly inconsistent. Sometimes it syncs with the band, and sometimes it won't. Sometimes it would refresh and sometimes it won't.
It also offers up some insights and recommendations, but probably not the kind you've been waiting for. Here's one sterling example: "Reflect and focus on the things within your control. You won't regret skipping that last rerun of "Friends" when you feel awesome in the morning!"
The UP3 tracks your sleep and even breaks it down in to light sleep, deep sleep, and REM sleep, and it's easy enough to understand. The problem is that you have to manually switch the UP3 in and out of sleep mode, and it's a pain in the ass to do that.
You're supposed to double-tap the device to wake it up, then long-press it until the little orange running-man shaped light goes off and the moon shaped light comes on. The problem is I usually have to double-tap it half a dozen times before it wakes up, which is pretty annoying. Even more annoying is that I have to activate it at all. Fitbit, Basis, and several others automatically log your sleep. You don't have to remember to switch on a night mode when you go to sleep or remember to turn it on right when you wake up—which, to be honest, is something I forget to do about 70% of the time. It feels really... behind.
Which is pretty much how I feel about the heart rate tracker, too—because it doesn't measure your heart rate in real time. You paid $180 for this sweat heart rate monitor you wear on your wrist, so it stands to reason that you might want to know what your heart rate is, y'know, whenever you want? You can't. It'll clock your resting heart rate every day when you wake up, and that's pretty much it. This is so, so dumb. With the Fitbit Charge HR or the Basis Peak, I just look at my wrist if I want to know my current heart rate. Done.
And fact that this thing doesn't have a screen just completely kills it for me. I get that it's trying to look cool, but there's got to be a way to conceal a little screen in there and still have it look nice. The competition lets you instantly scroll through how many steps you've taken, how many calories you've burned, how many floors you've climbed, your current heart rate, and yes, the plain old time of day with just the press of a button. That alone makes them way more usable than the UP3 which requires you to wait for it to re-sync with your phone and then hunt through various screens. It's really inconvenient.
The UP3 does some things okay, like the decent built-in food logging inside the app, and the silent alarm that can wake you up when it senses you're no longer getting premium deep sleep, but really, there are just so many deal-breakers that they don't really matter.
Like
Looks decent. Comfortable. Don't have to wear it too tightly. Good silent alarm. Battery life of about six days.
No Like
No screen. Doesn't stay on wrist. Many pairing issues. App often doesn't update. Can't see heart-rate in real time. Not sure how accurate the resting heart rate assessment is because mine is all over the map, apparently. Expensive.
Should You Buy It?
100% no. Definitely not. Hell no. No. Just no. This thing is a fiasco. I really thought it was going to be the one to beat and take the fitness tracker crown. I was so, so wrong. Most people should just get the Fitbit Charge HR or maaaybe the Basis Peak. Here's hoping they're going back to the drawing board for the next UP. [Jawbone]