In a rare victory for environmentalists, the controversial Keystone XL Pipeline is on pause after a federal judge vacated a presidential permit Trump signed last year. The judge's reason? The permit's disregard for "inconvenient facts," including the pipeline's impacts on the climate.
Former President Barack Obama rejected construction of this pipeline in 2015 after indigenous and environmental opponents made a big stink about it. The proposed 1,179-mile long pipeline would travel from the tar sand fields in Alberta, Canada, all the way to Nebraska. It'd cross historic tribal lands and threaten waterways, opponents argued. Concerns intensified after the project's sister pipeline, Keystone, spilled more than 400,000 gallons of oil over South Dakota lands in November 2017.
The possibility of an oil spill was one of U.S. District Court Judge Brian Morris' issues with the Keystone XL. Unsurprisingly, Trump and his administration half-assed their environmental analyses on the crude oil pipeline, so Morris told them to whip up a supplement to Keystone XL's 2014 environmental impact statement (EIS) that includes "an updated modeling of potential oil spills and recommended mitigation measures," as stated in the 54-page court order.
Perhaps more importantly, he also ordered the supplement to detail the energy project's greenhouse gas emissions' impacts on climate change, noting that the administration failed to provide a "reasoned explanation" for its conclusion that Keystone XL's impacts on climate would be inconsequential. When Obama killed the project, greenhouse gas emissions had everything to do with it. Sure, a new president can reverse previous policies, but the court ruled that Trump needs to give good reason.
G/O Media may get a commission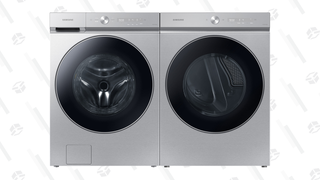 Get $500 back in credit
Last Chance: Samsung Bespoke AI Washer and Dryer Preorder
As the order states, Keystone XL's climate change impacts were taken into account under Obama:
The Department acknowledged science supporting a need to keep global temperature below two degrees Celsius above pre-industrial levels ... The Department further recognized the scientific evidence that human activity represents a dominant cause of climate change. ... The Department cited transboundary impacts including storm surges and intense droughts. ... And finally, the Department accepted the United States's impact as the world's largest economy and second-largest greenhouse gas emitter.
Asking the Trump administration to look into the climate impacts of a pipeline project almost feels like a joke given Trump's skepticism on climate change science, but there you have it. New cultural resources surveys must also be conducted in some thousand acres that were excluded from the 2014 EIS. That's not all, either: Morris wants the administration to take into account how any future dramatic changes in oil prices could impact the project's viability.
Ignoring all this violates the National Environmental Policy Act, per the court order. This was the argument plaintiffs—the Indigenous Environmental Network (IEN) and the North Coast Rivers Alliance—made back in March 2017 when they filed this lawsuit in Montana's federal district court. They're celebrating the judge's decision.
"This is a win for Lakota, the Oceti Sakowin and other tribal nations, for the water, and for the sacredness of Mother Earth," said IEN Executive Director Tom Goldtooth, in a press release. "This decision vindicates what we have been saying all along: Trump's approval of this pipeline was illegal, violated environmental laws, and was based upon false facts."
The court had already found that the project failed to properly evaluate the environmental impacts of a new route the Nebraska Public Commission approved last year. This is the icing on the cake. We'll have to wait and see how the Trump administration responds.
One thing's for sure: The indigenous leaders who've been challenging this project for 10 years won't back down easily. They've been ready.