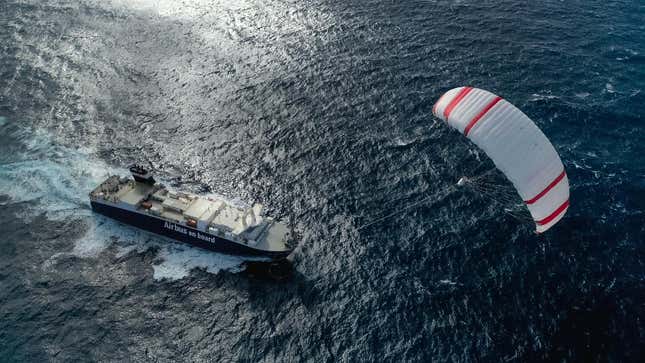 French company Airseas, has promised to help cargo ships reduce their fuel consumption, and cut their greenhouse gas emissions by an average of 20%. And they're doing this with the Seawing—a 1,000 square meter kite that will fly 300 meters (984 feet) above the water's surface. So the global shipping industry is apparently rediscovering the joy (and efficiency) of sails.
Prime Day Ain't That 'Green'
The large, ship-sized kite is currently being developed, and the company plans to open a factory to produce the Seawing in 2026. Once manufactured, Airseas has promised that launching and operating a Seawing on a cargo vessel will be automated, making it easy to use for crews. The kite and the equipment that launches it is mounted on a boat's deck, and the crew can simply press some buttons and a large kite will ascend into the sky. That's not to say that the cargo ships won't use their engines at all, but the kite will take some pressure off of those engines and will reduce the need for fuel. The wind will move the ship, just like it did for hundreds of years in the ye olden days before industrialization.
Lowering emissions by 20% may not seem like a big deal, but moving vast amounts of goods to and fro on the high seas creates 3% of the world's greenhouse gas emissions. That's more than the airline industry, which produced about 2% of the world's emissions in 2021, according to the International Energy Agency. Shipping is also a massive industry, and one worth focusing on for lowering emissions. About 90% of the world's traded goods are moved around via shipping vessels, according to the International Chamber of Shipping.
Some companies are betting that this new version of sails. Japanese shipping company, "K" Line has placed orders for the Seawing kite, and the European Union has also invested more than $2 million in funding, CNN reported.
Check out this very dramatic video of the large kite in action:
Want more climate and environment stories? Check out Earther's guides to decarbonizing your home, divesting from fossil fuels, packing a disaster go bag, and overcoming climate dread. And don't miss our coverage of the latest IPCC climate report, the future of carbon dioxide removal, and the un-greenwashed facts on bioplastics and plastic recycling.