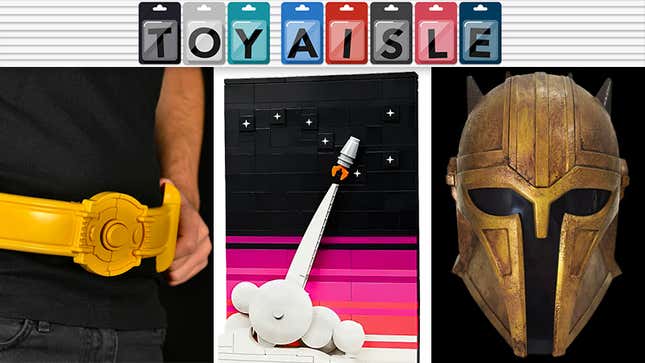 Welcome back to Toy Aisle, io9's regular round-up of the latest and greatest toy news on the internet. This week, Lego takes us to space with a gorgeous new Ideas set—and to the race track with a wild new Technic one. Also, get ready to cosplay the worlds of The Mandalorian and Tim Burton's Batman with new replicas. Check it out!

This Week's Toys Are Straight From a Multiverse of Marketing Madness
---

Although Lego sets featuring Star Wars and Marvel characters still seem to dominate shelves, in recent years, the company has also been catering to gearheads more and more with highly-detailed models of drool-worthy sports cars, including a new 1,775-piece replica of the Peugeot 9X8 24H Le Mans Hybrid Hypercar. The 1:10-scale replica includes a detailed V6 piston engine, a suspension system custom designed for this model, and glow-in-the-dark elements. It will be available starting May 1 for $200.
---

Created for those who see a masterfully designed Lego set as a piece of art to be proudly displayed, Jan Woźnica's Tales of the Space Age is the latest fan-built set from the Lego Ideas program put into production. The set features four brick-built, self-standing 3D postcards with scenes inspired by "1980s sci-fi myths, movies, books, and posters," such as a comet streaking through the sky, a rover on a distant planet, a rocket blasting off, and a black hole. The postcards can be connected or displayed separately, and will be available starting May 8 for $50.
---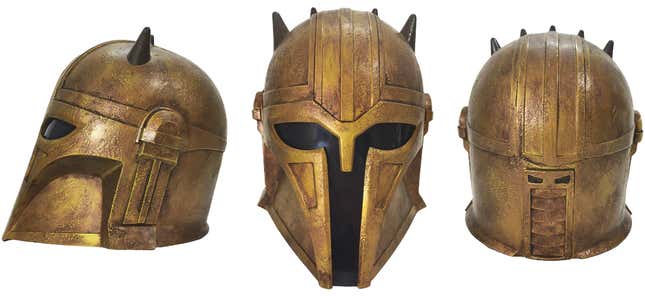 EFX Collectibles Star Wars: The Mandalorian The Armorer Helmet
We're not entirely sure what to think of the ride that season three of The Mandalorian is taking us on, but if there's one thing we do know, it's that the show can't give us enough of Emily Swallow's the Armorer. The character's popularity has been slowly growing over the seasons, but is finally popular enough for EFX Collectibles to release a replica of the Armorer's helmet, created using "master patterns cast from the molds used to make the screen-used helmet." It's made from fiberglass and weathered with a custom paint finish, but EFX points out that it's a "collectible for display purposes only" and probably won't be suitable (or comfortable) as a cosplay item. You can pre-order it now, but the $799 replica requires a $249 non-refundable deposit.
---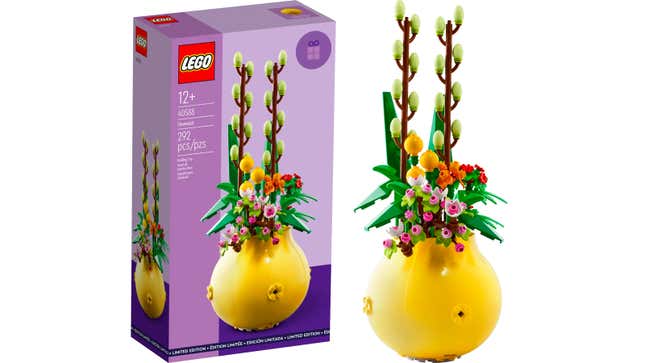 Spring is in the air, but if blossoms and pollen make this time of year an allergic nightmare for you, you should seriously consider expanding your Lego collection into its botanicals line. This 292-piece flowerpot comes with brick-built recreations of plants like cherry blossoms, Salix discolor (aka, pussy willow), and billy buttons, which stand over 11 inches tall. This set is only available as a gift with purchase, however, so you'll need to spend at least $150 on other Lego sets between April 14 and April 24 to score one.
---
NECA Tim Burton's Batman Utility Belt Prop Replica Bundle
Given DC's track record, it doesn't seem likely that The Flash will be a spectacular piece of filmmaking when it hits theaters in June, but that's okay, because all we really care about is seeing the return of Michael Keaton's Batman... and the return of Batman merchandise. If you head to NECA's online store, you can pre-order this replica of Batman's Keaton-era utility belt for $135, which comes with a surprising number of accessories for the price. In addition to the belt, you get a seven-inch folding Batarang, swappable face plates revealing Batman's crime-fighting tools, and eight cartridges: a torch, laser, scanner, micro camera, re-breather, gas pellets, and smoke bombs, four of which can be carried on the belt. Other accessories, including the Batarang and a grapnel launcher (sold separately) attach to the front of the belt using strong magnets.
---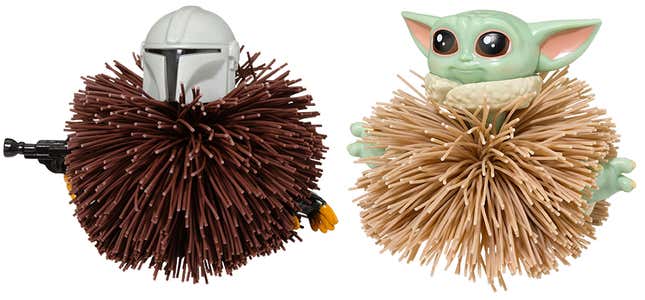 PlayMonster Koosh Cameos The Mandalorian and Grogu
Yet another incredibly popular fad item from the '80s is back again, with the Koosh ball returning to help promote Disney's The Mandalorian. If you didn't experience Koosh the first time around, they were balls made from thousands of elastic rubber filaments sticking out in all directions from a solid core, and were inexplicably satisfying to hold and play with. They were eventually given arms, legs, and faces, and turned into little figures called Koosh Kins, which is what inspired these new Koosh Cameos toys, turning the balls into what appear to be hirsute versions of Mando and Grogu. Both are available now for $15 each.
---
Want more io9 news? Check out when to expect the latest Marvel, Star Wars, and Star Trek releases, what's next for the DC Universe on film and TV, and everything you need to know about the future of Doctor Who.