Up until now, we've only seen scattered images of Hollywood's whitewashed vision for Akira. But with the movie adaptation of Katsuhiro Otomo's Manga dead in the water the internet has become a dumping ground of Akira concept art. Including this completely insane first look at Tetsuo's big climax. We have no idea how they could have pulled this scene off. Check it out.
Previously we've seen Chris White's Akira storyboards, and a few sketches from sketches by concept artist Sylvain Despretz but this is our first look at Neo-New York (changed from the original Neo-Tokyo). Illustrated by Rodolfo Dimaggio (Iron Man, Green Lantern) here's a collection of futuristic cityscapes that you may remember from the Manga or Anime movie, discovered by Cruncyroll.
G/O Media may get a commission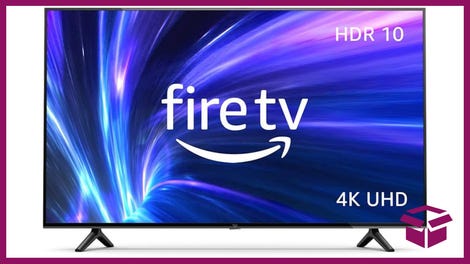 42% Off
Amazon Fire TV 50" 4K Smart TV
Sidenote, Dimaggio is the same artist who previously posted the white Kaneada sketches he was commissioned to create (which we've included below so you can insert them into the world). Plus this the first look at Tetsuo's big finale, the bowling alley, the freeway, Ducati Demolitore, and the Marquee bar.
---
---
---
---
---
---
---
---
---
---
---
Illustrator Tommy Lee Edwards has also released this pair of conceptual pieces for director Albert Hughes, who was attached to the project many years ago. As was Blinky™ director Ruairi Robinson.
---
---
This is the third collection of storyboards released (previously we saw Sylvain Despretz's work and Chris White's really lovely creations) now take a look at the action heavy storyboards from Jeffrey Errico. Which showcases some hot futuristic, motorcycle action.
---
---
---
---
---
---
While all of these illustrators are certainly talented (and we can't stop looking at the Tetsuo sketch) we're still kind of relieved that a live action white Akira movie never happened. Somethings should stay dead. But we do take delight in these artful recreations in the world that could have been.
[via Crunchyroll]